Class of 2025 4-Star RB Byron Louis names Top 10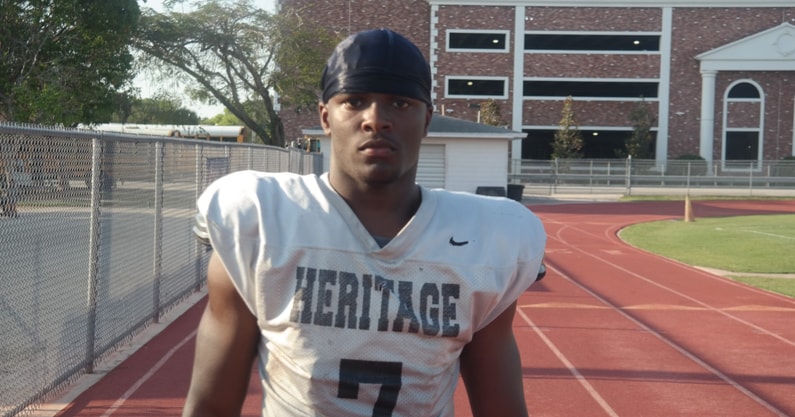 Four-star running back Byron Louis of Fort Lauderdale (FL) American Heritage narrowed his list to ten schools Sunday afternoon.
The 6-foot, 205 pounder is down to the following: Ohio State, Miami, Georgia, Alabama, Tennessee, USC, USC, Florida State, Oklahoma, Penn State, and Wisconsin.
Breaking down the finalists
Louis broke down what stands out about each of his top schools:
Ohio State-  I love the coaching staff. Everyone in the town has a winning mentality, and the fans are loyal and you can't go wrong.
Miami- It's home! They are bringing the old Miami back and it's coming sooner than later. 
Georgia- It's the best team in college football hands down. They have proven and shown why they are the big dogs.
Alabama- Coach Saban is the man. Playing for him is like playing in the NFL, the best preparation for the League.
Tennessee- They are going to win no doubt about it.
USC- The best team in the west coast and RBU.
Florida State- Coach Norvell told me when I was in the 9th grade that was going to be the best team in college football by the time I graduate. He is a man of his word.
Oklahoma- Coach Murray played the position at the highest level. Why not play for the best?
Penn State- Coach Juan wants a dog and I'm the man for the job. When those two headed monsters leave I'm next up.
Wisconsin- The best of the best go there! If you wanna play in the league for a long time and do numbers that's the best place for you at my position.
Byron Louis Recruiting Profile
Louis ranks as the No. 208 player in the On3 Industry Ranking, a weighted average that utilizes all four major recruiting media companies. He also tabs in as the No. 18 running back and the No. 29 player in the state of Florida.
He currently does not have an On3 NIL Valuation publicly listed. The On3 NIL Valuation is the industry's leading index that sets high school and college athletes' projected annual value (PAV). The NIL valuation does not act as a tracker of the value of NIL deals an athlete has completed to date. It rather signifies an athlete's value at a certain moment in time.