Clay Helton was fired because he didn't live up to USC's high expectations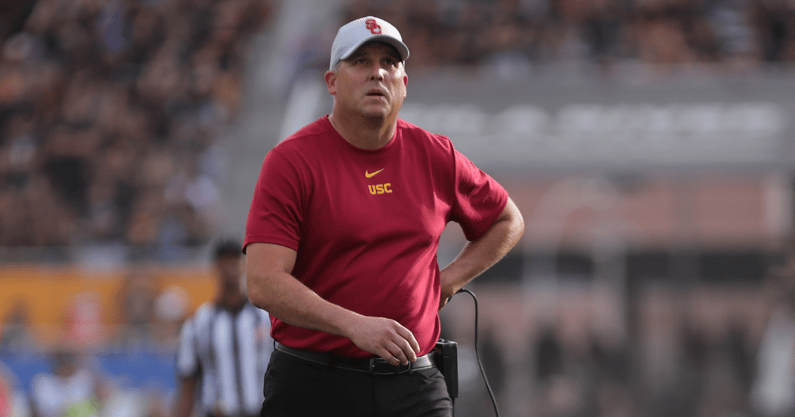 USC fired Clay Helton on Monday, 36 hours or so after the Trojans got boat-raced at home Saturday night by Stanford. Helton went 46-24 in six-plus seasons. At the USCs of the college football world, winning two of every three games gets you fired. We all know that. It sounds nonsensical because it is nonsensical. But college football isn't a professional sport. The best always have been greedy.
The best expect conference championships. No, scratch that. The best expect national championships. More schools expect national championships than there are national championships to go around, especially these days, when the College Football Playoff trophy pays property taxes in Tuscaloosa County.
Helton didn't sniff a national championship and won only one Pac-12 title, in 2017. That's why coaches who win two of every three games get fired.
"(D)uring the past two offseasons, we provided every resource necessary for our program to compete for championships," USC athletic director Mike Bohn said in a statement released Monday afternoon. "The added resources created significantly increased expectations for our team's performance, and it is already evident that, despite the enhancements, those expectations would not be met without a change in leadership."
Bohn is a smart administrator, but who is he kidding? Those expectations settled in at USC long before he gave Helton the money to pay his assistants the going rate, to hire more recruiting people, more video people, more social media jockeys. USC has expected to win since Howard Jones squared off against Knute Rockne.
Helton didn't win the right games. His Trojans lost four times to Notre Dame and four times to Stanford. Going 5-1 against UCLA isn't enough to offset those losses.
Helton didn't meet USC's standards in many ways. His Trojans went 11-16 against ranked opponents. His Trojans lost 11 games by at least 14 points. And he didn't fit the high profile of the job. That old saying, that it's amazing what you can accomplish if you don't worry about who gets the credit? Helton didn't want credit. He called himself a servant leader.
But USC wants its coach to have his name in lights. USC has been at its most successful when its coach is a celebrity. That's a chicken-and-egg thing — win, and you become a celeb — but Helton didn't embrace the spotlight. Didn't need it. He was not a starfish, more a fish out of water.
Helton steadied USC after Steve Sarkisian
Say this for Helton. What he met, when he took over as coach six games into the 2015 season, was USC's need. In the wake of Steve Sarkisian's firing, USC needed stability. The program needed dependability. Helton steadied the Trojans in turbulent waters, and any USC fan who doesn't salute Helton for that accomplishment is a cretin.
This is Helton's seventh season, and yet he coached the full schedule only four times. He took over for Sark midway through 2015. The Trojans got to play only six games in 2020. And now this, gone after two games this season.
Bohn took the job as USC athletic director in the first week of November 2019, days after Oregon beat USC 56-24 (Helton went 1-3 vs. the Ducks). Bohn resisted the easy temptation to use his new broom to sweep clean then, or the following month, after USC lost to Iowa 49-24 in the Holiday Bowl. As knee-jerk as it seems to fire a coach a week after Labor Day, Bohn's patience lends credibility to this decision.
In the gloom of his postgame news conference Saturday night, Helton pleaded for patience. "Let's see at the end of the year," he said. "Let's see. It's Game 2. It's Game 2. I have total faith in this staff. I have total faith in the men that are in there, players, coaches. We didn't play our best tonight. But I know this. At the end of the season, see where we're at."
Helton's team had a habit of starting slow and finishing fast, both in games and in seasons. Bohn gave Helton resources, gave him a chance, and after Saturday night, gave him the boot.
The good news for Trojans fans is that Bohn is the guy who hired Luke Fickell at Cincinnati, the same Fickell who has built the Bearcats into a top-10 program, and Mike MacIntyre, who led Colorado to its only Pac-12 South championship. The bad news is that before those two hires, he also hired Dan Hawkins and Jon Embree at Colorado, and, if you go back far enough, Tom Cable at Idaho.
Winning two out of three games gets you fired at USC. Winning two out of five coaching hires gets you hired at USC. What a business.