College football today: 'It is completely off the rails'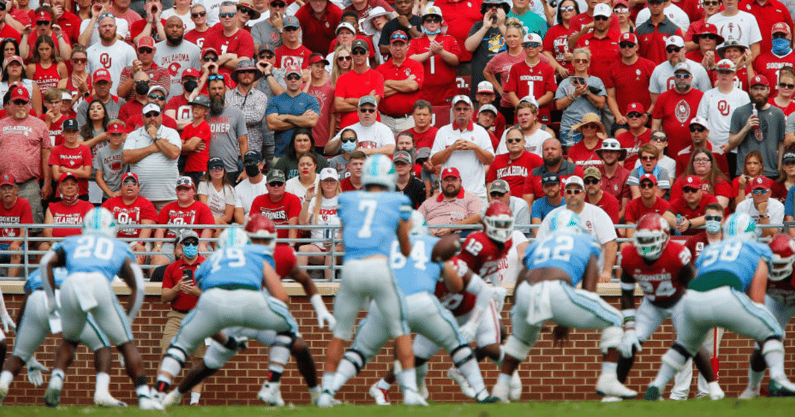 College football is racing headlong into a coaching crisis. Experience is headed out the door. Men who have been in the game for decades have had enough of a taste of the new model of college football to know they don't like it.
Asked point blank if he expects an exodus, Todd Berry, the executive director of the American Football Coaches Association, said, "Oh, absolutely."
"There are certainly a lot of coaches throwing up their hands and saying, 'This is ridiculous. This is absurd.' And it is," Berry said. "It is completely off the rails."
That's what revolutions are supposed to do. Revolutions upend the old way of doing things. The old model, where a coach went into a living room and promised Mama he would see to it her baby got a college degree, is about as relevant as black-and-white television.
"The idea of actually having a conversation about the academics at the school?" Berry asked. "That's just a waste of time because nobody wants to hear anything about the school. Everything's about playing opportunities and NIL money.
"I don't know. That's sad."
Players are making money now. Players have the right to hop from campus to campus. The rush to grant these rights, led by judges and legislators because the NCAA decided it better to stick its head in the sand, has changed the sport more in the past 12 months than it changed in the last generation.
"I had a coach that called me," Berry said, "and he had a really talented young quarterback. Had an NIL deal, and all that. Kid comes into him and says, 'Coach, I got a problem.' Coach thinks, well, it's going to be academics, girlfriend, something along those lines. The young man says, 'Coach, I don't want to transfer. But my corporate entity that is sponsoring me wants me in a bigger marketplace.' "
A never-ending need to recruit
The coaches don't begrudge the players their freedom or their ability to make money. But the lack of rules surrounding the transfer portal and the lack of effective enforcement of NIL regulations has brought free agency to the player without asking any commitment in return. Coaches are recruiting 12 months a year, both high schoolers and portal residents. They are recruiting their own players to make sure they stay. They are tamping down boosters intent on spending Whatever It Takes in the open market.
Berry said he got a call from a coach who told him about a booster who asked for the names of the best players on opposing rosters this fall. As the coach named this quarterback, that promising freshman, the booster wrote down the names. The coach asked why.
"I'm going to buy all these players away from these teams," the booster replied. "That way we have a better chance to win next year."
The coach had to explain that if the booster bought a quarterback, his current quarterback, a better player who knew the system, would up and leave. The booster backed down.
Or the coach who called to say the university president and the athletic director told him not to discourage a booster who has been a generous donor.
"He's out there offering NIL money to all these players, and they're not players that I want," the coach told Berry. "They don't fit our system. And he's just becoming the de facto owner of the team because he's basically doing the recruiting."
Sometimes revolution means the world has turned enough that the old ways have returned.
"We saw some of this in the '70s," Berry said. "That's when I was playing and cut my teeth coaching. The boosters had such a significant influence on things that sometimes you ended up taking players that you wouldn't ordinarily take because the booster wanted them. And then you have the problem in the season because now the booster wants you to play the guys that basically he's brought in. I think that's something we haven't had to deal with for a while."
Berry said, "We're just repeating. Rinse and repeat."
A handful of coaches already have left
It's happened enough that coaches are beginning to leave, especially those who don't need the money. Offensive line coach Matt Luke left Georgia in March. UConn coach Randy Edsall test-drove the new model last season and decided he'd rather play golf. Chris Petersen is working for Fox Sports. In what world would Jay Wright decide that he'd rather be assistant to the president of Villanova than try to win a third NCAA men's basketball championship?
This world. And Berry believes many more are headed out the door.
"Not a lot of them are having a lot of fun right now," Berry said of his members. "That's a shame because we've always done our job because we loved our job. It's not like we were going to work. Now I think many people think they're going to work."
Berry said the AFCA saw these issues approaching. A few years ago, the group proposed signing windows for the transfer portal, folding them into the existing recruiting calendar. If NCAA rulemaking were like college football, the American Football Coaches Association would be a Group of 5 conference. They sit at the table. They join in the discussion. But when it's time to make decisions, they are mostly ignored.
Berry believes the coaches will be heard now. He believes his membership will have a hand in the improvements to come. But he thinks they are at least two years away.
"This year is significantly worse than last year, in terms of the whole recruiting apparatus, and next year will be worse than this year because everybody has learned different ways to do things, and how many different ways people are doing things," Berry said.
College football coaching always has been a job market with more workers than jobs. The annual AFCA Convention is overrun with men chasing a dream. And college football coaching always has been a young man's business. There aren't a lot of guys over 60 on the sideline. Maybe it will take young coaches, willing to set aside the way things have always been done, to be successful.
Notre Dame coach Marcus Freeman is 36.
USC coach Lincoln Riley is 38.
Oregon coach Dan Lanning is 36.
SMU coach Rhett Lashlee is 38.
Sixty years ago, a generation of coaches literally had to die in order to end one-platoon football. The sport survived, and thrived, with offensive players and defensive players. The appeal of college football remains strong. But college football may have to go forward without a lot of institutional knowledge. An exodus of coaches is on the way.