Report: Drew Brees to leave NBC after one year as NFL TV analyst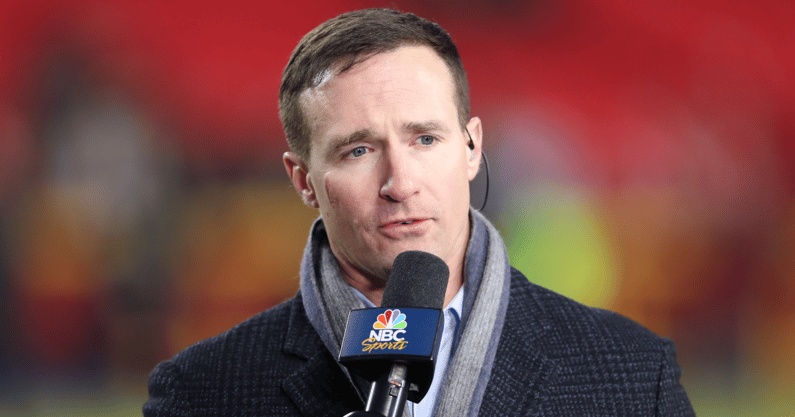 Drew Brees will not return to NBC after spending one year as a studio and game analyst, according to a report from the New York Post. The former New Orleans Saints quarterback reportedly wanted the opportunity to call more games, while NBC preferred having him in studio for the "Football Night in America" show.
Brees called Notre Dame football games this past season alongside Mike Tirico, while also doing the "Sunday Night Football" pregame show and a few NFL games. His biggest game of the year was a wild card playoff contest between the Raiders and Bengals, but the Post wrote that he gave a "poor performance," causing NBC to question its commitment to him. The decision to part ways was apparently mutual.
There is still a possibility that Brees could end up with another network, with FOX and Amazon being listed as potential landing spots. Greg Olsen is expected to move into the No. 1 analyst spot at FOX, which lost Joe Buck and Troy Aikman this offseason. That will leave the No. 2 spot up for grabs, and Brees could be a prime candidate. Although No. 2 spots certainly don't pay as well as No. 1s, it would give Brees the opportunity to call NFL games like he desires.
As for Amazon, the company is breaking into NFL coverage and will offer "Thursday Night Football" games for this upcoming season. Kirk Herbstreit and Al Michaels are set to serve as broadcast partners for those games, but perhaps Brees could help with coverage elsewhere.
Brees retired following the 2020 season after a 20-year NFL career, 15 of which came with New Orleans. He ranks second in NFL history in both passing yards (80,358) and touchdowns (571), while also ranking first in Saints history in both categories. He ends his career with one Super Bowl victory and 13 Pro Bowl appearances, and is all but guaranteed to enter the Hall of Fame one day.
Like many former players, Brees is hoping to remain close to the game he loves by entering broadcasting in retirement. He still may have a bright future in media, but his brief time with NBC has come to a close.