ESPN updates FPI top-25 rankings after Week 2 of college football season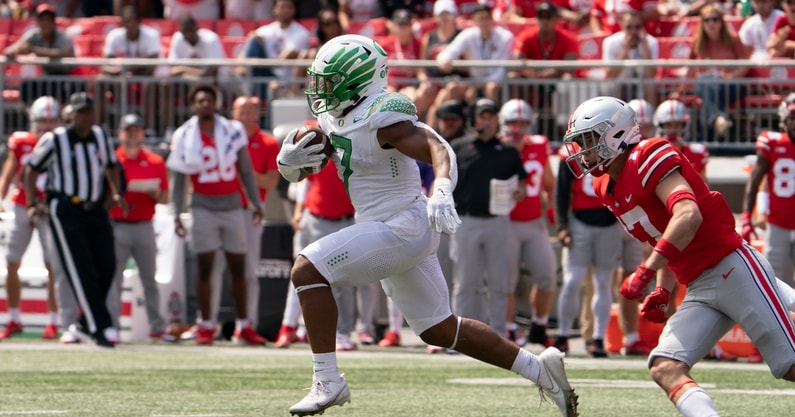 Following a weekend featuring upsets galore, the ESPN college football power index has been shaken. With big-time victories and surprising losses, programs are moving up and down the board this week.
According to ESPN, the FPI is a predictive rating system designed to measure team strength and project performance going forward. Moreover, each team's FPI rating is composed of a predicted offensive, defensive and special teams component.
After Week 2, let's take a look at where ESPN believes teams are currently, and where they'll end up at season's end.
ESPN FPI Top-25 Rankings following Week 2:
1) Alabama Crimson Tide
2) Georgia Bulldogs
3) Oklahoma Sooners
4) Clemson Tigers
5) Ohio State Buckeyes
6) Florida Gators
7) Oregon Ducks
8) Penn State Nittany Lions
9) Texas A&M Aggies
10) Auburn Tigers
11) North Carolina Tar Heels
12) Michigan Wolverines
13) Iowa Hawkeyes
14) Ole Miss Rebels
15) Wisconsin Badgers
16) Notre Dame Fighting Irish
17) Pittsburgh Panthers
18) Texas Longhorns
19) Virginia Tech Hokies
20) Miami Hurricanes
21) Cincinnati Bearcats
22) Arkansas Razorbacks
23) Iowa State Cyclones
24) Virginia Cavaliers
25) UCLA Bruins
ESPN FPI: Biggest Risers from Week 2
First, the Oregon Ducks moved up eight spots in the ESPN FPI following their victory against Ohio State. One of the more impressive victories in recent memory, Mario Cristobal's squad put the college football world on notice by leaving The Shoe with a win.
Moreover, the good vibes are shared by teams like North Carolina, Wisconsin, Pittsburgh and Arkansas.
Furthermore, North Carolina followed up a loss to Virginia Tech with a drubbing of Georgia State, while Wisconsin rebounded from an inter-conference loss of their own as well. On the other hand, Pittsburgh and Arkansas both had upset victories that led to their climb up the board.
Finally, Virginia rose up to 25th on the ESPN FPI – shooting up 12 spots this weekend. This season, the Cavaliers are averaging 42.5 points per game, and will look to move up even more after this week's matchup with North Carolina.
ESPN FPI: Biggest Fallers from Week 2
While it was a good week for Oregon, losing to the Ducks sent Ohio State down two spots. While the Buckeyes are still ahead of Oregon in the ESPN FPI, the loss could prove to be the difference when it comes to the College Football Playoff.
Even in victory, Notre Dame fell seven spots to 16th overall. While Jack Coan led the Fighting Irish to a win, perhaps losing to Toledo with under two minutes on the clock wasn't impressive.
While Notre Dame fell, the Texas Longhorns fell like a rock. After starting the Steve Sarkisian era hot, Arkansas cooled the Longhorns off. They started the season in the top ten, but now Texas sits at 18th overall.
Finally, the USC Trojans played their way out of the top-25. After being ranked 25th overall following week one, Clay Helton's squad now ranks 33rd overall in the ESPN FPI.