Even with shaky win at Arkansas, the LSU Tigers remain ahead of schedule under Brian Kelly in Year 1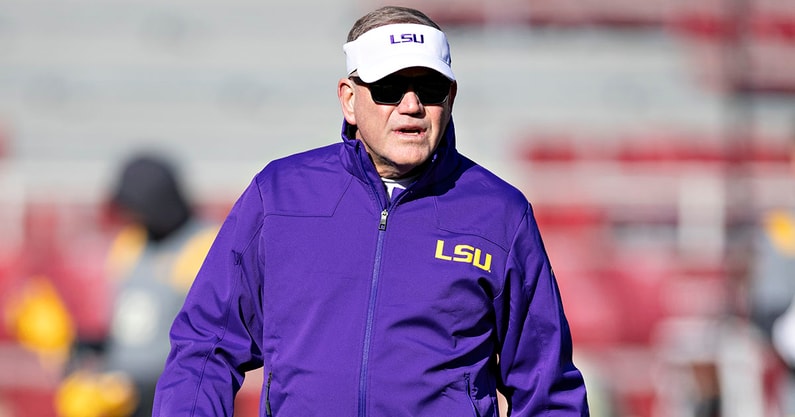 Even a dead clock is right twice a day, so sometimes, it's fun to be right about a rather outlandish preseason prediction. 
Back in the summer, when many were making fun of Brian Kelly's fit at LSU, I wrote how I really believed the college football media was too low on the Tigers. 
Plenty of people have debated Brian Kelly's potential fit at LSU, but some 22 years ago, a guy named Nick Saban was hired by the Tigers, in what many also deemed an odd marriage between school and coach. How'd that turn out?
Kelly isn't Saban, but he's won at every stop he's been. Thanks to the transfer portal, Kelly took a roster of dough and added some sugar and spice. He's at least cobbled together something interesting. What happens if the cake bakes just right in Year 1? 
This is a Jekyll and Hyde team — the Tigers could way out perform expectations (7-win over/under) if one of their quarterbacks hit and their young defense coalesces. They could also finish last in the West because the schedule is brutal, they're starting over from scratch and their offensive line is still probably going to stink. 
It's a fascinatingly wide variance.
I'd say the cake baking alright. 
A week after stunning Alabama with a gutsy, walk-off 2-point conversion in overtime, the Tigers used a gutsy effort in the cold to outlast Arkansas 13-10 in a defensive slobberknocker. 
With the win, LSU moved to 8-2 on the season — one victory away from clinching the SEC West outright in Kelly's first season on the Bayou. 
Who'd a thunk it?
As expected, the Tigers definitely had a bit of a letdown performance after their field-storming win over Alabama. Quarterback Jayden Daniels never found his rhythm playing behind an OL that struggled with Arkansas' pressure. Daniels was sacked seven times, and completed just 8 of 15 passes for 86 yards and a pick. LSU's only offense came from tailback Josh Williams, who rushed for a career-high 122 yards and a score. 
With their offense stuck behind the chains (and constantly in terrible field position), the Tigers leaned on a tenacious defense that harassed Arkansas backup quarterbacks Malik Hornsby and Cade Fortin. The Razorbacks were without KJ Jefferson, who is battling a shoulder injury. 
LSU allowed just 249 total yards, with five sacks, two takeaways and nine trackless for loss. 
"Sometimes you have to grind through," Brian Kelly told ESPN postgame. 
"This is a tough league. … We made plays on defense. Harold Perkins was outstanding. We found a way to win when we didn't have our A-game."
LSU's freshman linebacker almost single-handily won the Tigers the game Saturday, setting a program record with four sacks and two forced fumbles— including the game-winning strip-sack in the final minute of the fourth quarter. 
After only seeing the field in situational snaps the first six weeks of the season, the former 5-star recruit has become one of the most dominant defensive players in all of college football over the last month. 
In LSU's last four games, Perkins has six sacks, nine QB hurries, three pass breakups and 26 tackles. He was responsible for spying Alabama quarterback Bryce Young, and against Arkansas, he was used as a relentless edge rusher. 
"Thank God he's on our team," Kelly said. 
"(Defensive coordinator) Coach (Matt) House has done a great job utilizing him to make an impact like he did today at Arkansas."
The Tigers, ranked No. 7 in the latest College Football Playoff rankings, are still alive to potentially become the first two-loss team to ever bust the field. To even be in the conversation, they must run the table, which would include a win over No. 1 Georgia in the SEC Championship Game. 
Even despite my faith in LSU as the SEC's sleeper team in 2022, I don't see that happening. 
This is not a championship team. Not yet. There's too many holes. Too many flaws. 
But in a year? In 2023?
"We are far from a finished product," Brian Kelly said.
"I don't think anybody in that locker room thinks we have arrived."
Again, not yet. 
Still, the Tigers are well-ahead of schedule in Year 1 under Kelly. Kelly has now won at least eight games in his first season at his fourth different school (Grand Valley State, Cincy, Notre Dame and now LSU). 
He's clearly changed the culture in Baton Rouge, and this roster — one he patched together with more than 30 new faces, including 15 transfers — will likely be the worst he fields during his tenure with the Tigers. 
His decision to pluck Matt House, a future head coach, out of the NFL to lead a defensive flush with talent looks brilliant, and Mike Denbrock, while a frustrating play-caller at times, has at least proven apt at making second-half adjustments most weeks. 
LSU is set to make the SEC title game despite inconsistent QB play, starting two freshman offensive linemen, losing their top (before Perkins' emergence) defensive player in Maason Smith in the season-opener and getting minimal production out of star wideout Kayshon Boutte. 
That's a both a reflection on the rest of the talent on the roster, and the coaching job Kelly & Co., have done in such short order. 
LSU wasn't good on Saturday, yet it still found a way to win a rivalry road game. That's a good sign for the future of the program. 
"I could go through a laundry list of things we have to do better but the fact of the matter is our guys wanted to win, they were prepared to win and we knew they [Arkansas] were going to play hard today," Kelly said.
Even if the Tigers get waxed in Atlanta in a month, this season has been one of progress for LSU. 
It won at Auburn and Florida. It upset Ole Miss and Alabama. It got its Golden Boot back Saturday. 
Beat Texas A&M to end the regular season and that'll be the icing on a cake that's baked far faster than most believed possible. 
Most anyways. 😉