First 2021 CFP rankings revealed following Week 9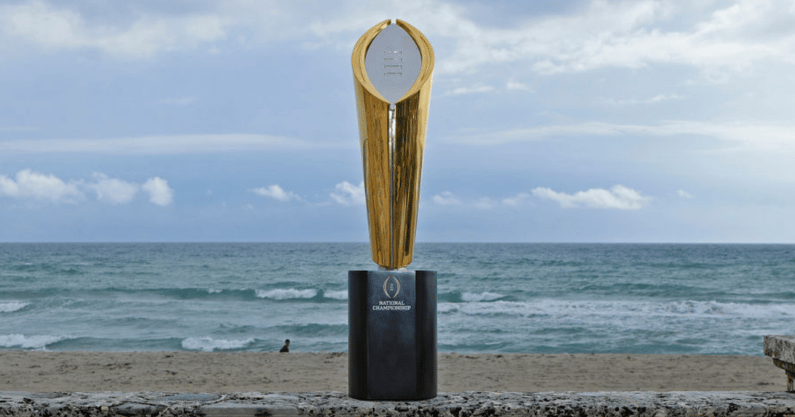 The College Football Playoff Selection Committee revealed its first 2021 poll, ranking the top contenders for the four-team playoff. Tuesday night, ESPN broadcast the much-anticipated rankings, which feature unprecedented power struggles between conferences.
Several differences between the first 2021 CFP rankings and the weekly polls show off why the committee elects to hold judgement until November. Without the need to constantly update their opinion on teams which initially started high or low, the CFP provides a top 25 based on nearly three-quarters of the season. As each week progresses, the committee will accumulate more data points for comparing teams.
The undefeated Georgia Bulldogs claim the top spot, making them unanimous across the AP poll, coaches' poll and CFP rankings. Georgia's dominance appears one thing all analysts can agree on this season, leaving little doubt on top of any rankings. At 8-0, Kirby Smart's Bulldogs clinched the SEC East prior to November, securing a spot in December's SEC Championship in Atlanta, Georgia. With college football's best defense, Georgia continues steamrolling opponents this season.
The remainder of the top four – and top 25 – was left in flux. Debates over Oklahoma's unconvincing undefeated record, Cincinnati's strength of schedule and Ohio State's head-to-head loss against Oregon dominated headlines across several weeks. As the final authority, the CFP Selection Committee issued their official ruling on all debates, paving the way for future discussion on the matter.
Alabama, Cincinnati, Georgia, Michigan State, Ohio State and Oregon make up the CFP rankings top six, with undefeated Oklahoma at No. 8, Wake Forest coming at No. 9 and UTSA unranked.
After an exciting slate of college football games, take a look at the 2021 CFP rankings.
Week 9 CFP Rankings
Georgia (8-0)
Alabama (7-1)
Michigan State (8-0)
Oregon (7-1)
Ohio State (7-1)
Cincinnati (8-0)
Michigan (7-1)
Oklahoma (9-0)
Wake Forest (8-0)
Notre Dame (7-1)
Oklahoma State (7-1)
Baylor (7-1)
Auburn (6-2)
Texas A&M (6-2)
BYU (7-2)
Ole Miss (6-2)
Mississippi State (5-3)
Kentucky (6-2)
NC State (6-2)
Minnesota (6-2)
Wisconsin (5-3)
Iowa (6-2)
Fresno State (7-2)
San Diego State (7-1)
Pittsburgh (6-2)