Five senators set to reintroduce Athlete Bill of Rights in Congress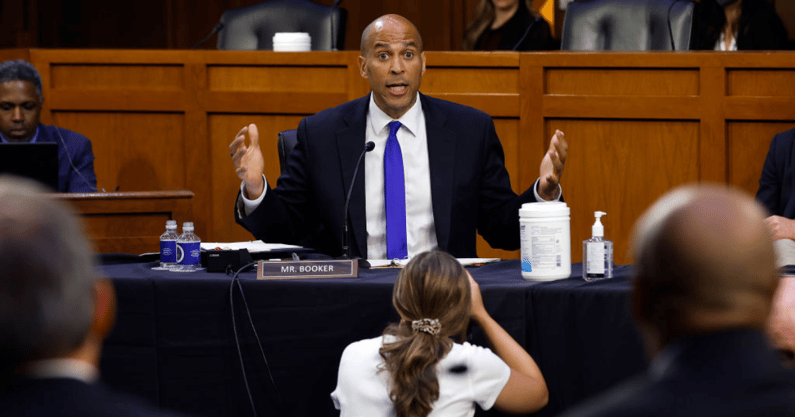 Capitol Hill is taking the future of college sports into its hands.
At least that's the hope. Two U.S. senators at the center of the college athlete compensation debate are set to reintroduce a bill that would give players the right to transfer an unlimited number of times, return to school after entering the professional draft and direct access to lifetime scholarships.
Cory Booker (D-N.J.), Richard Blumenthal (D-Conn.) and three other Democratic senators are filing the newest version of the 2020 College Athlete Bill of Rights in Congress this week, per Sports Illustrated's Ross Dellenger. Booker is not stopping there, however, as he plans to introduce a bill that will break down a revenue-sharing framework.
This all comes in the middle of a summer of massive change across the college sports landscape. USC and UCLA made headlines this summer with their move to the Big Ten. The NCAA is undergoing a leadership change. And just last month, word leaked of a college football players association forming a chapter at Penn State.
College rights and NIL have been discussed on Capitol Hill for years and have turned into a partisan talking point. Since 2019, at least eight bills have been introduced and have made no progress. With mid-terms right around the corner, the likelihood of fast track happening, which would require full democratic support, is slim.
This is not the only news coming from Washington, D.C., on Wednesday. Former Auburn football coach turned U.S. Senator Tommy Tuberville announced earlier in the afternoon that he's leading the drive to regulate Name, Image and Likeness on a federal level.
Tuberville, now an Alabama senator, told Dellenger that he intends to draft a bipartisan NIL bill with fellow Senator Joe Manchin of West Virginia.
Notes on revamped Athlete Bill of Rights legislation
The 69-page bill ranges from rules for athletic departments to follow regarding medical coverage to a commission on college athletics being established. On3 has spoken with a number of experts who highlighted a handful of notable proposed in the rights.
States and schools would only be allowed to restrict athletes from entering into endorsement contracts with entities in a particular industry, only if the state also prohibits the school from entering into agreements with the same entity.
Endorsement contracts and other financial info provided by an enrolled college athlete can not be subject to federal or state open record laws.
Student-athletes would be allowed to transfer from their school to another institution without losing eligibility if it is the first time the athlete is transferring, there is a head coaching change, the athlete provides his athletic director notice not less than seven days before transferring or does not transfer during the season or the post-season period.
Players would also be allowed to return to college if they declare for a professional draft as long as they do not receive compensation and it is within seven days after the draft.
The establishment of a medical trust fund to cover the cost of the out-of-pocket expenses relating to any athletic program-related injury or illness not covered by an institution.
Health, wellness and safety standards must be established within 120 days of the bills enactment.
A financial literacy and life skills development program at every institution.
A Commission on College Athletics would be established. The commission would keep watch over the wellbeing of athletes and enforce the legislation.