Five-Star Plus+ QB Arch Manning commits to Texas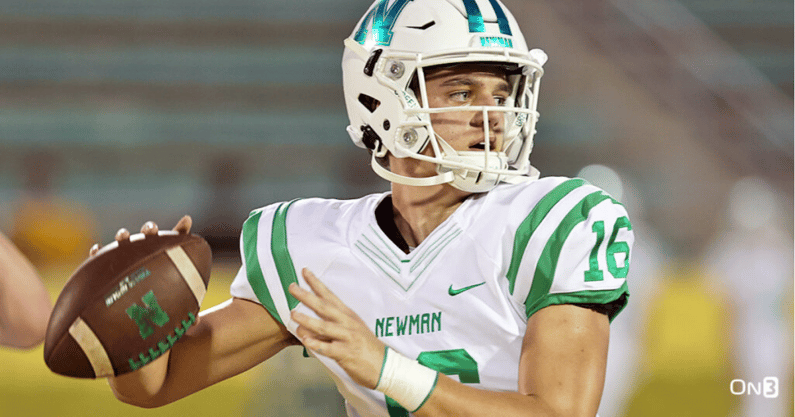 The most-watched recruitment of the past decade is over.
Five-Star Plus+ quarterback Arch Manning has committed to Texas after a multi-year courtship by the Longhorns and head coach Steve Sarkisian.
Manning is the unanimous No. 1 overall player in the 2023 class, according to the Industry Comparison Tool. He is in line to the first unanimous top recruit since Rashan Gary in the 2016 cycle.
"His skill set is unique, but it's very exceptional," New Orleans Isidore Newman head coach Nelson Stewart told On3. "When you see him, he's 6-4. He's almost 220 pounds. He's one of our top two or three fastest kids. He runs a 4.6 40."
Manning's recruitment has gone at a steady pace over the past year as he stuck to a patient gameplan and kept his cards close to the vest. He started off with five main schools in the mix for his recruitment: Alabama, Clemson, Georgia, Ole Miss and Texas.
He visited all five schools during the 2021 football season. By the time he got to setting up his official visits, he was down to Alabama, Georgia and Texas.
The Crimson Tide then accepted the commitment of four-star quarterback Eli Holstein in May, effectively turning his recruitment into a two-team race.
Arch Manning is the crown jewel of the Texas recruiting class
Arch Manning joins a Longhorn recruiting class that includes top-100 recruit and four-star wide receiver Ryan Niblett and Manning's high school teammate Will Randle.
But there will be an influx of talent coming soon to join them. Many recruits have been following and waiting to see where Manning commits before making a decision of their own.
There will likely be more than a few commits he decided to commit to Texas at least in part because of the presence of Manning in the recruiting class.
"He loves football," Stewart said. "It's naturally something he loves. He loves doing footwork drills with our running back coach after practice. He loves the meetings. He likes the film sessions after. I stay an hour each night and send him all of his notes on Hudl and he is he loves doing it."