Five-star recruits in the class of 2023: several major risers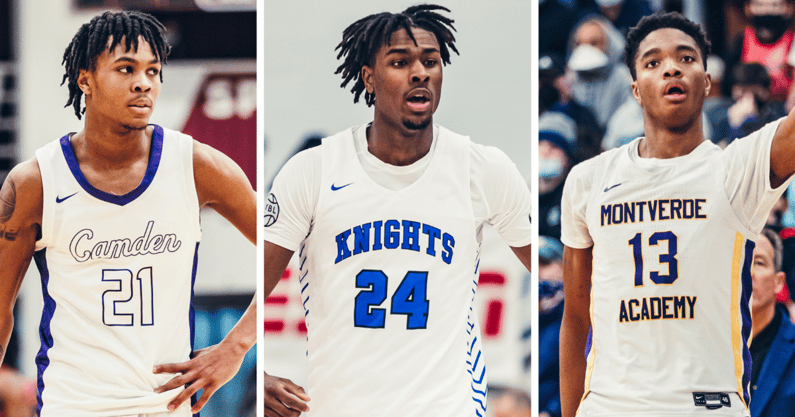 On Monday, On3 updated its class of 2023 player rankings and we saw a major shakeup towards the top, with four new additions to the "five-star" category.
It had been six months since the last update, so we saw some significant movement, including a new No. 1 prospect.
In a relatively weaker than normal class, On3's recruiting analysts Jamie Shaw and Gerry Hamilton have decided on ten five-star prospects.
Let's dive in.
1. GG Jackson
The new No. 1 overall prospect in the 2023 class and his name is GG Jackson. The 6-foot-8 power forward is coming off a strong junior season at Ridge View (S.C.) High School, where his squad recently won the 5A state championship.
Jackson is also considering a reclassification to 2022, but a decision has yet to be made. Just under a week ago, Jackson narrowed his list to six options: Auburn, Duke, Georgetown, North Carolina, South Carolina, and the G-League.
As things currently stand, one school starting to establish itself as the leader — the South Carolina Gamecocks.
According to the On3 Recruiting Prediction Machine (RPM), South Carolina now holds the overwhelming majority to land his commitment, with an 88.2 percent chance. North Carolina is trailing behind at 10.3%. However, I still wouldn't count out Duke.
Here is a summarized scouting report from On3's Jamie Shaw:
"Jackson is a lengthy forward with a lot of pop…has a tight handle with great balance that allows him to get to his spots in the half-court…a shot creator and a shot-maker from three levels on the floor…a good weak-side shot-blocker and he uses his size and length as a rebounder…just scratching the surface of his overall talent ceiling and as he continues to add weight, more growth could be in store."
GG Jackson takes over No. 1 spot in 2023 On3 basketball rankings
2. Ron Holland
Propelling his way to the No. 2 spot of rankings is Ron Holland, who's also had a strong junior season at Duncanville (Texas) High. The 6-foot-8 forward rose a total of 18 spots, earning his fifth star.
Holland is just starting to dive into his recruitment, as he's only taken visits to Memphis and Tennessee State. According to Gerry Hamilton, he's also scheduled official visits to Oregon and UCLA. He'd also like to take trips to Auburn, Houston, and Kentucky (interest). Arkansas and Texas are also in the mix.
The G-League could also play a role here as well.
More on Holland here.
*New five star
3. DJ Wagner
Remaining at the same ranking of No. 3 overall is DJ Wagner. The 6-foot-3 prospect is also the highest-ranked guard in the class.
Wagner was born to hoop and has basketball in his DNA. He's in line to become a third-generation McDonald's All-American, following in the footsteps of his dad, Dajuan Sr., and grandfather, Milt Wagner.
DJ's father played for John Calipari during his time at Memphis so it's clear why Kentucky is the favorite to land the youngest Wagner, and not many schools are betting on the chance he doesn't end up a Wildcat. DJ has taken official visits to Kentucky and Memphis.
Kentucky is the clear and heavy favorite according to the On3 Recruiting Prediction Machine (RPM), giving the Wildcats the overwhelming majority with a 97.6 percent chance of landing him.
More on Wagner here.
4. Kwame Evans
Also staying at the same spot in the updated rankings is Kwame Evans Jr at No. 4 overall. The 6-foot-10 wing has possibly the most upside in the class and expect him to have a major role as a senior next year at powerhouse Montverde Academy.
Evans has only taken one official visit to Kentucky so far. Indiana, Oregon, Auburn, Texas, and others are heavily in the mix.
Here is a summarized scouting report from On3's Jamie Shaw:
"Evans is a a long-armed forward prospect whose defensive instincts are elite…can guard multiple positions with a lot of flexibility in the style of defense a team wants to run. Offensively, the jump shot is coming out cleaner, and the vision in the half-court is crisper…a good rebounder at his size, and he can push the break in the open floor…will need to continue getting stronger and tightening all parts of this game, but Evans, Jr. is one of the top prospects in the 2023 class."
5. Kylan Boswell
Kylan Boswell has made huge strides this season at AZ Compass Prep and works his way into the top-5, thus earning his fifth star. The 6-foot-2 floor general recently committed to the Arizona Wildcats over Illinois, UNLV, and a host of other programs.
Boswell is also a possible reclass candidate.
Here is a summarized scouting report from On3's Jamie Shaw:
"Boswell can get to his spots on the floor. He has adept knowledge at running a team and can get his guys into sets in the half-court, or he can play at a fast pace in transition and make correct reads…a smooth shooter from three and a lethal pull-up jumper in the mid-range…appears to have a sixth sense of where the defensive help is coming from and where his teammates are on the floor."
*New five-star
6. Robert Dillingham
Another guard that shot up the rankings is Robert Dillingham, rising 12 spots and acquiring his fifth star. The 6-foot-1 point guard is currently playing for Kanye West's new school, Donda Academy.
A Charlotte native, Dillingham committed to the NC State Wolfpack over the likes of Kentucky, LSU, Memphis, and others. He's also been rumored to reclass to 2022 but that could all be smoke and mirrors. There are even questions about whether or not he ends up on campus in Raleigh, due to potential eligibility concerns that could surface later down the line.
*New five star
7. Isaiah Collier
Within the 'five-star' group, Isaiah Collier made the biggest jump, rising a total of 22 spots. The 6-foot-2 shooting guard out of Marietta (Ga.) Wheeler announced his top seven schools in November: Auburn, Cincinnati, Florida State, Alabama, Georgia, UCLA, and USC. So far, he's taken official visits to Alabama and Cincinnati, and unofficial trips to Auburn and Georgia.
Despite announcing a top seven, he recently told On3's Jamie Shaw that he's still open to other schools.
Here is a summarized scouting report from On3's Jamie Shaw:
"Collier is a bigger guard with a strong build and nice length…at his best in the pick and roll, where his pace and vision can stand out…has improved his jump shot, as he is confidently taking it off the bounce…is not a top-end athlete, he has enough pop to get where he needs to go."
*New five star
8. Mackenzie Mgbako
Next up is Mackenzie Mgbako, a 6-foot-8 small forward out of Gladstone (N.J.) Gill St. Bernard. The New Jersey native has been quiet on the recruiting front for the last few months. He's taken official visits to Duke, Kentucky, Memphis, and Ohio State.
Here is a summarized scouting report from On3's Jamie Shaw:
"It is the shooting that separates Mgbako. At 6-8, he has a quick, repeatable release with great balance and confidence. He has straight-line burst to the basket and high IQ as a team defender. He is a high-floor prospect."
Mgbako recently discussed each of those trips here.
9. Mookie Cook
Coming in at No. 9 is Mookie Cook, a native of Oregon. The 6-foot-7 wing of AZ Compass Prep recently announced his final three schools: Kentucky, UCLA, and Gonzaga. Cook was also rumored to be a reclass candidate, but recently told On3 that will not be the case, and he plans to stay in 2023. Cook also made it clear that the college route is the current focus, with the professional option also having been rumored to be an option for him.
Kentucky was the early, clear-cut favorite, however, Oregon might've now taken the lead as the frontrunner. He currently doesn't have a timetable for a decision but says it'll likely come at the end of the AAU season.
Cook recently sat down with On3 to give an exclusive interview on his recruitment. Click here to read.
10. Baye Fall
Rounding out the top ten is Baye Fall, the one-and-only five-star 'center' on this list. The 6-foot-10 big man recently spoke to On3 and shared he's open to both the pro and college route, however, "college is the main thing for now."
The two professional leagues that have inquired about Fall's services are the G-League and the Overtime Elite league. When it comes to colleges, Fall holds nearly 20 scholarship offers but says he hears the most from Arkansas, Auburn, Colorado, UNLV, Baylor, Oklahoma, and others.
Fall also recently sat down with On3 to exclusively talk about his recruitment and timeline. Click here to read.