Four-star PG Amaree Abram sets commitment date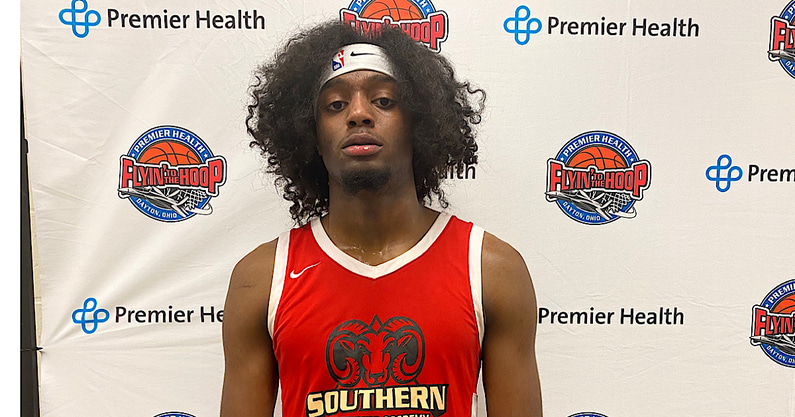 The time has finally come for Amaree Abram. The 6-foot-3 point guard out of Castaic (Calif.) Southern California Academy will announce his college decision on Saturday, March 5th, he tells On3.
The No. 9 overall point guard in the 2022 class is considering Louisville, Ole Miss, DePaul, St. John's, and Maryland. He has made official visits to both Ole Miss and Louisville.
Abram discussed each of the schools involved in his recruitment in an interview last week.
Louisville
Abram visited Louisville on the weekend of Jan. 22nd. Just a few days after returning home, the Cardinals officially parted ways with head coach Chris Mack.
"The assistant coach (Ross McMains) is the one recruiting me. He's a really great guy man. I got to chop it up with him and we've been talking ever since. The visit was great. The fans were outstanding….the players, they are a great group of guys."
Despite the vacant head coaching spot, Louisville is still pushing for Abram.
"The athletic director told me that my offer is still there, so they definitely still want me."
Ole Miss
Amaree Abram officially visited Ole Miss back in December.
"The visit was real great man. They have a great coaching staff and a great group of guys. It's in the SEC. I think I would fit in the SEC system, especially theirs. Like I said, a lot of schools want me to come in and be a key factor. I know they have guards but I think me and those guards could be big names in the SEC. They want me to come in and make an impact from the start."
Ole Miss signee Robert Cowherd is Abram's teammate at SoCal Academy. Is Cowherd recruiting Abram to join him in Oxford?
"(Robert) has been trying to push that narrative," Abram laughed when asked about the potential team-up. "He really wants me to go there with him."
DePaul
"They want me to come in and be a point guard. I think they're losing guards so I'll say come in and potentially be a starter if I do what I have to do…and be a big part of the team.
"Zion Cruz is going to DePaul, but they're still interested in me. They want us to play in the backcourt together, so they are for sure still an option."
*Something to keep in mind: DePaul is also targeting 2022 four-star CG Judah Mintz and hosted him for a visit earlier this month.
St. John's
"I think it's a great school," Abram said. "They love to play fast….my play style. They have a great coach and coaching staff. I love how they get after it. They want me to come in, be a big piece to the team, and get great minutes…and be a key player in the Big East."
Maryland
"Coach (Matt) Brady has been recruiting me. He's keeping me in the mix with everything going on," Abram said in regards to the head coaching gig. "I don't really know who's going to be the head coach. We've talked about a visit, but we haven't really talked that much. We are still trying to build our relationship."