Greg Sankey identifies major factor that played into unanimous decision to adopt 8-game scheduling model in 2024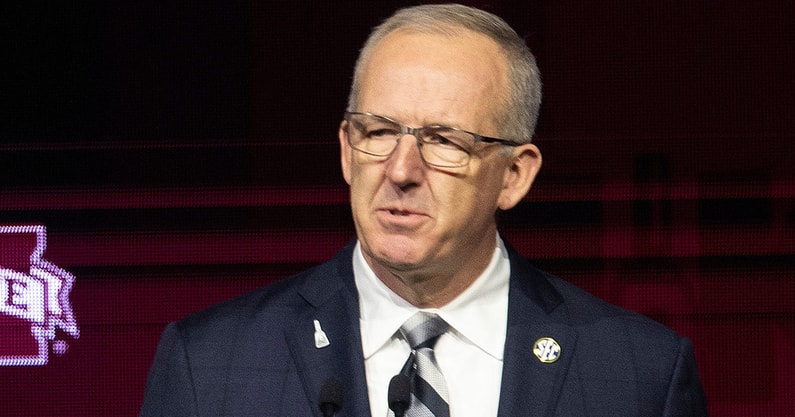 The biggest question as SEC coaches, presidents and athletic directors converged on Destin, Fla. was what direction the league would go with its future schedules. Ultimately, commissioner Greg Sankey announced the conference decided on an eight-game schedule — at least, for the 2024 season.
The debate between an eight-game model and a nine-game format was one of the hottest topics of conversation this week. Although Sankey confirmed the decision was unanimous, it wasn't an easy one.
It also featured plenty of presentations.
"I've seen enough PowerPoint slides to last me the rest of the year, Paul," Sankey said on The Paul Finebaum Show Thursday. "So, understand that. That's part of our reality. I was asked yesterday about it, 'Was there enough information provided?' I was like, 'I don't think anybody needs any more slides or any more pieces of paper.'"
There was one important factor in their decision, though. As the College Football Playoff prepares to expand — something Sankey noted in his initial statement on the eight-game schedule — strength of schedule was going to be key. That was something the SEC kept at a high level with the East-West divisional model, but it was essential to whatever move came next with so many changes in college football.
However, Sankey knows each team's schedule strength will differ. That's just the nature of the business.
"We've also tried to think more about the balance around our strength of schedule," Sankey said. "So in the divisional format, there is a fairly broad range on a year-to-year basis around strength of schedule. We won't make that perfect. Not everyone will have the same strength of schedule. If a team has gone undefeated in the past, you can't match a team up that went undefeated against itself, so that skews some other schedules.
"We're going to try to achieve, to a greater extent than perhaps we've seen in the divisional model, a narrower band of variance around our strength of schedule. And we'll compile all of that. We've, obviously, been doing that work, and that will be part of what's announced from a matchup standpoint in mid-June."
Greg Sankey: SEC officials studied 'well over 40 different formats' during schedule discussions
There was no shortage of information as SEC officials weighed what to do when Oklahoma and Texas join the party in 2024. But simply presenting the information was one thing. Sankey said the next step was trying to see the whole board and dissect what the numbers for multiple models meant in the big picture.
It wasn't just a couple ideas, though.
"Looking back, we were well over 40 different formats," Sankey said. "That's not the actual schedule, if you will. That's the format. And a lot of talk about '1-7, 3-6.' What we'll have in '24 is an eight-game schedule, with a recognition of the importance of some key rivalry, traditional games, across the full spectrum of 16 schools."
Entering the SEC spring meetings, Sankey talked about the need for "healthy collaboration" when talking about the schedule, he told On3's Ivan Maisel. It appears officials achieved just that with the unanimous decision on the 2024 schedule.
That said, there's still work to be done — and that was his message to people around the league.
"It's been a coalescing around an idea for a period of time, and this is a step in that journey," Sankey said. "Our membership recognized that there are different perspectives. Everybody had the opportunity to share those perspectives. Given the newness, given all the transition, given all of the change, this was really viewed as a healthy step that provided unanimity with the understanding we have to listen to the importance of key rivalry games. We look forward to the announcement on June 14.
"And I sent a note to some of our staff to say, 'Hey, thanks for your great work, now get back to work,' and that's exactly the mentality we have for '25 and beyond."