Handful of prospects on the cusp of earning On3 five-star status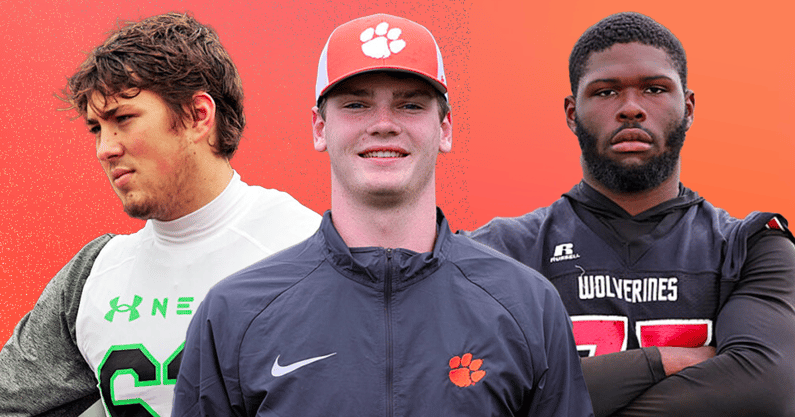 The designation of being a five-star recruit carries an enormous amount of weight with it. Not only does it label a prospect as one of the best players in the country among thousands who play high school football every year. But it also creates an added level of expectations both at the prep and collegiate level.
In the recruiting industry, five-star rankings aren't given out haphazardly. By the end of a given recruiting cycle, 32 prospects earn such status, mirroring the number of first-round NFL draft picks each spring. In the latest update of the 2023 On300 rankings, 23 prospects have earned five-star status, with a handful just on the cusp of ascending into that rare air. On3 Director of Scouting and Rankings Charles Power breaks down what each of these seven prospects has shown to put them on the cusp of five-star status with final rankings coming this winter.
IOL Luke Montgomery — Ohio State commit
On300 Ranking: No. 24 (up from No. 47)
Power's Take: "We found Luke Montgomery's senior video to be highly impressive and some of the best we've watched thus far of any offensive linemen in this class. He was more of a defensive lineman up to this point in his high school career and has really converted to offensive line and projects there full-time now. You can see that conversion taking place at a really high level. Great movement skills, outstanding feet, very reactively quick, great second-level blocker and pass protection as well. It's a very strong offensive line cycle, but he put himself staunchly on the five-star cusp and will be right there in consideration the rest of the cycle."
QB Jackson Arnold — Oklahoma commit
On300 Ranking: No. 25 (up from No. 48)
Power's Take: "Of all the top quarterbacks this fall, I think Jackson Arnold has a claim to be playing the best early on this season. It's his second year starting at Denton (Texas) Guyer, and he looks more comfortable within the offense against very difficult competition. Seeing him in the offseason, we were really impressed with his arm strength; I think it's among the best in the class. He gets it out quick, is a good athlete, and the biggest thing is seeing that progression as a player on Friday nights. The game has continued to slow down for him as he's gotten more on-field experience. We want to see how this carries on through the rest of the fall; I'd expect him to be playing into December in the high school playoffs, so there's a lot of football to be played. But we felt he'd shown enough early on to merit a move up and be in that five-star range."
DL Jordan Hall
On300 Ranking: No. 26 (up from No. 27)
Power's Take: "Jordan Hall has been on the cusp of getting a fifth star since the last rankings update. He's been one that we're really high on for well over a year, and he just continues to show a lot of the abilities and attributes that we liked initially. I would say he has one of, if not the best first step of any interior defensive lineman in the class. This is a guy who gets in the backfield in a snap, and he's highly disruptive. It's a pretty strong defensive line cycle.

… So it'll be interesting to see how he stacks up in that group over the course of the next few months. But as a pure interior disruptor, he's very much in the mix. We want to see him the rest of his senior year, and especially on the all-star circuit against top competition. We've scouted him in person, but we haven't seen him in person against elevated competition levels, but that could be what really helps him jump into that five-star conversation."
OT Monroe Freeling — Georgia commit
On300 Ranking: No. 27 (up from No. 34)
Power's Take: "When this cycle ends, we could be talking about Monroe Freeling being the most naturally gifted offensive tackle prospect. When you look at his frame, this is a guy who is 6'7, around 285 and lean, with his flexibility and movement skills, it's among the best we've seen among players at his position in this class. He's a guy who bends extremely well and is very light-footed and a fluid mover. Getting to watch him as a senior, he's made some progression with his technique a little bit and is playing pretty well. He is one who is just very solid.
… The natural ability just becomes more and more obvious the more you watch him. He has considerable upside when you consider the frame and movement ability; he just pops as an NFL offensive line prospect physically, and I think we're seeing his development continue as a player. Seeing him and some of the other top offensive linemen go up against top defensive linemen and pass-rushers will be really informative. But just from the sheer ability and gifts, Monroe might have the best tool set of any offensive linemen in this cycle."
DL Dashawn Womack — LSU commit
On300 Ranking: No. 28 (up from No. 53)
Power's Take: "LSU has a really strong class of defensive linemen and pass-rushers, and of that group, Dashawn Womack has really impressed us early on as a senior. He's playing for what might be the top high school team in the country, certainly in the top five, and he has had some really strong performances against top competition. Watching his game against DeSoto (Texas), he just kind of took the game over as a rusher. The dip, and bend and technically ability — along with the athleticism — seeing him put all of that together was a really good sign. Comparing him to some of the other guys at his position in the range, we saw an advance level of technicality and how he was really dominant in a showcase game. He has ready-made size as well at 6-foot-5, 250 pounds right now."
QB Christopher Vizzina — Clemson commit
On300 Ranking: No. 29 (down from No. 22)
Power's Take: "Christopher Vizzina has been on the cusp of being a five-star for a while now. Looking at his senior year, it's pretty interesting. He didn't start off super hot and played a really tough team to start the season. But he's shown some impressive competitive spirit, leadership and led his team to two-game winning drives. He's impressed us with the mobility as well, which we kind of knew coming in. But just overall, the ability to kind of put his high school team on his back and lead them to some wins has been impressive. What we really want to see more of is just the timing in the passing game. His stats have continued to improve over the course of the season, and we want to see the rest of the senior season and ultimately what he looks like on the all-star circuit."
TE Duce Robinson
On300 Ranking: No. 30 (down from No. 24)
Power's Take: "The bar for being a five-star tight end for us is pretty high, just given the positional value. Duce Robinson, other than Nyckoles Harbor who could be a tight end long-term, looks to be the clear top tight end in this cycle. We'll continue to watch him the rest of the year, and one thing we really look for is the ball skills and consistency with his hands. I think he also might even be a little leaner than he was going into his junior year. His body has some room to mature, and we want to see more of his pure receiving skills, but he's got a really strong start to this year."