If Brent Venables is right that Oklahoma will be 'on another planet defensively' in 2023, then the Sooners could be next year's TCU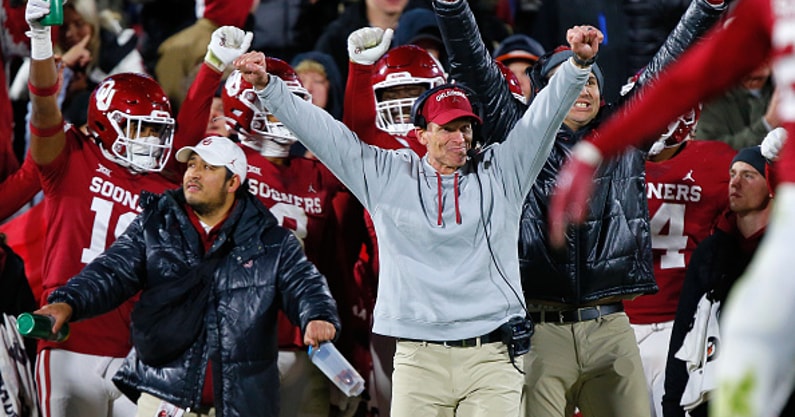 Brent Venables was frank in his assessment of Oklahoma's defense in 2022. 
"We got bullied around and beat up too much," the Sooners' second-year head coach said last week at the start of spring practice. 
"We got knocked off the ball. We got run through. We just played bad, bad defense. If we put it on the field, that means we coached it. We've got to get better, coaches and players."
Well, aside from all that, Mr. Venables, how was the season?
Predictably, mostly miserable it turns out. 
Oklahoma has long been a program revered for its infrastructure and stability, but the Sooners' foundation was rocked after Lincoln Riley bolted for USC. Brent Venables was an obvious choice to return to Norman to fill the vacancy, but the former Clemson DC's first season disproved the notion that OU is a recession-proof program. 
Not in college football's new-age economy anyways. 
With a roster raided by the transfer portal, the Sooners suffered their first losing season in 25 years. They were a Top 10 team to start the year, only to lose six straight games at one point — including a 49-0 thrashing by Texas in the Red River Rivalry. 
OU's issues were obvious. The Sooners weren't just "bad, bad" defensively last fall. They were cataclysmically awful. 
They ranked No. 122 in total defense and No. 100 nationally in scoring — the worst of Venables' career. They allowed 40+ points five times and the most first downs in the nation. 
Venables, who coached Top 10 defenses in six of eight seasons at Clemson, tried to overcompensate for a defensive roster that lacked depth and beef by constantly blitzing. The Sooners actually produced plenty of havoc — tops in the Big 12 in interceptions, No. 2 in sacks — but the steady stream of pressure only created more volatility and opportunities for opponents to make splash plays (No. 128 nationally in plays over 10 yards allowed, last among all Power 5 teams). 
Oklahoma lacked an edge. The Sooners played with poor fundamentals, too. 
It's a lot to address in a single offseason, and yet Brent Venables didn't forget how to coach defense after one terrible year. He went to work quickly this offseason to shore up the roster, adding six key transfers and a pair of 5-star signees (edge rusher Adepoju Adewawore and safety Peyton Bowen). The Sooners also return nine players with starting experience, including a trio of defensive linemen and the Big 12's leading tackler in linebacker Danny Stutsman. 
So despite some serious Year 1 growing pains, Venables is quite optimistic OU will see drastic improvements defensively this fall. The Sooners' depth is better, sure, but more importantly, Venables feels like the ingredients and roster makeup are better. 
"We have the right foundation now," Venables said. 
"I believe in the guys that are in that locker room. I really expect wherever we are today, by the time April 22 gets here we're going to see improvement."
He also added: "It never happens fast enough. And wherever we are, by the end of next season it's still not going to be good enough. The best of the best are never satisfied.
"But I expect us to be on another planet defensively."
If he's right, then Oklahoma could be set up for a major bounce-back season in 2023. 
In 1999, Bob Stoops went 7-5 in his first year at OU. The very next season, Oklahoma went 13-0 and won the national title. I don't foresee Venables making such a dramatic Year 2 spike, but it's not outlandish for the Sooners to reclaim their throne atop a wide-open Big 12 if they've truly plugged a bunch of holes defensively. 
They return quarterback Dillon Gabriel, who is among the better QBs in the conference and added 5-star Jackson Arnold to the mix, too. They have a nice 1-2 punch at tailback.
They're young at wideout, but there's playmaking talent on the roster thanks to additions via recruiting and the portal.  Their schedule is very manageable as well, especially trading Georgia for SMU in the non-conference and missing Kansas State, Texas Tech and Baylor. They get TCU at home and stand to have better luck in one-score games (1-5 in 2022). 
So if Venables is proven correct and OU's defense does come back to earth this fall — we're talking competent, not even necessarily a Top 25 unit — then the Sooners should have a strong rebound season and contend for the conference title. 
The season is still six months away, but we just might be looking at next year's TCU.