Tyler Linderbaum, Iowa's All-American center, is 'too good to be true'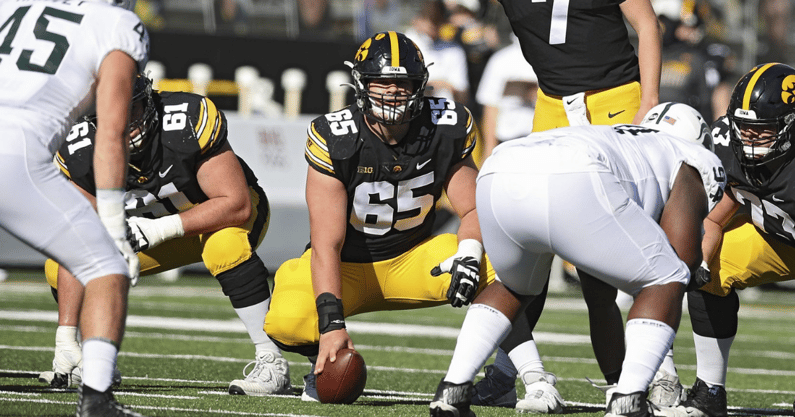 IOWA CITY, Iowa — Tyler Linderbaum grew up in Solon, Iowa, a town of 3,000 people about 10 miles north of Kinnick Stadium. Solon is a farming town, even as it has become a bedroom community for the University of Iowa. We know Solon is a farming town because every July, Solon Beef Days, a town-wide celebration, features a hay bale toss.
It's simple: You pick up a hay bale, which is big, boxy and weighs at least 60 pounds, and you toss it over what amounts to a pole vault bar. No problem.
Linderbaum, a fourth-year junior All-American center, is 6-foot-3, 290 pounds of chest and glutes. All he's missing is a neck. With his home-bale advantage, Linderbaum tied for first place this year with o-line mate Tyler Elsbury by clearing 14 feet.
I would call Linderbaum "farm strong," but Farm Strong is the slogan on Iowa State T-shirts this season, and this is not the week to cross those boundaries. No. 9 Iowa State plays host to No. 10 Iowa on Saturday.
Linderbaum may be the best player at Jack Trice Stadium not named Breece Hall; he also just may be the best player, period. Linderbaum displays the strength of an offensive lineman, the agility of a wrestler, the intelligence of a play-caller and the aggressive nature of the defensive lineman he used to be.
Quarterback Spencer Petras, Linderbaum's roommate, called him "a safety blanket for my emotions." Iowa coach Kirk Ferentz, as is his nature, came straight to the point.
"That kid does everything well," Ferentz said. "He's too good to be true."
And he grew up going to Hawkeyes games.
A Hawkeye through-and-through
College football recruiting has become a national event. The quarterbacks of Alabama, Ohio State, Georgia, and Clemson are from southern California. Alabama has players from 22 states and three countries. Stanford has 32 states represented on its roster.
Yet there still are players like Linderbaum, who began attending Iowa games at an age so young that he usually fell asleep on his father's shoulder before the game ended.
Linderbaum said that when he grew up, he never thought about being good enough to get a football scholarship. He grew up wanting to play in the NBA. Along about the start of high school, though, Linderbaum realized, as he said with a laugh, "My body type didn't let me excel at that, so I quickly had a change in my path."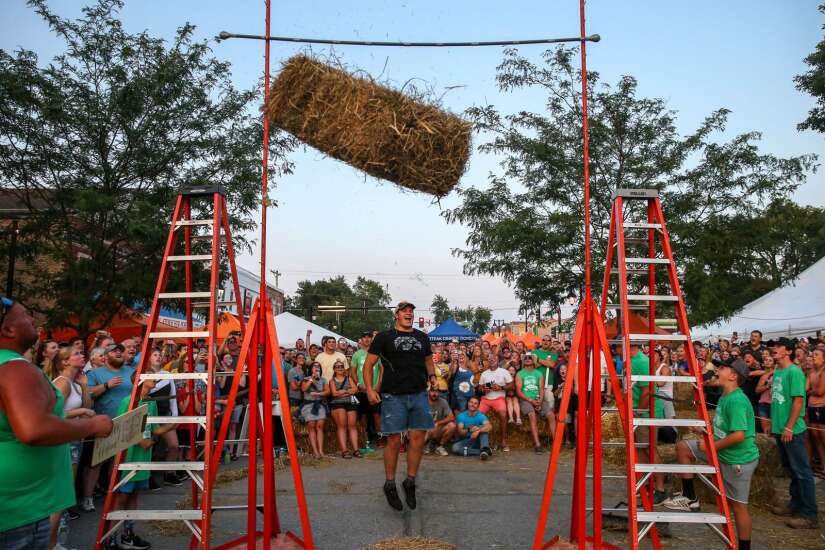 The truth is, when one season ended, Linderbaum just went on to the next sport. They still do that in Iowa. At Solon High, he transitioned from football in the fall to wrestling in the winter to baseball when the weather got warm.
"So many players, especially linemen, offensive and defensive, a lot of them were heavyweight or 220-pound wrestlers," Ferentz said. "Like farm kids, you rarely get a bad one. They understand what work is. They've been told you gotta work at it. Wrestlers are the same way."
The other reason Linderbaum didn't grow up wanting to be a Hawkeyes football player is that he didn't know there was such a thing as a scholarship. He liked watching the Hawks play football. He liked playing football. But it never dawned on him he'd be good enough to make that leap from the stands to the Kinnick Stadium turf.
The first scholarship offer he received came before his junior year at Solon High, when he attended a summer football camp at Minnesota State-Mankato, where his brother Logan wrestled. At the end of camp, Mavericks coach Todd Hoffner offered Tyler a scholarship.
"And then he said, 'I know you're not going to come here. You're going to get bigger offers,' " Tyler said. "I'm like, 'Geez, OK.' I'm still starstruck. I didn't know what an offer was. I kept asking my brother and parents, 'So what the hell does that mean?' "
Linderbaum considered Iowa State, which offered him a scholarship shortly after his junior season at Solon High. "Oh, yeah," Cyclones coach Matt Campbell said. "We recruited the heck out of him. But, man, here's what I love about him — just an incredible competitor."
"I thought it was a great coaching staff, obviously," Linderbaum said. "But something always felt weird to me, me picturing myself playing at Iowa State. Nothing against the staff or anything. I just couldn't, you know, when you go to bed at night and dream about where you're playing, it just didn't — I'd never been to an Iowa State game. It was just weird to imagine that. But I could fully see myself playing for the Hawkeyes."
An o-lineman with a d-lineman's mentality
There's an air of mission about Linderbaum. He has something in mind and he intends to achieve it. Even as he sits for an interview in a lounge overlooking the indoor practice facility at Iowa — the one Ferentz uses only for the Friday walk-throughs because, well, games are played in bad weather sometimes — it feels as if Linderbaum is in motion. He doesn't fidget. He's just determined.
Offensive linemen usually play with more control than that, balletic in unison if not appearance. Defensive linemen play in a bad mood. Emotion is a fuel. Offensive line coaches like to find former defensive linemen who can cross over to the cerebral side of the line of scrimmage.
"The best thing I've seen from him is probably him taking a guy from his position at linebacker 10 yards down the field and putting him on his back," Iowa running back Tyler Goodson said. "He does that quite often."
"He's definitely a nasty blocker," Hawkeye defensive end John Waggoner said. "He comes off the ball hard, got quick feet, a strong punch."
"It's kind of unnatural to try to stop a moving object while you're moving backward," Linderbaum said. " … But I think it's good to have a defensive line mentality — 'I'm going to rip the quarterback's head off' — but as an offensive lineman: I'm going to rip this d-lineman's head off, or this linebacker's head off.
"I think it's important for players to have that mentality that you're going to try to kick someone's ass."
Iowa started 0-2 last season, then won its remaining six games. After last week's stunning 34-6 rout of then-No. 17 Indiana, the Hawkeyes climbed into the top 10. There is momentum building here, and Linderbaum is leading the charge. The world may not be his oyster, but it just might be his hay bale.