Daily briefing: On Georgia's defense, Kentucky recruiting and the Ragin' Cajuns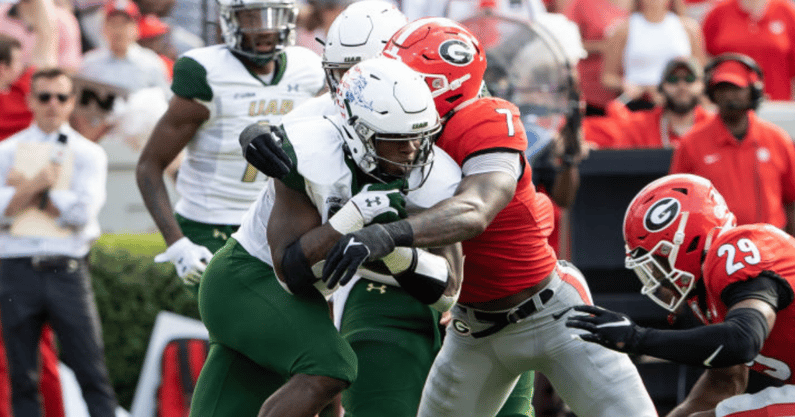 Ivan Maisel's "Daily Briefing" for On3:
Georgia and its dominant defense
One occupational hazard of covering a dominant team is finding new ways to describe its dominance. Check out these numbers put up by the defense of the No. 1 Georgia Bulldogs. Opposing offenses are averaging 57 snaps per game. The mean used to be 70 snaps; with up-tempo offenses, it's probably closer to 80 now. Opposing offenses are averaging 11 first downs per game against the Bulldogs. And if you really want to geek out, opposing offenses are averaging less than one point per possession against the Dawgs. For context, Pitt, which leads the nation in scoring at 52.4 points per game, averages 3.85 points per possession, and that includes kneel-downs at the ends of halves/games. In other words, the Georgia defense still is very good.
UK and recruiting the midwest
Former South Alabama athletic director Joe Gottfried told me a story Wednesday. His brother Mike, who coached at Kansas and Pitt before enjoying a long career at ESPN, got in the mix for the Kentucky job in the 1990s. The Gottfrieds are from Ohio, and Mike believed Kentucky football could be successful by recruiting the Midwest. Then-Kentucky AD C.M. Newton explained to Gottfried that he wanted a football coach who would recruit SEC territory. Years later, Newton apologized to Gottfried, telling him he was right. The point? Mark Stoops is Ohio high school football royalty, and his 6-0 Wildcats have four starters from Ohio and two from the Detroit area.
Louisiana's big win
Football can be a weird game. Louisiana had only three takeaways in five games, then forced four turnovers Tuesday night against Appalachian State. I will say without hesitation that I didn't see the Ragin' Cajuns' 41-13 rout coming. Nothing against Louisiana, which began the season in the AP Top 25. It's just that the Mountaineers hadn't lost a Sun Belt game by that large a margin since stepping up from the FCS ranks in 2014. Louisiana (5-1, 3-0) has won five in a row since a season-opening loss at Texas, and in case you're wondering, the Cajuns don't play No. 15 Coastal Carolina in the regular season. That would be one helluva championship game.