Ivan Maisel's grid bits: On the Horseshoe's 100th, Brian Kelly vs. Nick Saban and the early-season schedule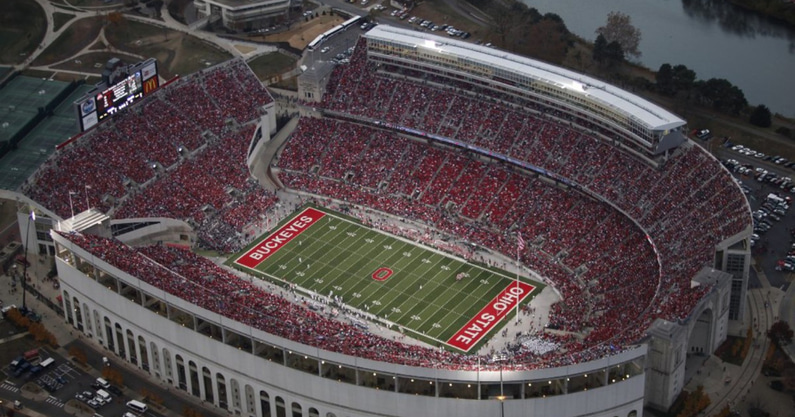 Some notes as we wait patiently for the 2022 season to get here (it's 80 days away).
The Horseshoe turns 100 years old this season. The coolest thing about Ohio Stadium is that, like the Los Angeles Memorial Coliseum, the Horseshoe has been modernized without losing the feel of a classic stadium. Good work, Ohio State. Now, play better defense.
Jim Knowles leaving Oklahoma State to take over the Buckeyes' defense is atop the list of most important coordinator hires this season. So is Jeff Lebby (formerly of Ole Miss) running Oklahoma's offense. And Dabo Swinney's decision to promote Wes Goodwin (defense) and Brandon Streeter (offense) to coordinators will test his belief in promoting from within.
As an aside, is anyone else surprised that Bill O'Brien stuck around for a second season to run Alabama's offense? Yeah, O'Brien works with Bryce Young, a thinking coach's dream of a quarterback, but I just assumed that O'Brien would take only one spin on the Saban carousel.
The spread offense and its variations have made passing offense the most efficient it's ever been. Quarterbacks are getting the ball out of their hands more quickly to more receivers. The improvement has been startling over the past decade. The FBS set an average completion percentage record last season of 61.5, the sixth consecutive season the percentage has risen. And the ratio of touchdowns to interceptions (2.12-to-1 in 2021) has gone up in eight of the past nine seasons.
The passing efficiency number for the FBS in 2021 was 137.64. How good is that? Thirty years ago, what passed for average in 2021 would have been eighth among I-A quarterbacks, better than future pros such as Trent Dilfer of Fresno State (135.8), Glenn Foley of Boston College (135.34) and the Heisman winner that season, Gino Torretta of Miami (132.8).
The 2022 season is a good one for anniversaries. It's the 100th for The Horseshoe. This is the 75th for the National Football Foundation, which runs the College Football Hall of Fame. It's the 50th of "Punt Bama Punt." It's the 40th of "The Play" (keep an eye out for Tyler Bridges' book, "Five Laterals and a Trombone.") It has been 25 years since the split Michigan-Nebraska national title, which prompted the creation of the BCS. And it's the 10th of "Johnny Football" bursting on the scene and winning the Heisman.
Brian Kelly arrives in LSU with 263 official victories, not counting the 21 that the NCAA took away from him for Notre Dame rules violations. In official wins, Kelly trails Nick Saban by six (unofficially, Kelly leads Saban by 10; Saban had five taken away from him by the NCAA). In the long term, bet on Kelly to finish with more; he's 61 and Saban is 70. That presumes that Kelly will be successful in Baton Rouge, a prediction that you don't have to go too far out on the limb to make. Kelly won at Division II Grand Valley State, at Central Michigan (MAC), at Cincinnati (Big East) and at Notre Dame, still one of the biggest goldfish bowls in American sports.
Joe Paterno holds the record for most FBS coaching victories with 409. If Kelly averages nine wins a season, he would catch Paterno in 2039, at age 78. But if Kelly averages nine wins a season, will he survive at LSU?
After witnessing a winter and spring full of handwringing over transfer portal transactions, real and imagined, it's worth mentioning that a lot of players didn't leave when they had the chance, like the top five returning rushers in the FBS: Lew Nichols III of Central Michigan, Sean Tucker of Syracuse, Deuce Vaughn of Kansas State, Rasheen Ali of Marshall and Chris Rodriguez Jr. of Kentucky. The belief that the Alabamas and Oklahomas of the world will cherry-pick the top players from the teams below them clearly is an exaggeration. I'm not sure that makes the coaches who did lose a top player feel better.
Marcus Freeman lost his first game as Notre Dame's coach, 37-35 to No. 9 Oklahoma State in the Fiesta Bowl. Freeman's first regular-season game will be at Ohio State, which will be ranked in the top five (top two?). It's been 36 years and five coaches (not counting George O'Leary's five days in the job) since a new Fighting Irish coach lost his season-opener. Lou Holtz began in 1986 with a 24-23 loss to No. 3 Michigan, and the Irish lost the next one, too. In fact, Notre Dame started 1-4 in Holtz's first season. Not that Freeman would take comfort in Holtz's slow start, nor should he. Two seasons later, Holtz coached the Irish to the national championship. The expectations are the expectations.
Virginia quarterback Brennan Armstrong last season set or equaled eight school records, including passing yards in a season (4,449) and a game (554). In this day and age, he is a luxury at quarterback – a fifth-year senior with two seasons of starts and a diploma. There aren't many of those guys anymore. Armstrong will be a fascinating story this fall. He has a new coach in Tony Elliott and an all-new offensive line with three redshirt freshmen on the first line of the depth chart. The good news is that only three of the Cavaliers' 11 FBS opponents had winning records last season – ACC Coastal opponents Pitt and Miami, and Coastal Carolina – and none are among the Cavs' first eight opponents. Armstrong and his new line will have time to adjust.
Speaking of neat schedule tricks, Pitt opens the 2022 season at home against former archrival West Virginia in a Labor Day weekend Backyard Brawl, then follows with tough non-conference games against Tennessee and at Western Michigan. But the Panthers don't play another team that had a winning record in 2021 until the last game of the season, when they visit Miami.
Say what you will about the state of Pac-12 football vis-à-vis the rest of the FBS – the streak without a playoff appearance is five seasons and counting – but the conference has the most intriguing mix of coaches in the nation. You have offensive gurus in the same city (Chip Kelly of UCLA and Lincoln Riley of USC), proven veterans (Kyle Whittingham of Utah, David Shaw of Stanford, Kalen DeBoer of Washington), coaches with promise (Jonathan Smith of Oregon State, Justin Wilcox of Cal, Jedd Fisch of Arizona, Jake Dickert of Washington State and Dan Lanning of Oregon) and guys who have been around the block (Karl Dorrell of Colorado and Herm Edwards of Arizona State).
It's incumbent on that group to keep the best talent in California home. NIL may be upsetting the model of college football that we're used to, but it also could be the ticket for the Pac-12 to speed up the return to national relevance. If USC takes off under Riley, and Oregon under Lanning, let's see what the rest of the league does to maintain the pace.
The Week One neutral-site clash of titans has its roots in the old Kickoff Classic that began in the mid-1980s at the Meadowlands. Coaches love them because they can play a quality opponent without facing a hostile crowd. Athletic directors love them because they get a home-game paycheck. You know who doesn't love them? The fans back home, who get stuck with non-conference games against FCS opponents.
Athletic directors have heard the complaints. Alabama plays at Texas in Week Two. Nebraska-Oklahoma and Georgia Tech-Ole Miss, both of which used to be fierce conference opponents, play in Week Three, in Lincoln and Atlanta, respectively. So do Michigan State and Washington in Seattle. There should be room for neutral-site games and non-conference home-and-homes. They're both good business.