4-star Jaeden Mustaf breaks down visits; updates recruitment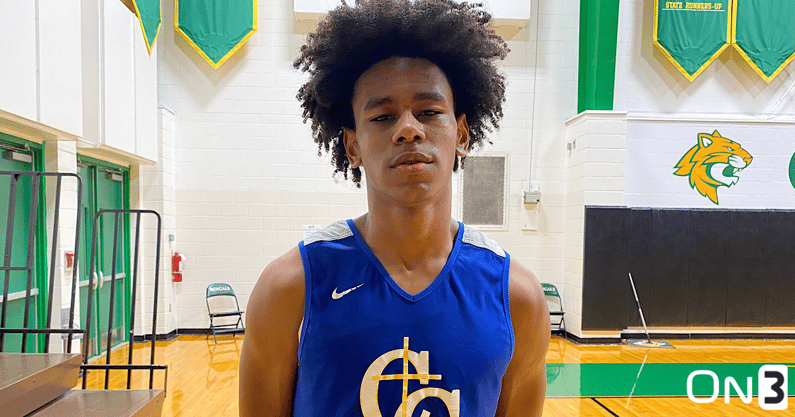 Jaeden Mustaf is coming off a Summer where he was named the MVP of the Adidas 3SSB 17u Circuit Championship game. That session, playing up in age, the 6-foot-5 guard averaged 14.5 points, 5.3 rebounds, and 2.5 steals per game.
"I've become more of a vocal leader on the court," Mustaf told On3. "Me and Coach Badgett (Carmel Christian head coach) have been working hard on my jump shot, making my pull-up jumper a weapon. My ability to see the court and handle the ball at my size is an advantage in my game."
The 2024 On3 150 four-star transferred to Matthews (NC) Carmel Christian this season, where he is averaging 15.5 points, 6.5 rebounds, and 3.8 assists. On3 caught up with Jaeden Mustaf after a recent live viewing to go in-depth about the current state of his recruitment.
Mustaf talks visits
"I've taken two official visits, Georgetown and Florida State," Mustaf said.
Georgetown: "It's like a family over there; that whole coaching staff are my guys. Everything they're telling me is straight up because we got a relationship like that. Nothing is sugar-coated with them, and I like that."
Florida State: "Florida State is always a school I've kind of liked, so I was happy about it when they reached out. Florida is a good state, so that was a no-brainer to go on that visit. When I went down there, it was like I was already a part of the team. The players were already taking me under their wing, and we got along well.
"They like to push the ball and get up the court, but they're all about defense there. They're real competitive in everything they do there."
Mustaf talks recruitment
"I still want to visit Indiana, Maryland with their new coaching staff," Mustaf said. "I want to go see Miami. NC State wants me to come back up there."
Maryland: "That's the hometown; it is what it is. Those are my guys up there; they got some of my hometown friends going there."
Indiana: "They are very involved. They make sure I know they want me to be a part of their program. They reach out a lot, almost every day, talking about coming up there."
Miami: "It's surprising because usually, it's the assistant coach who is doing a lot of the recruiting. With Miami, it's mostly Coach (Jim) Larranaga who is reaching out and sending me stuff. It's different with them with the head coach getting involved more."
NC State: "I'm down in North Carolina now. In fact, I was texting them right after they beat Duke the other night. Coach (Kevin) Keatts was just telling me how I would fit in there. And now that I'm down here, it's close to home."
"Illinois has reached out some," Mustaf said. "Arkansas has reached out too, and LSU talks to me a lot, and Kansas has been talking to me since the Summer. Not sure when any of them will offer."
In his words
"I'm trying to figure out a time frame now," Jaeden Mustaf said. "The whole process can kind of be a lot sometimes, so I want to cut my list. Figure out what schools I'm the most interested in, so I can focus on them. But I'm trying to figure that out now.
"I'm looking for a family environment. A place I can go and win, go and develop and get the most out of my potential. Education is a big piece for me. But mostly, just a family environment where I know everyone trusts me and has my back.
"Play style will matter, of course. I would like to go somewhere I can play on or off the ball. That will come into play as I focus in more on these schools."