Jahki Howard down to 8 schools, sets commitment date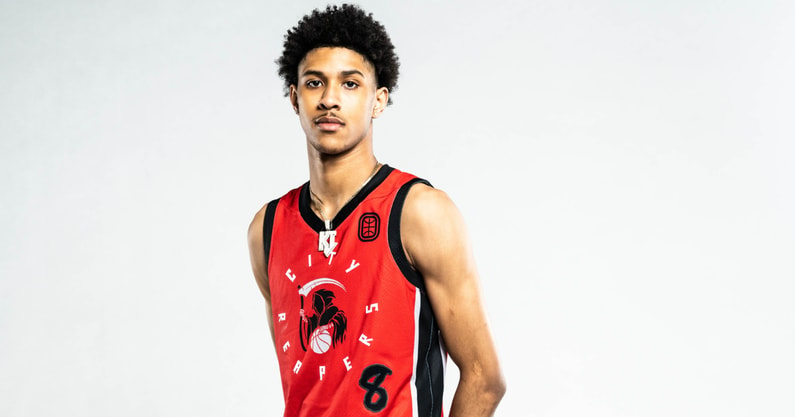 Atlanta (Ga.) Overtime Elite Academy four-star recruit Jahki Howard tells On3 he's down to eight schools, in no order: Kentucky, Auburn, Kansas, Florida State, Texas, Arkansas, Georgia Tech, and Georgetown. The 6-foot-6, 175-pound class of 2024 small forward has also set his commitment date for November 20th. The announcement will be made back in his hometown of Boston, Mass.
The only school Howard has visited is Georgia Tech, an unofficial in June. He will take his first official visit to Georgetown on October 13th.
It should also be noted that Kentucky has not offered Jahki Howard.
Ole Miss, Providence, Florida, Arizona State, Georgia, and others all extended scholarships.
Howard is the No. 58 overall prospect in the 2024 class, according to the On3 Consensus, the average ranking from all four major recruiting media companies. He's also ranked as the No. 17 small forward and the No. 6 prospect in the state of Georgia.
Howard discusses programs
In a recent interview with On3, Howard broke down a handful of programs involved in his recruitment.
Georgia Tech: "It was amazing. It was an unofficial. I had already been to Tech already to hoop. I might go back on another unofficial since they're so close. It was a great experience, like watching their practice and it was really intense. It was really good to be able to watch a college practice."
Kentucky: "You can't ever go wrong with Kentucky, you know, that's Big Blue Nation. That's one of the biggest schools in college right now. Their winners. Coach Cal is a winner. He's going to make sure you get to the next level. You gotta make sure you work hard. It's just an amazing school."
Auburn: That's to close to the family. Bruce Pearl is a intense guy. That's the type of person I'm like. I'm like I like to yell. I like to play defense and the energy. He likes to energize and I love that. I love him as a coach."
Arkansas: "I love coach Muss. That's my guy. That's my guy for sure. I recently got the offer. They came to watch me workout and he offered me. We sat on the phone for like 30, 40 minutes just talking. I love his, his energy and the way he just treats people."
Future visits?
The only visit Howard currently has scheduled is to Georgetown, which will happen on October 13th. He says he would also like to maybe visit Auburn, Kentucky, Florida State, Texas, and more.
Jahki Howard talks his game
"I'm gritty, a dog, and I'm going to do the things that other people are not going to do," he says. "I'm going to make sure I get 10 rebounds, maybe a couple steals, and for sure a couple blocks. I am not really big on the scoring part and that's one of the reasons I'm at OTE right now, so I can develop my game and a high-level of scoring. Other than that, I'm a grinder. Someone that will dive on the floor, guard you 94-feet, talk on defense, be loud, and just win."
Which aspects of his game does Howard want to improve the most while at OTE?
"My ball handling for sure, and just me getting stronger, being able to take contact. I already have the athleticism so now with my body being built, I'll be able to hopefully guard one through five. OTE already has developed me and helped me with my jump shots. So just now getting to the point where I can be able to handle the ball on a high level."
Howard talks upside of OTE
"As soon as you step in here, you see it. It's the facilities for sure. Everybody's going compete, everybody's going to go at each other. Nobody is going to let you slide. This is like college for real. It's preparing you for the next level."