Jeff Hafley credits Marcus Freeman for Irish success after slow start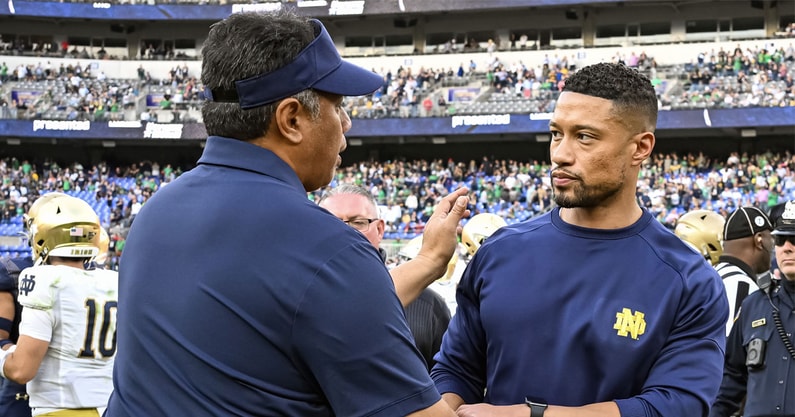 Notre Dame is set to take on Boston College this weekend, having won four straight games and seven of its last eight. Boston College is coming off a road win of its own, though, having knocked off a ranked NC State team last week. Eagles coach Jeff Hafley knows his team will be in for a challenge though, and he credits Marcus Freeman, the Fighting Irish coach, for the job he's done turning things around this year.
After all, Notre Dame started the season 0-2 but has rebounded to reach 7-3.
"Marcus has done a really good job with the slow start, some ups and downs, of pushing through it, persevering and winning some big games like the Clemson game and then battling last week against Navy, who's a tough team," Hafley said. "He's done a really nice job."
Boston College has actually done a decent job, too, especially of late.
The Eagles entered the season after losing their lone returning starter, Christian Mahogany, during offseason workouts. A ragged offensive line has been a problem, and veteran quarterback Phil Jurkovec was lost to injury recently after being beaten up routinely.
Still, Boston College has found some answers with backup quarterback Emmett Morehead, who was excellent in only his second career start last weekend.
Will it be enough?
Jeff Hafley credits Marcus Freeman, lauds Notre Dame defense
One thing Hafley credits Marcus Freeman for in the turnaround is getting the Notre Dame defense to play at a much higher level than it was earlier in the season.
The Fighting Irish have produced quite a stout unit, and Hafley outlined the various ways the defense has made life difficult on opponents.
"It's a good football team. A veteran team, especially on defense," Hafley said. "I think defensively I think it's all seniors, grads, except the one. I think they have a true freshman corner playing right now. Defensive line is big and really well-coached. (Isaiah Foskey)'s a good player. He's also the guy blocking all those punts. Nose guard's a good player, linebackers are aggressive and their back end, they've got a lot of experience. They play really hard.
"I think Al Golden's done a really good job schematically with them. They'll throw a lot at you, they'll play man, they'll play zone, they'll send six-man pressure, five-man pressure, they'll double people. I'm sure they'll have a plan for Zay (Flowers) that's a little bit different than what they've done."
Notre Dame and Boston College are set to meet on Saturday with a 2:30 p.m. ET kickoff on NBC.