Jimbo Fisher's terse comments about potential changes offensively at Texas A&M raise red flags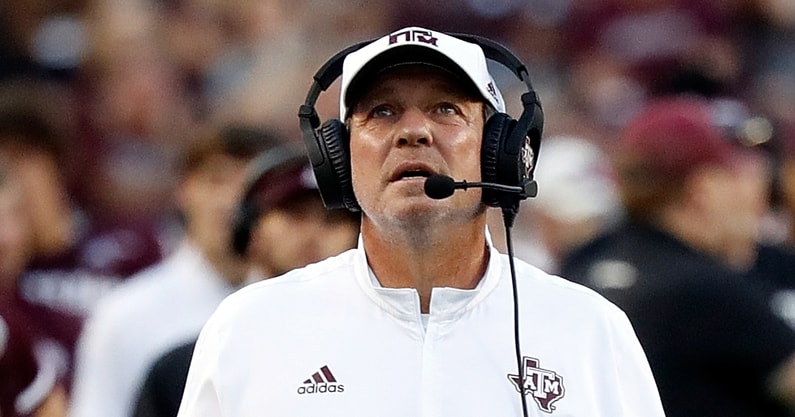 It's been a long offseason at Texas A&M, but hope springs eternal, and the Aggies returned to practice this week looking to fix a broken offense. 
"Spring is always a great time," head coach Jimbo Fisher said Monday just before ripping through some prepared thoughts with the speed of the fastest-talking Texas auctioneer. 
"It's about fundamentals. It's about getting back to basics. It's practicing until you do it right until you can't do it wrong. It's about assignments, your alignments, your leverage, your steps, which is football. It always is. Spring is about all that."
What spring is not about apparently is asking Jimbo Fisher how the Aggies' woeful offense will look different in 2023 with new offensive coordinator Bobby Petrino. 
In his first public comments since hiring Petrino, Fisher raised his hand and swatted away the first question before the reporter could even finish his sentence, saying, "We ain't worried about that. Here's what we're doing. We're running our thing. We're going to be base fundamentals. We ain't getting into scheme. We ain't getting into anything. That's what we're going do. That's what we're going to practice. And what we're going to do on a daily basis."
Well, alrighty!
The awkwardness was just getting started, though. Fisher was short and defensive throughout the rest of the press conference whenever ever he was asked about Texas A&M's offensive changes, Petrino's role, who would call plays, etc. 
What made you interested in hiring Petrino?
"That was a guy we wanted to hire. A guy I've known. We have great respect for each other. After meeting and talking with him, we thought it'd be a very good fit for what we're trying to do."
What made you circle back to Bobby Petrino after interviewing him, and then him accepting the UNLV OC job?
"I didn't go back. Never left."
Who will call plays?
"We'll go through that as we go … (long pause) … plan on (Petrino) making calls, plan on him calling plays. I have no problem with that at all."
Holy backtrack, Batman. 
Jimbo Fisher is among the most prideful and stubborn coaches in college football, so it's unsurprising that he had little interest in digging into the notion that something had to change with Texas A&M's offense after the Aggies ranked 101st in scoring (22.8 points per game) last season. But Fisher has had three months to think about how he'd answer some rather simple questions and that's what he came up with?
We'll go through that as we go. (Oh wait … that's not what I was supposed to say).
Technically, Fisher has relinquished some control. He made that concession — "voluntarily" — by hiring Petrino. Fisher's responsibilities are different now. He's taking a more CEO approach to the team, no longer serving as the primary QB coach or (alleged) play-caller for the first time in over 30 years of his coaching career. 
That's a big blow to a big ego, and yet Fisher's comments this week didn't provide a ton of confidence that things would — and needed to — change for the Aggies' offense this fall. 
The true answers were never going to come until the games kicked off in the fall anyways, but his terse responses certainly suggest he still believes what he was doing last season wasn't the problem. 
Emphasis on he. 
Once again, Fisher constantly harped on his favorite platitude "execution" as the reason why A&M struggled last season. 
Why?
Because it's a subtle way to shift the blame for Aggies' offensive failures. It's not the calls from his Cheesecake Factory sized-play sheet. It's the players. 
Just like he did following the team's best offensive output in the season-finale against LSU last season, Fisher doubled down on the "nothing wrong with what we're doing" idea that Texas A&M's scheme is no different than the alleged great offenses across the rest of the country. 
"We ain't got enough hours in the day to go through all that," he said when asked if he could describe similarities and differences between him and Petrino philosophically. 
"At the end of the day, we believe in one thing: Execution. An over route is an over route. A dig is a dig. We get so caught up, it's not scheme. It's execution. How do you execute? Alignment. Assignment. Technique. 
"If you go watch everybody in the country, everybody does the same thing. Go watch the film. There's not a hill of beans between anybody as far as what goes on. What routes are. What plays are. A counter is a counter. A dig and a post is a dig and a post. Verticals are verticals. I mean, it's all the same, it gets back to execution and fundamentals."
Talk about selling a hill of beans. 
Sure, a post route is a post route whether you're running an Air Raid offense or a triple-option attack. But that's Jimbo Fisher simply obfuscating the reality of Texas A&M's offensive issues. 
Whatever routes or plays they were running didn't work. The Aggies stunk on third down (13th in the SEC), lacked explosiveness in the passing game (11th in the SEC) and scored more than 28 points once the entire season against FBS competition. 
So Fisher's comments are concerning.
It's too soon to know if he and Petrino's relationship — a marriage that always seemed destined to go sideways — is off to a rocky start, but Texas A&M's offense isn't going to improve in 2023 if his attitude Monday was an accurate representation on why the Aggies' attack went nowhere last season.