Joel Klatt breaks down Michigan versus Ohio State rivalry game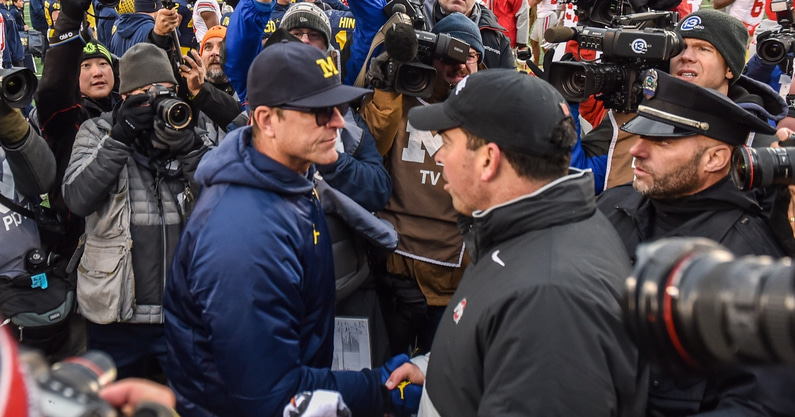 It's Thanksgiving week, meaning it's time for The Game between Ohio State and Michigan. On the Herd with Colin Cowherd, FOX analyst Joel Klatt broke down the rivalry game.
"It could be (competitive)," Klatt said. "There's been so many years where I've been like, 'This is Michigan's best chance,' but they certainly matchup better this year. Specifically, their ability to get to the quarterback. You have Aidan Hutchinson on one side, and on the other side, people don't talk about him much, you have David Ojabo.
"Ohio State is a pass-oriented offense. If you don't get to (C.J. Stroud) it's over. It's like Tom Brady in 2008. When the pocket's clean, he's as good as anybody out there. So Michigan is one of the three or four teams that could give them trouble. Michigan has a chance."
Joel Klatt will be on the call for the game on Saturday. The Buckeyes have won the last eight matchups versus Michigan.
Two of college football's most bitter rivals will square off in Ann Arbor on Saturday at noon ET. Ohio State is an 8.5-point favorite in Vegas.
Jim Harbaugh, Ryan Day attempt to say nice things ahead of rivalry
The Big Ten Network had the Ohio State and Michigan head coaches try to say something nice about various facets of their opponent's program, with hilarious results.
"It's big, it's loud," Michigan head coach Jim Harbaugh said hesitantly of Ohio Stadium after a four-second pause. "It's an iconic stadium."
In addition to being the Wolverines head coach since 2014, Harbaugh was the Michigan quarterback from 1983-1986 and a first-round NFL Draft selection in 1987.
While he is a graduate of New Hampshire and originally from the state, Ohio State head coach Ryan Day struggled to compliment "that team up North" just the same.
"Nope," Day said of Michigan Stadium while shaking his head with a smirk.
"Probably not," the third-year coach added on the topic of maize and blue.
Day's most famous Ohio State-Michigan comments came in the summer of 2020. After Harbaugh leveled accusations of impermissible on-field coaching in Columbus, Day told his players he would "hang 100 on 'em" in a team meeting shortly thereafter. The teams ultimately did not play the rivalry game last year. The contest was canceled due to COVID-19 issues.
On3's Ashton Pollard contributed to this report.