Joel Klatt: Nick Saban, Jimbo Fisher feud is byproduct of NCAA absence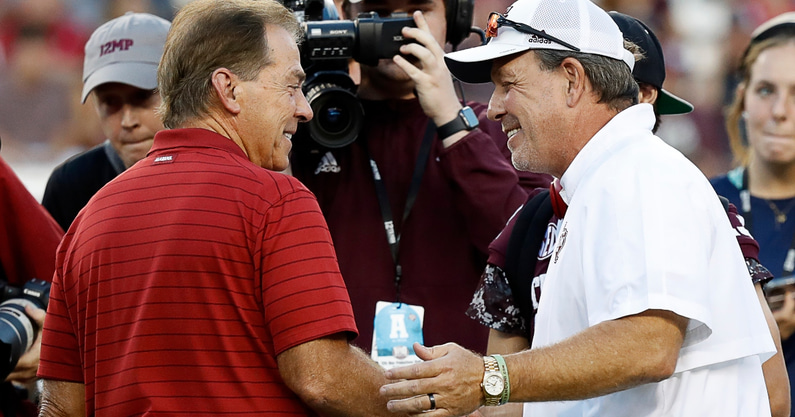 In the wake of the public back-and-forth between Nick Saban and Jimbo Fisher regarding NIL last week, conversation picked up about the NCAA's role in it. FOX Sports' Joel Klatt gave a lengthy answer about that on The Herd with Colin Cowherd on Thursday — and he placed the blame on the NCAA.
Klatt acknowledged the optics of the situation, which started when Saban alleged Texas A&M "bought every player on their team" from its highly ranked recruiting class. Fisher responded with an emergency press conference the next day, and things got personal.
Klatt compared the situation to a backyard whiffle ball game with his kids. He called on the NCAA to enforce its rules, just as he has to enforce the whiffle ball rules in the backyard.
"Last week was embarrassing for both of them, I thought," Klatt said. "Maybe more so from Nick, and he's tried to clean it up. He went on SiriusXM and he tried to clean it up, but it was embarrassing. And it reminded me, I've got three little boys. … When we're outside and we're playing whiffle ball, and there's not a structure of rules there for the whiffle ball game, guess what? It devolves into whining and name-calling and pointing and just fighting. It's petulant fighting because they don't really know what's going on and you have to, as the parent, set the guardrails for the game. What are the rules of the game? Or else it's just going to devolve into this mess of name-calling and petulant fighting.
"Well, what we just saw, folks, was two adults in the room that have had success at the highest level that have had a friendship, by the way, in previous years devolve into petulant fighting because there's no guardrails of rules around what is now the current state of college football. The NCAA abdicated their responsibility of governance over this sport and it has put the entire sport and every program in a really tough position."
Joel Klatt: The NCAA has created a leadership vacuum
Klatt said the Fisher vs. Saban spat shows the dark side of the current landscape in college football. Until the NCAA puts "guardrails" in place, he said this is how things are going to be.
"They created a vacuum, and that vacuum then has allowed this environment where we've got two guys — Jimbo Fisher and Nick Saban — who can't control everything, so they lash out," Klatt said. "Then one lashed out at the other and the other one got the virtriol coming back and then it got personal and it's because there was a vacuum of leadership. Everything rises and falls on leadership.
"I know it's en vogue to just rip on the NCAA, but that's what happens. That's what happens when you abdicate your responsibility to govern. You create a leadership vacuum. At some point, we're going to have to get back to the guardrails of what rules are in place."