Kenny Pickett, Pittsburgh Redshirt Senior QB: NIL U Player of the Week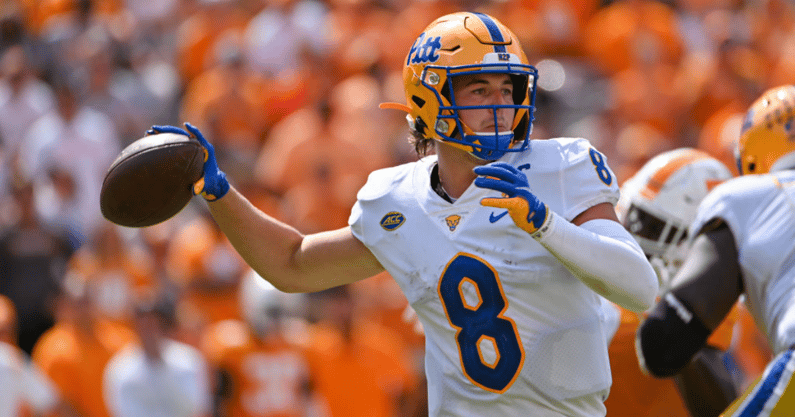 After a big-time performance this past weekend against the Tennessee Volunteers, Pitt redshirt senior quarterback Kenny Pickett has been named the NIL U Player of the Week.
Pickett's impressive day throwing for 285 yards on 24-36 passing with two touchdowns and a rushing TD, combined with his multiple early NIL partnerships, made him an easy choice for the week 2 selection.
While moving his team to 2-0 on the season, Pickett is enjoying great success off the field as well. When NIL legislation went into effect on July 1, he signed a deal with Tim Younger of QB Limited to represent him in his NIL dealings. This association led to the landing of multiple partnerships in the following weeks before the season even kicked off. 
As a result of his partnership with Browser Automotive in Pittsburgh, Pickett is driving around in a brand-new GMC Sierra this season in exchange for promoting his truck and the dealership on his socials.
A weekly podcast/radio show with the Pitt quarterback sponsored by a local moving company, Next Move, is another one of the NIL deals Pickett has acquired.
In support of the Boys and Girls Club of Western Pennsylvania, a t-shirt with the name "Pickett's Partners" has been widely sold with all proceeds supporting sports and educational programs for kids.
Finally, one of the most unique deals we have seen to date, is Pickett's partnership with Spirits and Tales, a restaurant atop the Oaklander Hotel in Pittsburgh. In exchange for season long social media posts by Pickett and his teammates, the quarterback and his starting offensive line will enjoy complimentary meals each week. This partnership alone looks to save the quarterback a hefty tab from a long-standing weekly tradition paid for at Pickett's expense. 
For those who took advantage of working with Pickett early on, his success on and off the field appears to be paying off! Congratulations!