Kirby Smart's main coaching tenets on full view in title game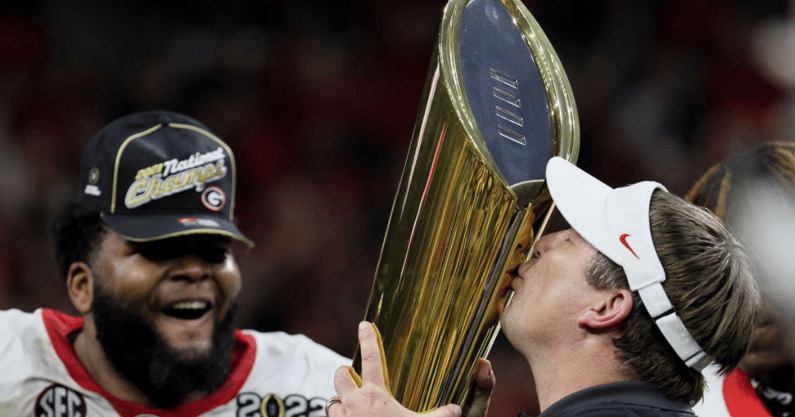 INDIANAPOLIS – Georgia coach Kirby Smart, like his mentor Nick Saban, is known as an excellent recruiter, a collector of elite talent. But in the wake of the Dawgs' 33-18 defeat of Alabama for the College Football Playoff national championship, it's clear that what sets Smart apart is, like Saban, his ability to impart mental and physical toughness to his players.
"I thought that our team demonstrated resiliency, fight, toughness – overcoming (a) tough loss," Smart said Tuesday morning.
Georgia slayed two dragons with one sword in Lucas Oil Stadium on Monday night. The Dawgs won their first national championship since 1980, and they won it by beating Alabama for the first time since 2007.
"Of course, we're well aware it was Bama. Bama is a world-class caliber team," Georgia safety Lewis Cine said. " . . . We knew that Bama has always been at the top. And to beat the team at the top is something really surreal."
"It would have left a pretty poor taste in our mouth if we had had to go through somebody else," Smart said.
He marveled at the physicality of the fourth quarter, a time when conditioning makes the difference. Saban harps on the ability of a team to "finish." Smart, an assistant for Saban at LSU, the Dolphins and nine years at Alabama, listened.
After all the predawn workouts, all the postgame mornings when the Dawgs awakened feeling they had lined up against the Amtrak Crescent and lost, after strutting into the SEC Championship Game undefeated and No. 1 and lose to Alabama 41-24, Georgia got tested on the amount of work they had done. Quarterback Stetson Bennett had fumbled, Alabama had recovered at Georgia's 16 and the Tide had scored to retake the lead 18-13 in the fourth quarter.
"When people are focusing on basketball or baseball," Bennett said Tuesday morning, "and we're running in the stadium at 6 a.m., and it sucks, and you're kind of like, 'Why do we do this?' And the reason is for when I fumble on the 10-yard line and we give up a touchdown and we go back and we score two straight drives. That's the reason. The toughness, the resiliency, the connection, all that stuff."
Of everything on the field that made Smart happy, that may have made Smart the happiest.
"There were people that doubted our conditioning level. They doubted that we could finish in the fourth quarter," he said, "and the Alabama games in the past didn't help with that. And they (the Dawgs) did that. They overcame that. They really were more physical and dominant in the fourth quarter. That was the difference in the game and probably what made me the most proud of the group."
Smart had no timetable
Had any other coach won a national championship in his sixth season, he would have been praised for rising to the top so quickly. That's not Smart. Because his record is 66-15, because Georgia gave away a 13-0 lead over Alabama in the national championship game four years ago, losing in overtime on that second-and-26, 41-yard lightning bolt, because the Dawgs lost a 10-point lead to the Tide in the SEC Championship Game, Smart got labeled as a guy who couldn't bring the big fish into the boat.
"If you had told me on second-and-26 in overtime, I would have thought it took too long," Smart said, his eyes twinkling. "There's a distinct advantage when you're in that position, and we weren't able to capitalize. You can't do it, but I mean, you take Alabama out of it, I think we've had the best team in the country probably two or three times. But the best team in the country doesn't win the national championship. The team that plays the best does. One of our most talented teams outside of this one was probably the one that lost the SEC championship [to Alabama in 2018]. There's frustration that you deal with and say, 'Man, did we get the most out of them?' "
Smart got the most out of this team, and there was a lot to get. He had the talent that Alabama had, and the experience and depth that the Tide, worn down by injuries to too many key players, didn't.
"I also know how hard it is to have the breaks and get the breaks and be able to win one of those," Smart said of the national championship. "It takes some really good breaks. And we got them this year."
They got them and Alabama did not, a point that Smart understood as he related his postgame meeting with Saban.
"They were really young at some positions," Smart said. "I think they've got the best player in college football in Bryce Young. I saw it firsthand on the field in the SEC championship. To do what he did this year, with that team, I told him after the game, 'I really believe that this is probably the best job you've ever done.' People don't understand that. The media don't respect that because they didn't win the national championship. But the job he did with that team? Incredible."
And the job that Smart did with his team? He did answer the question.
"I don't know that there is an 'on time' or 'on schedule,' " Smart said, "because I really would not have defined my career by whether I won a national championship. Every one of you would have, but I would not have because I would have been happy with my wife, my three kids, my parents. And I would have been pumped about all the kids that I got to coach."
Smart won his first national championship in his sixth season as a head coach. Saban needed 10.