Kirk Herbstreit tabs his top ACC quarterbacks entering 2022 season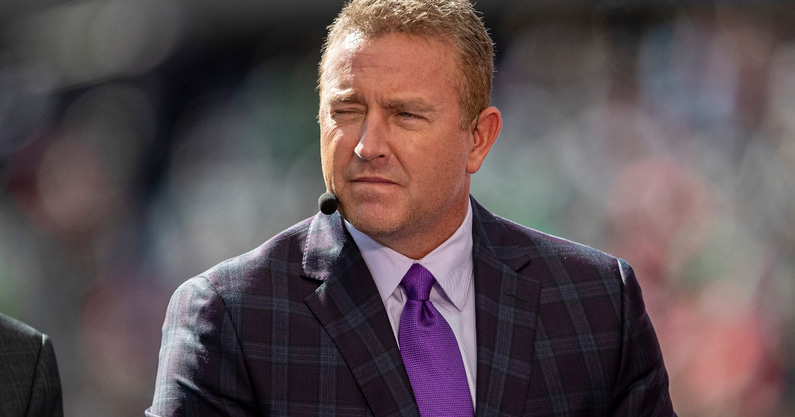 The ACC has seemingly moved away from the perennial dominance of the Clemson Tigers, which has college football analyst Kirk Herbstreit excited for what's in store for the quarterback position throughout the conference.
"There's just so many talented guys," Herbstreit said. "Even with [Kedon] Slovis coming over from Pitt after the last year that [Kenny] Pickett had. I love Malik Cunningham at Louisville as a guy that's really become dangerous as a passer, not just running the way he was early in his career.
"I think Devin Leary has a chance to have a monster year. Kind of a guy that when you bring up all the names, he tends to, and I think them as a program, they play with a chip on their shoulder, they like to be disrespected and he kind of embodies that. I don't know this year, maybe he'll get more attention. He should – but I would put him up there."
NC State's Leary is entering his second season as the Wolfpack's primary signal caller, where he led his squad to a 9-3 record and was ranked as high as 18 in the AP Top 25 last season. With a 6-2 conference record, Leary has the chance to lead NC State to its first ACC title since 1979 if Herbstreit's praises pan out.
"No one ever talks about Brennan Armstrong at [Virginia] and he was as good as any of them last year," Herbstreit continued. "Then I think Sam Hartman at Wake [Forest], I would probably lean, it's between for me Leary and Hartman just as we sit here right now. And I think it has more to do with the known commodities of the system, who's calling the plays."
Hartman has sneakily one of the most efficient quarterbacks in the country last year for the Demon Deacons. Throwing for 4,228 yards (seventh best in the country), 39 touchdowns (tied for fifth best) with a QBR of 79.7 (12th best) as a sophomore, Hartman is poised for an even greater breakout year in 2022, though Herbstriet has a dark horse that could potentially put the college football analyst's quarterback predictions to shame.
"The kid up there at Miami after D'Eriq King went down. Tyler Van Dyke – he's got a chance," Herbstreit said. "He's got a lot of weapons. He's got Josh Gattis now as his offensive coordinator. I think he has a chance to really be big."
Herbstreit's main gripe with Van Dyke isn't anything personal – it's the fact that he's going to have to adjust to Miami's new coaching staff. Throwing for nearly 3,000 yards and 25 touchdowns in 2021, Herbstreit still believes Van Dyke could have a huge season, but remains committed to Hartman and Leary being his ACC QB1's heading into the 2022 college football season.
One notable omission from the list – Clemson's DJ Uiagalelei, who is coming off a disappointing 2021 campaign that saw him throw more interceptions than touchdowns.
With the pressure of replacing Trevor Lawrence now a distant memory and the national spotlight no longer fixated in Death Valley, Uiagalelei could shut down the conference-wide quarterback competition and lead the Tigers back to national prominence.