2022 NFL Offensive Rookie of the Year: Potential dark horses, snubs and surprises with early Las Vegas odds released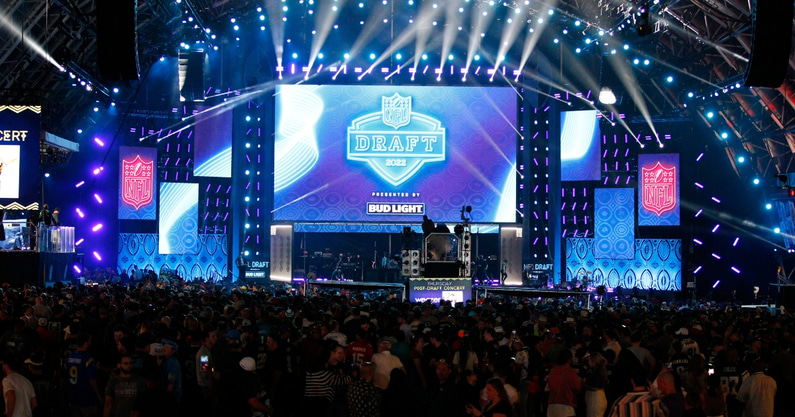 Las Vegas dropped the early odds for the 2022 NFL Rookie of the Year favorites on Tuesday and while it's the middle of May, sports gambling is booming and there will surely be folks who try to jump on a few plays hoping to cash in on a major return.
On3.com dove into the early top ten favorites for the inaugural offensive honor and there were some shocks, surprises, and a few players who felt where they belonged although it's all a guessing game in May. Check out the link below if you missed the first portion.
The 10 most likely 2022 rookies to win Offensive POY in their first NFL campaign, the odds and full breakdown from On3.com be found here.
Early Las Vegas Darkhorses for 2022 Rookie OPOY
Things get a bit more spicey after the ten favorites for next season.
The last five years paint a wild picture for those trying to bet based on trends. Last year, the dynamic Bengals' rookie WR Ja'Marr Chase was awarded the rookie honor after a sensational campaign.
The previous two seasons? Quarterbacks Justin Herbert in 2021, and Kyler Murray in 2020 earned the top rookie nod while a duo of running backs, Saquon Barkley (2019) and Alvin Kamara (2018) came before them.
Clearly the three main positions are up for grabs and Las Vegas is making it interesting for folks getting the early itch.
Here are the next likely offensive rookies from the 2022 NFL Draft class according to the early lines.
BUF RB James Cook +1400 (Georgia)
ATL QB Desmond Ridder +1600 (Cincinatti)
WSH WR Jahan Dotson +1800 (Penn State)
CAR QB Matt Corral +2000 (Ole Miss)
HOU RB Dameon Pierce +2500 (Florida)
TENN QB Malik Willis +2500 (Liberty)
PITT WR George Pickens +4000 (Georgia)
LAR RB Kyren Williams +4000 (Notre Dame)
PHI QB Carson Strong +4000 (Nevada)
ARZ TE Trey McBride +5000 (Colorado State)
Potential value for 2022 Offensive Rookie of the Year?
Again, so much can happen between now and even the end of training camp, with health, opportunity, usage and a bevy of factors in play.
That said? With so much debate about the quarterback class, it's safe to assume bettors may want to take a risk with someone like Corral at +2000, or even Ridder at +1600. At this point, it feels like Corral is in the best situation to start Week 1, he would be surrounded by playmakers on offense and a formidable defense.
Matt Rhule and the Panthers brass continue to whisper that Sam Darnold is the starter… for now… but the staff is on the hot seat and they've also raved about the former Ole Miss star.
RELATED: MATT CORRAL: 'MY MENTALITY IS TO BE STARTER'
Las Vegas always keeps things interesting but the second tier makes sense for a few solid bargains at QB with both Corral and potentially Ridder, who feel just as likely or more likely to start day one as the overall favorite, Pickett, who has Trubisky to get past in Pittsburgh and a raw surrounding cast.
Clearly the Falcons brass chose Ridder as the second QB off the board which surprised many — and with a team in rebuild mold with a young offensive nucleus of one of the best tight ends in a decade in Kyle Pitts and adding Drake London as a true No. 1 WR, it's difficult to see them rolling behind Marcus Mariota for too long if they believe Ridder is the long-term answer.
Jahan Dotson could be a high-value choice. The Commanders have made it clear they are ready to push the ball down the field and while Carson Wentz has issues, he ranked as the top deep passer last season and has always delivered the accurate deep ball. With Curtis Samuel healthy and Terry McClaurin as the No. 1 garnering attention, Dotson could be poised for a monster campaign.
Steals or snubs based on early Las Vegas odds?
Georgia fans may hate seeing this, but it seems wild that Steelers' second-round pick George Pickens is listed at +4000, significantly behind Malik Willis at +2500.
Pickens was drafted in the second round to a Steelers' offense with a rich history of scouting top tier wide receivers and with the top two wideouts in the young offensive rebuild being Chase Claypool and Deontae Johnson (slot), there's a solid chance the big-bodied, fast former Bulldog cements the true No. 1 spot with a good showing in camp. At the very least, if he's fully healthy, Pickens will start every game at the one or two WR spot, and he's listed at +4000 but somehow
Malik Willis is going to suddenly unseat Tannehill? The same quarterback that hasn't gotten over the hurdle and isn't considered in the top-5 of the league but has led the Titans to the playoffs in three straight seasons and had them one game away from the Super Bowl in the 2020 AFC Championship?
Las Vegas seems to hope early bettors hop on the drama made from Tannehill's press conference but that team has been so close to turning the corner, has weapons in place and barring something wild happening, will likely stick by the veteran and look to Willis long-term but not immediately in 2022.
Still again, anything can happen and anyone who follows football, or Las Vegas betting trends, fully understands.
Oh, and 5th-round QB Sam Howell who is the clear No. 3 QB in Washington for 2022? This one is truly hard to fathom and the Alabama faithful will laugh their way to the bank. John Metchie — despite coming off an injury — was selected in the second round, has played at the highest level and should produce like most Tide wideouts do, and is going into a situation where the team may not contend for the playoffs in Houston? But they have a QB they want to grow around Metchie will absolutely be a starter as long as he can get to true form.
That one was almost as baffling as Pickens, but these Las Vegas oddsmakers are the go-to source so anything could happen and it will be interesting to see if bettors hop in this wildly early action.