Memphis transfer Emoni Bates commits to Eastern Michigan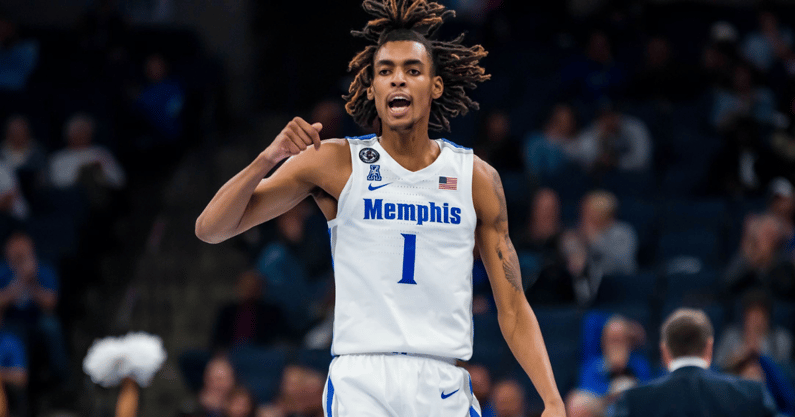 Memphis transfer Emoni Bates has committed to Eastern Michigan University.
"I'm committing to Eastern Michigan," Bates said to On3. "I'm coming home."
Bates is a native of Ypsilanti, Michigan, home of the Eastern Michigan Eagles.
The former No. 1 overall recruit considered Louisville, Michigan, Seton Hall, DePaul, and others before deciding to return to his hometown.
Eastern Michigan finished 10-21 on the year last season, competing in the Mid-American Conference (MAC). The Eagles are coached by Stan Heath, an EMU alum who has 17 years of head coaching experience under his belt.
Bates long held the crown as the No. 1 player in the class of 2022, before reclassifying and heading to Memphis a year early as a 17-year-old.
The 6-foot-9 small forward averaged 9.7 points, 3.3 rebounds, and 1.3 assists as a freshman last season for the Tigers. Bates missed the entire month of February and over half of March due to a back injury.
Emoni talks Eastern Michigan and his future
In a previous interview with On3, Bates shared his thoughts on EMU.
"People probably look at me crazy because I'm considering Eastern," Bates said. "But if I went there, I would be like the neighborhood hero. I used to play at Eastern during my high school games when I was at Lincoln, and we used to pack it out every time. That would be crazy for me to be able to bring love to the city."
Bates also mentioned what he was looking for in a college at his next stop.
"I look forward to having a bond with my coaches, teammates and staff," Bates said previously with On3. "Being positive and having the mindset of getting better every day. Just help my teammates get better and just build off each other. And I really want to win. That's the main goal. That's what I'm looking into for where I go next."
The journey of Emoni Bates
A couple of years ago, you would've never expected to see Emoni Bates suit up in a college uniform, let alone for Penny Hardaway at Memphis. The summer before his junior year of high school began, Bates committed to Tom Izzo and Michigan State. At the time, the Spartans were the only program to consistently recruit the Ypsilanti, Michigan native. Why? Because college coaches never actually anticipated him playing a second of college hoops.
Before he even got his driver's license, Bates was largely considered the "best high school prospect in more than a decade." Sports Illustrated plastered him on the cover of its magazine with the title: "Emoni Bates: Born For This: Magic, Michael, LeBron… And the 15-Year-Old Who's Next in Line." He even drew comparisons to Kevin Durant by age 16. In 2019, when Bates was a sophomore in high school, ESPN ranked the top 25 prospects regardless of class. Bates topped the list, over guys like Cade Cunningham, Jalen Green, Scottie Barnes, Paolo Banchero, and others. 
When Bates de-committed from the Spartans in April of 2021, it didn't come as much of a shock. As mentioned previously, no one really excepted him to play college ball. He kept his recruitment open for several months, and in August, Bates reclassified and narrowed his list to four different options — the G-League, Oregon, Memphis, and Michigan State.
However, during the span of his recruitment being open, there was a major shift in the basketball landscape: the passing of NIL legislation. On July 1st, athletes could profit off of their name, image, and likeness. As you might imagine, the college route became that much more interesting. And for the first time, Bates going to college actually seemed like a possibility.
In the end, Penny Hardaway got it done; making the impossible — possible.
Things didn't work out for Bates in Memphis, and after eight months of being a Tiger, he entered the transfer portal. After exploring his options for over two months, Bates has decided to head back home to play for Eastern Michigan.