Michigan State vs. Notre Dame: How to watch, odds, predictions from ESPN, KenPom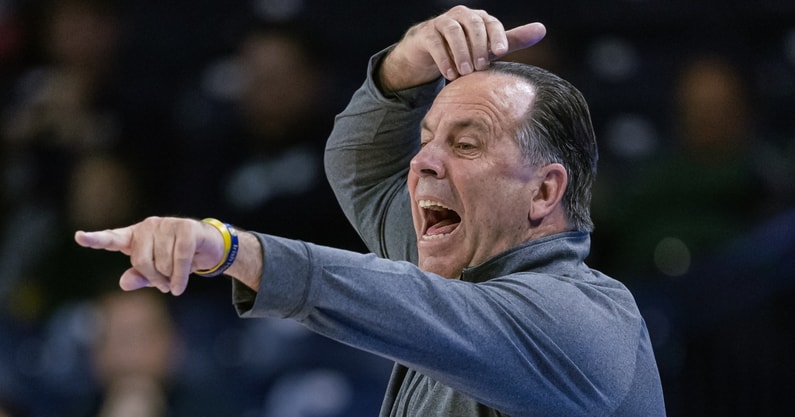 Michigan State and Notre Dame are set to meet in the ACC-Big Ten Challenge on Wednesday night at Purcell Pavilion. Ahead of the game, predictions are coming out from places like ESPN and KenPom. Here's what to know about the game.
How to watch Michigan State vs. Notre Dame
Tip-off: 9:15 p.m. ET
Location: Purcell Pavilion, South Bend, Indiana
Channel: ESPN2
Vegas odds
Michigan State is a 2.5-point favorite according to the Vegas Insider Consensus. The over-under total for the game is set at 135.5 points.
ESPN BPI prediction
Predicted winner: Notre Dame
Predicted point differential: 2.4
Win probability (for ND): 60%
Matchup quality: 81.8
ESPN's Basketball Power Index, or BPI, is a tool that is used to measure the strength of teams and predict outcomes. ESPN's BPI ranked Michigan State vs. Notre Dame as the third highest-rated game in terms of matchup quality.
KenPom prediction
Predicted final score: Michigan State 68, Notre Dame 66
Win probability (for MSU): 58%
KenPom is another analytical tool used in college basketball. It disagrees with ESPN's BPI, predicting a close win for Michigan State.
More on Michigan State vs Notre Dame
Notre Dame is coming into the game against Michigan State after its first loss of the season. That came against St. Bonaventure. For their part, the Spartans are coming off a two-game winning streak but already have two losses on the season. They're good losses, though, and the Spartans are still ranked in the Top 25.
The big challenge for the Spartans in this game is going to be dealing with injuries. Even early in the season, Tom Izzo's team is already banged up.
This will be the first game Notre Dame plays against a non-mid-major opponent. In its own right, the step up in talent that Michigan State has is going to be a big challenge for the Irish. That's especially true when you consider how battle-tested the Spartans are, with games against Gonzaga, Alabama, Villanova, Kentucky, and Oregon under its belt.
In a game where depth is going to be a major issue, pay attention to foul trouble. Both of these teams could struggle if they're forced to look to the bench in this game.