New additions in the On300 final prospect rankings for the 2022 cycle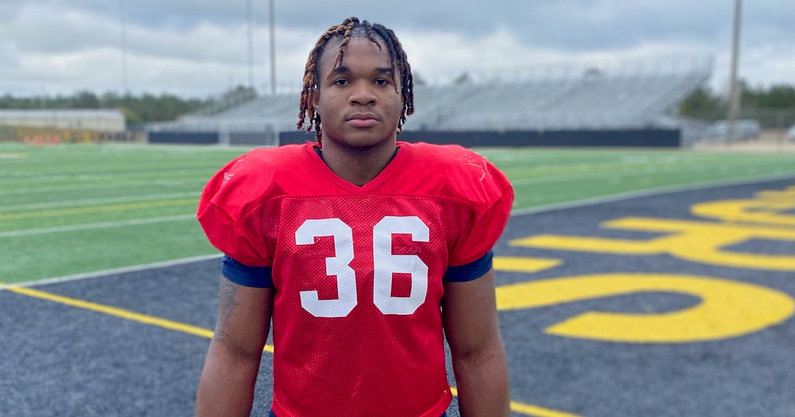 On3 has released the final football prospect rankings for the 2022 recruiting cycle, and that list includes 37 new additions to the On300.
The On300 is updated on a regular schedule over the course of the year to get to the final prospect rankings in the cycle. 
Our goal is to assess a prospect's long-term potential in college football, as manifested by the NFL Draft. We rate 32 five-stars prospects and over 350 four-stars in every cycle. 
The junior season for the 2022 cycle was disjointed for many prospects. Some states had delayed starts to the season, some played an abbreviated spring schedule and some didn't play at all. As a result, we began this cycle with a fairly uneven junior season sample for a good chunk of the 2022 prospects. That made the senior season, and all-star circuit even more important than ever before for a cycle of prospects. 
On300 new addition headliners
Trevion Williams, EDGE, Crystal Springs (Miss.) Crystal Springs
On300 ranking: No. 86
The Mississippi State signee jumped out during the Mississippi-Alabama All-Star Game week. At 6-foot-3 and near 255-pounds, Williams possesses high-end strength and explosive athletic ability. Williams won with both speed and power in a raw way in Hattiesburg during the week. The Bulldogs inked an EDGE prospect with a very high-ceiling that will enter college with a ready to play frame. 
Ethan Burke, EDGE, Austin (Texas) Westlake
On300 ranking: No. 129
Burke literally burst onto the scene as a senior. The Texas signee and Michigan flip was one of the top lacrosse prospects in the country prior to shifting focus to football. At nearly 6-foot-7 and 220 pounds with fast-twitch athletic ability, Burke possesses a very high ceiling as an edge rusher. Add in an 83-inch wingspan, flexibility, a motor and physical mindset and the Longhorns signed a much needed upside EDGE prospect. 
Daequan Wright, TE, Perry (Ga.) Perry 
On300 ranking: No. 153
The Virginia Tech commitment is one of the best kept secrets in the Peach State. More of a pure athlete at this stage, the 6-foot-4, 220-pounder projects to tight end long term. He not necessarily explosive off the line, but he possesses the speed to stretch the field vertically at tight end. And his career best 100-meter time of 11.14 further illustrates that speed. Wright is body quick and reactive mover with a big catch radius as well. His agility and athleticism also show up on the hardwood averaging nearly a 20 point, 10 rebound per game double-double. 
Caleb Douglas, WR, Missouri City (Texas) Hightower
On300 ranking: No. 165
The 6-foot-4 long-armed receiver is one of the most coveted unsigned prospects remaining in the 2022 cycle. A senior season showed improved foot quickness to go with extended arms snatches and improved ability after the catch. Despite his height, he turns up the field quickly to maximize yards after the catch. Florida leads LSU for the talented 4-star from the Houston area due to a strong bond with Keary Colbert.
Trevon McAlpine, DL, Saraland (Ala.) Saraland High
On300 ranking: No. 167
The Texas Tech Red Raiders scored a huge win out of the Southeast Region when McAlpine signed. The 6-foot-2, near 285 pounder was extremely impressive during the Mississippi-Alabama All-Star Game week. His first step is high-end, and his ability to strike with power really stood out at practices. Playing strength, bend and reactive quickness were also clearly evident in the in person evaluation setting. The one-time TCU verbal will be an impact player in Lubbock. 
Other additions to the On300
Omarion Hampton, RB, Clayton (N.C.) Cleveland – North Carolina signee
On300 ranking: No. 170
Marquis Gracial, DL St. Charles (Mo.) High – Missouri signee
On300 ranking: No. 176
Avery Sledge, LB, Brooklyn (Miss.) Forrest County Agricultural – Mississippi State signee
On300 ranking: No. 177
Keyshawn Burgos, EDGE, Chesterfield (Va.) Matoaca – Virginia Tech signee
On300 ranking: No. 183
Caden Curry, DL, Greenwood (Ind.) Center Grove – Ohio State signee
On300 ranking: No. 184
Davis Dotson, IOL, Tulsa (Okla.) Berryhill – Unsigned
On300 ranking: No. 201
Justice Finkley, EDGE, Trussville (Ala.) Hewitt-Trussville – Texas signee
On300 ranking: No. 202
George Pettaway, RB, Suffolk (Va.) Nansemond-Suffolk Academy – North Carolina signee
On300 ranking: No. 204
Tobi Osunsanmi, LB, Wichita (Kan.) East – Kansas State signee
On300 ranking: No. 220
Matthew McCoy, OT, St. Augustine (Fla.) Creekside – Unsigned
On3300 ranking: No. 226
Braelin Moore, IOL, Bethlehem (Pa.) Freedom – Virginia Tech signee
On300 ranking: No. 238 
Keaten Wade, EDGE, Spring Hill (Tenn.) Summit – Kentucky signee
On300 ranking: No. 239 
Holden Geriner, QB, Savannah (Ga.) Benedictine – Auburn signee
On300 ranking: No. 241
Colston Loveland, TE, Gooding (Idaho) High – Michigan signee
On300 ranking: No. 244
Aidan Vaughn, LB, Walled Lake (Mich.) Walled Lake Western – Wisconsin signee
On300 ranking: No. 250
Jocelyn Malaska, S, Bethany (Okla.) High – Utah signee
On300 Ranking: No. 253
Jaden Harris, CB, Atlanta Riverwood – Miami signee
On300 ranking: No. 255
Donovan Brown, WR, Gaithersburg (Md.) Quince Orchard – Syracuse signee
On300 ranking: No. 261
Malaki Hamrick, LB, Shelby (N.C.) High – North Carolina signee
On300 ranking: No. 269
Kyron Chambers, CB, Dallas South Oak Cliff – TCU signee
On300 ranking: No. 272
Olando Trader, CB Jackson (Mich.) High – Iowa signee
On300 ranking: No. 274
Chris Reed, WR Apopka (Fla.) Wekiva – Utah signee
On300 ranking: No. 275
Oliver Bridges, CB, Potomac (Md.) The Bullis School – Cincinnati signee
On300 ranking: No. 278
Moses Walker, LB, Brooklyn (N.Y.) Erasmus Hall – Rutgers signee
On300 ranking: No. 280
Zion Young, EDGE, Atlanta Westlake – Michigan State signee
On300 ranking: No. 282
J.Q. Hardaway, CB, Phenix City (Ala.) Central – Cincinnati signee
On300 ranking: No. 284
Aaron Bryant, DL, Southaven (Miss.) High – Texas signee
On300 ranking: No. 290
Xavier Chaplin, IOL, Seabrook (S.C.) Whale Branch – Unsigned (Virginia Tech commit)
On300 ranking: No. 292
Kye Stokes, S, Seffner (Fla.) Armwood – Ohio State signee 
On300 ranking: No. 293
Armand Membou, IOL, Lees Summit (Mo.) Lee's Summit North – Missouri signee
On300 ranking: No. 294
Jaishawn Barham, LB, Baltimore St. Frances – Maryland signee
On300 ranking: No. 295
Tyler Morris, WR, Bolingbrook (Ill.) Nazareth Academy – Michigan signee
On300 ranking: No. 300