New team emerges as transfer destination for Caleb Williams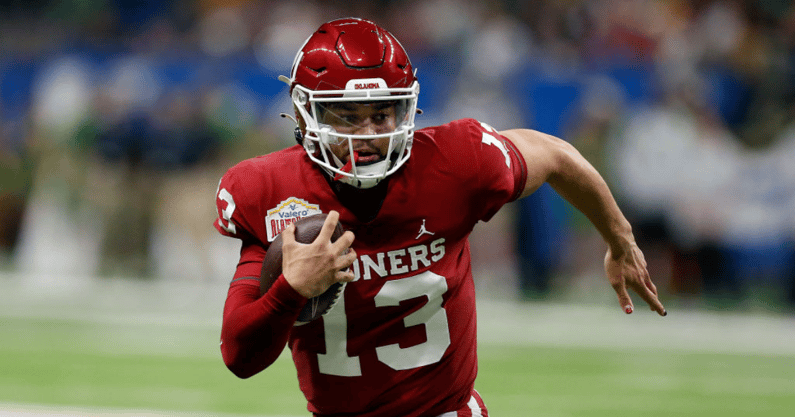 Wisconsin has emerged as a serious contender to sign former Oklahoma quarterback Caleb Williams from the transfer portal, according to On3's Gerry Hamilton. USC and LSU also remain in the running for On3's No. 1 ranked prospect in the Transfer Portal Rankings.
A previous report from OKC-KWTV Sports Director Dean Blevins named USC and LSU the final two schools in Caleb Williams' second recruitment but Paul Chryst and Wisconsin have not backed off their interest.
Wisconsin finished 9-4 in 2021, including a 6-3 mark in the Big Ten. The Badgers used preseason Davey O'Brien Award and Johnny Unitas Golden Arm Award watch list quarterback Graham Mertz, a sophomore, throughout the season.
Despite one highly rated quarterback on campus, Wisconsin wants to add the favorite to land No. 1 overall in the 2024 NFL Draft to its roster. Williams also came into college as the No. 1 overall recruit in the 2021 class according to On3 Consensus, a complete and equally weighted industry-generated average that utilizes all four major recruiting media companies.
In his freshman season at Oklahoma, Caleb Williams threw for 1,912 yards with 21 touchdowns and four interception, adding 442 rushing yards and six touchdowns over 11 appearances before opting to transfer after the departure of head coach Lincoln Riley.
Stay up to date with the latest news with On3's Transfer Portal Wire.
Key factors for Caleb Williams
ESPN college football insider Pete Thamel joined SportsCenter last week to discuss the latest news across college football. The only logical place to start any discussion about the current offseason is transfer portal movement and the latest on the timeline of former Oklahoma quarterback Caleb Williams.
After breaking down the factors which will impact Williams' decision most and providing an update on the dozen schools he has met with over zoom or in-person, Thamel moved to a timeline for the commitment and enrollment of the star quarterback.
"This is a nebulas," said Thamel. "The Williams' first process, when Caleb was in high school, took a year and a half. And Carl said, 'we've got to do it now in two weeks." So it could as soon as the end of this week, but there's also teams on the quarter system where they could wait until March. They want to see how NFL hires that could trickle down to college shake out because they really want NFL training for Caleb Williams to best prepare him for pro football.
"The family is weighing their options and Carl Williams, his dad, told me last night NFL, not NIL, is the guiding light of what the family is doing. Meaning — they want to go to the place where he's best prepared to go to the NFL and ultimately be the No. 1 pick in the 2024 NFL draft."