Nick Saban strongly downplays Jimbo Fisher spat, says Texas A&M is still 'a big game'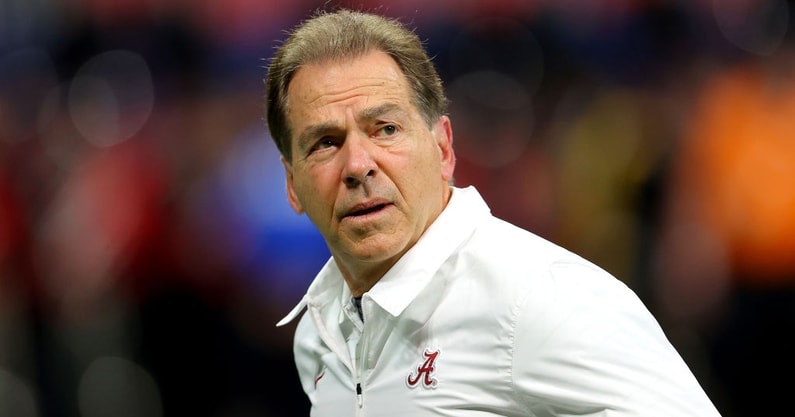 Many around college football have had Oct. 8 circled since May. That's when Alabama and Texas A&M will face off for the first time since Nick Saban and Jimbo Fisher had a very public spat over NIL and recruiting.
But things have changed since then. The Crimson Tide have rolled to a 5-0 record and are the No. 1 team in the country while the Aggies have struggled to a 3-2 record and made a quarterback change. On paper, it might appear the stakes aren't as high as they looked to be almost five months ago.
Don't tell Saban that, though.
CLICK HERE to subscribe for FREE to the On3 YouTube channel
"As always, the media sort of makes things out to be some kind of way," Saban said on "Hey Coach and the Nick Saban Show" on Thursday. "And I've been asked various questions this week by the media about, 'Well, back in the spring, this was supposed to be the big game and it's not as big a game now.' It is a big game. This is a really big game for us.
"This is a really, really important game for our team and their development, as well as anytime you're playing somebody in your division, it's like two games, aight? Because they win the tiebreaker if they beat you, aight?"
Nick Saban: 'Our players don't give a s—' about Jimbo Fisher spat
Earlier Thursday, ESPN's Chris Low published a story from an interview with Saban and included a quote about the feud with Fisher. The Alabama headman's message was the same as it was during his radio show.
Whatever happened over the summer is in the past. He's staying focused on the game.
"This game isn't about any of that, and our players don't give a s— about it," Saban told Low. "This game is about the goals we want to accomplish as a team and our players creating value for themselves. That's why this game is important, not because of anything that was said about anybody."