Nick Smith Jr., 2022 4-star, cuts list to 8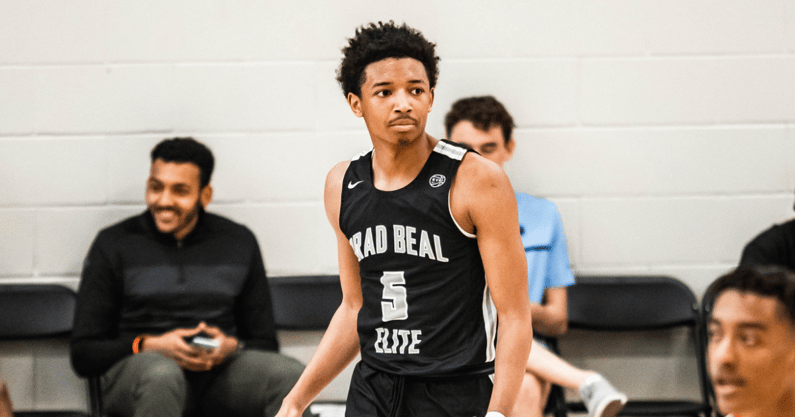 Nick Smith Jr. is down to eight options, he tells On3.
The 6-foot-4 combo guard from North Little Rock (Ark.) High School said he cut his list to six colleges (Alabama, Arkansas, Auburn, Kansas, Kentucky and Oklahoma) and two pro routes (the NBL and the Overtime Elite League).
Alabama
"Alabama was my first visit, so I didn't really know what to expect," Nick Smith said. "But as soon as my family touched down, I got nothing but love from them. Just sitting down with Coach (Nate) Oats, and the players… I got to see how he treated his players. And the environment, in terms of them getting players to the pros. It was a good experience for me and my family.
Smith said he's a big fan of the Crimson Tide's playing style.
"They like to get up and down," Smith said. "They play great defense. Coach Oats is a very intense guy. He's going to let you hoop but you also have to be very good on the defensive end. How I would fit in would be my energy… just bringing my energy to that group. I feel like it would help me and help the team."
Auburn
"Bruce Pearl, the way he treats his players, the way he talks to his players and his coaching staff, it was something I had to look at," Nick Smith said. "Their style of play would help me get to the pros. Wes Flanigan coaches there. He's like my uncle. Not blood, just close. It's just something I had to look into. He's very loyal to his players as well."
Kansas
"That was a great experience just to sit down with head coach Bill Self," Nick Smith said. "He wants me to come in and be there for one year. And if you look at Kansas' history, that's not really normal. So, he believes I can come in for one year and he wants me to be the focal point of their program."
Arkansas
"Coach Muss (Eric Musselman) has a pro vibe to him," Nick Smith said. "Obviously he's been a coach in the league. His dad coached in the league, too. His coaching staff has been in the league, also. Their program and the way they play and just the way he runs stuff over there… it's just a real, true NBA vibe."
Oklahoma
"Porter Moser, as soon as he got the job, he called and offered me on the spot," Nick Smith said. "He wants me to come in and be the focal point and be the number one option for him. Coach DP (David Patrick) was at Arkansas the previous year and it made sense for me to look at the situation because I already had a relationship with Coach DP."
Kentucky
Nick Smith said it was a blessing to receive an offer from Kentucky, but he's not treating the offer from the Wildcats any different than his other options.
"Honestly, I thought I'd feel some type of way about it, but it just felt like it was any other school," Smith said. "It's always a blessing to be recruited by any school. It was just cool to get another offer on the table and have another option."
"I'm a loyal dude. If you've been recruiting me for a while… I'm gonna still rock with you. Just because they're Kentucky… doesn't mean it's the right fit for me. If it's the best fit, I'm gonna go to Kentucky. If I feel like Oklahoma is the best fit and a better opportunity, then I'm gonna go there. If I feel the NBL is the better opportunity, then I'll go there. I don't really look at the name on the chest. I just look at the scenario I'm gonna be in when I'm in college."
Overtime Elite League
"My 17U AAU coach is going to the Overtime Elite league," Nick Smith said. "He's gonna be a skills development trainer. He's been coaching and training pros for like 25 years. So it just made sense for me to look into it, and I know him so like I know he's not gonna throw no B.S. or anything like that. I'm just looking at it to see if I want to forgo my high school season and go there. Or might even do it next year. Just trying to figure out what's on the table, and how it would benefit me. They're offering $500,000 for two years. My goal isn't to make $500K because with taxes, and it's two years. So that's going to be pocket change if I make it to the league. And now we have NIL, so I could probably make that in college."
NBL
"The NBL came up after Peach Jam," Nick Smith said. "I've had conversations with them a lot. But I'm supposed to be having a Zoom call with them in the next week or so. Just continuing to see what they've got to say. RJ Hampton and LaMelo Ball went there, so it would probably be a good fit for me. They're offering like $450K."
Smith also mentioned the NBA G-League called "but they weren't really offering anything. I wasn't really interested." Smith said the dollar amount wasn't high enough.
"Agents will blow your phone up more than college coaches will," Smith said.
Nick Smith has already taken official visits to Alabama (June 1-3), Auburn (June 4-5) and Kansas (June 20). He also plans to go see Arkansas on Sept. 12 and Oklahoma on Sept. 18.
A commitment date has also been set for Nov. 20, but Smith also said that date could be possibly moved up earlier than expected.
Nick Smith was named the Arkansas Democrat-Gazette All-Arkansas preps underclassman of the year after averaging 21.3 points, three rebounds and three steals as a sophomore for Sylvan Hills. He was then named the All-Arkansas Preps player of the year after averaging 25 points, five rebounds and four assists as a junior.
Smith recently led the Brad Beal Elite AAU team to a 6-2 record and the finals of Peach Jam. He averaged 18.6 points, three rebounds and three assists.