NIL deals that would have been perfect for former college athletes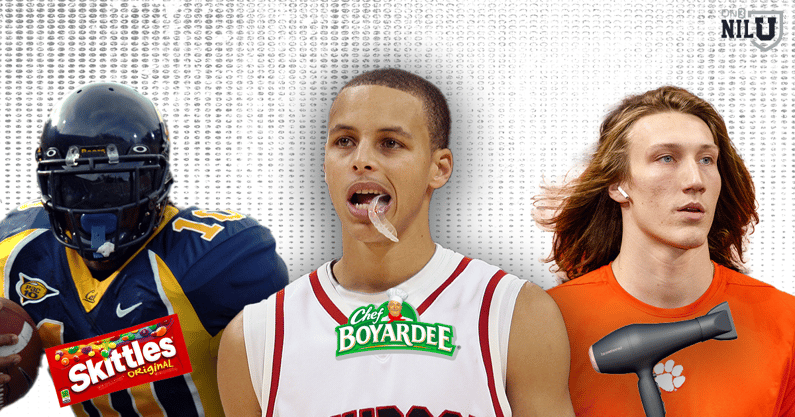 NIL legislation was passed for college athletes this past summer. These former star players would have racked in NIL deals, though. Here are a few of the partnerships we think would've been perfect for these big names.
Auburn QB Cam Newton + DC Comics
While SuperCam is struggling in the NFL right now, he was performing like his nickname Superman in college at Auburn. As many sport fans view their favorite players as superheroes on the field, a DC Comics-Cam Newton NIL deal would have been an ideal match.
Davidson G Steph Curry + Chef Boyardee
I been Steph Curry with the shot. Been cookin' with the sauce, chef, curry with the pot, boy.
'Nuff said.
Cal RB Marshawn Lynch + Skittles
Marshawn Lynch is famously a huge Skittles fan. "Power pellets," as his mom calls them, are his pregame snack of choice.
"It was something I did back in Pop Warner. My stomach used to get upset, and we tried everything," Lynch explained to Sports Illustrated back in 2014. "The next game she came with a big-ass bag of Skittles and was like, 'Here you can chew these down real fast.' And that's how it happened. It was just the candy of her choice."
Since then, Skittles have been the candy of his choice. It led to
Clemson QB Trevor Lawrence + Dyson Hair
Now this one is obvious. Those locks deserve some major care. The Dyson blowdryer was at the top of Christmas lists this year. Trevor Lawrence was at the top of the NFL draft list (No. 1 draft pick, that is) after his time at Clemson. A match made in heaven.
Stanford QB Andrew Luck + Lucky Charms
What's in a name… We've seen many NIL partnerships playing off athletes' names. Sam's Club did a deal with athletes named Sam. Bojangles has partnered with quite a few players named Bo (or Beau). Kool-Aid McKinstry's deal with Kool-aid was also a fan favorite.
Duke PF Zion Williamson + Nike (shoe repair, that is)
This moment during a Duke-UNC game went viral. While at first it seemed detrimental to Nike, had NIL been around, it could have led to PR spinning the negative event into a memorable marketing play.
Kentucky C/PF Bam Adebayo and Flintstone vitamins
At 6'9″, Bam Adebayo definitely ate his vitamins. The famous Flintstone vitamins are a perfect match for Bam (Bam).
Tennessee PF Grant Williams + Settlers of Catan
Grant Williams was a star on the court for the Tennesse Volunteers. He is now finding success as part of the Boston Celtics. When not competing on the court, though, you can most likely find Williams battling on the board. The Settlers of Catan board, that is.
Williams taught his teammates the game and was photographed carrying it off the team bus at nearly every away game. He loves the game.
In 2019, as a junior at Tennessee, Grant told me he understood why his friends thought it was a dorky game. He added that everyone seemed to realize the hype around the board game after giving it a shot, though.
"People always say I'm a nerd when I show them what it is. My teammates will say 'Damn that's kinda fun, but I will never tell anyone that I played it.'"
In fact, at one point during his time at Tennessee, Grant Williams autographed a fan's Catan box… Perfect NIL potential right there.