Northwestern president 'not really thrilled' for USC, UCLA additions to Big Ten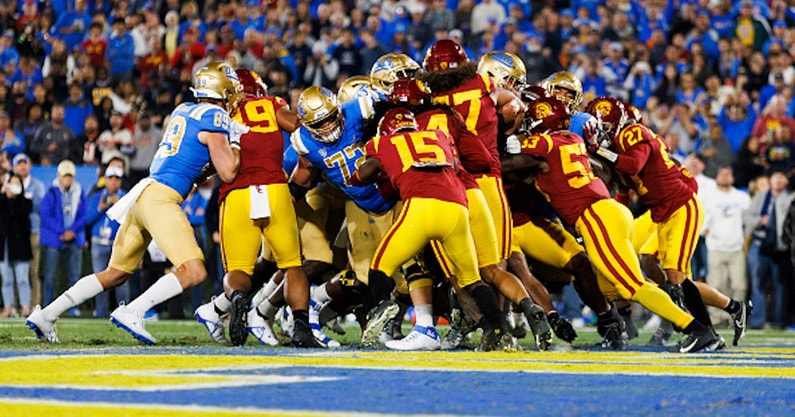 Northwestern president Michael Schill is not thrilled with the Big Ten's additions of USC and UCLA to the conference next year.
It's an interesting take considering the spotlight the conference received for adding premier institutions in athletics and academics. With the expansion, the Big Ten will equal the SEC in total teams (16) next season when Oklahoma and Texas leave the Big 12.
While Schill isn't exactly thrilled, he offered a vague solution to the issue.
"At the assembly, Schill and the panelists also discussed UCLA and USC joining the Big Ten Conference," Pavan Acharya of the Daily Northwestern wrote. "The two schools will enter the Big Ten in August 2024. Schill said he is 'not really thrilled' with the inclusion of UCLA and USC in the Big Ten. While he remains 'skeptical about the initial decision,' he believes adding more West Coast teams to the Big Ten, in addition to UCLA and USC, could result in less overall travel time for all teams in the conference."
Basically, Schill might not be opposed to further expansion in the Big Ten, but it'll have to come from the west coast to even out the geographic balance.
It's worth noting Schill served as the president of the University of Oregon from April 14, 2015 until he was named to the same role at Northwestern last August.
Greg Schiano excited about USC, UCLA to Big Ten
Greg Schiano loves Rutgers and the Big Ten, but the Scarlet Knights coach can't wait for USC and UCLA to join in 2024.
In football terms, Schiano said it was great to add two historic programs to the conference. Once both leave the Pac-12 for the Big Ten, the conference will have a full east to west footprint.
"For our football league I think it's great," Schiano said, via Next Up with Adam Breneman. "Yeah, I'm excited about it. Two great historic programs. I don't pretend to know all the other implications of it … My job is to make sure we're getting this football program ready. We have, from being in the NFL, we have strategies on how you travel when you go west. I'm not concerned about any of that.
"I am really excited about having them in the league. It increases our footprint right to have Big Ten football on from noon till when people are going to bed late at night. That's awesome for the league. So I think overall for Big Ten football it's tremendous."