On3 Recruiting Prediction Machine: Florida State trending for Lucas Simmons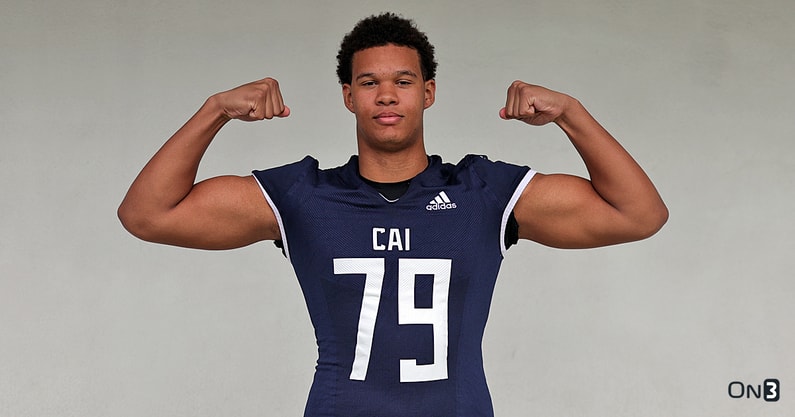 Clearwater (Fla.) Clearwater Academy International four-star offensive tackle Lucas Simmons revealed a top four of Florida, Florida State, Tennessee and USC last week. The morning of his commitment, the On3 Recruiting Prediction Machine has Florida State pulling away from Tennessee. The Seminoles sit at 58.3%, while the Vols are at 27.3%. Florida is now at 13.6%, while USC is at 2%.
Originally from Sweden, Simmons recently took official visits to all four of his finalists. He also officially visited Oklahoma State in April.
"I am working to separate what is best for me," Simmons told On3 in June. "I can't just make a decision with my head, where my heart doesn't follow. And I can't just make a decision with my heart, where my head doesn't follow. It needs to be combined and all on the same page for me and my family."
Each finalist has impressed Simmons
Simmons has visited Florida State six times, including for his final official visit on June 24. Part of the reason the Seminoles are in contention for Simmons' commitment is because they offered early on in the recruiting process.
"They saw something in me before most schools did, so that means a lot," Simmons said. My relationship with (offensive coordinator/offensive line coach) Alex Atkins is strong too. Our relationship has developed so naturally for over a year. He and (head) coach (Mike) Norvell has really put a lot of time in recruiting me."
Simmons' official visit to Tennessee came during Memorial Day weekend. He told On3 that he enjoyed his time in Knoxville.
"Tennessee offered a little later than other schools, but they have put a lot of work in to me," Simmons said. "They have been very consistent. Both visits to Tennessee, I have felt very comfortable. I believe in the coaches there and I think they are going to get Tennessee back on track."
Meanwhile, Florida and USC have made an impact on Simmons as well.
He called the Trojans a "sleeping giant" and is "99% sure that USC is coming back under the direction of (head coach) Lincoln Riley." Regarding Florida, Simmons praised the coaching staff under new head coach Billy Napier and thinks they can make him a better football player.
"I love the whole group Florida has working with the offensive line," Simmons said. "They have five different coaches that could help develop me if I went there. I like that a lot. Florida is a spot that without a doubt that I feel could develop me. From what they offer on the field to the film room to the weight room, that makes them stand out."
Lucas Simmons Scouting Summary
The following is the On3 Scouting Summary for Lucas Simmons:
"Developmental offensive tackle prospect with rare dimensions, movement skills and upside. Originally from Sweden and came to the United States shortly after picking up football in high school. Measured over 6-foot-7, 293 pounds with a 6-foot-11 wing-span prior to his senior season. A nimble, light-footed mover. Moves to the second level with ease. Bouncy and carries his weight very well. Posed a 4.66 second shuttle prior to his senior season. Undeveloped technically and still learning the game. Will need to hone his technical skills while continuing to increase strength and physicality at the point of attack. Will likely need some time to be ready to play considerable snaps at the college level, but has considerable physical upside. Very old for the class and will turn 20 years old mid-way through his senior year of high school."
Simmons is the No. 117 overall prospect and the No. 11 offensive tackle in the 2023 On3 Consensus, a complete and equally weighted industry-generated average that utilizes all four major recruiting media companies.