On3 Recruiting Prediction Machine: New leader for Five-Star Plus+ QB Dylan Raiola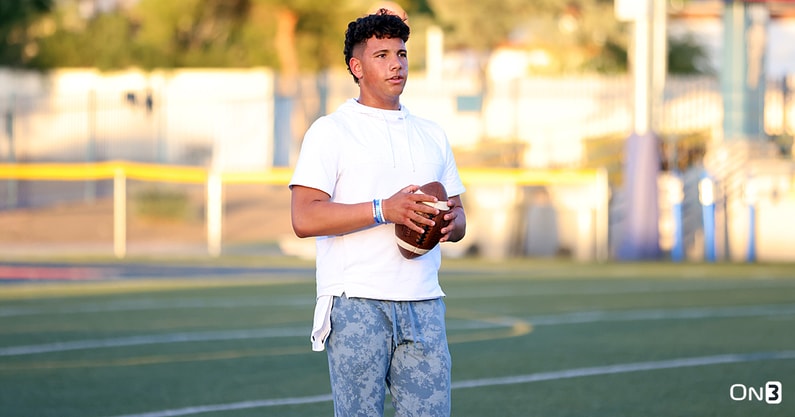 Georgia, Nebraska, Oregon and USC are believed to be the top contenders for Phoenix (Ariz.) Pinnacle Five-Star Plus+ quarterback Dylan Raiola. According to the On3 Recruiting Prediction Machine, the Trojans were recently in front for his commitment.
That has changed, following an expert prediction for Jake Rowe of DawgsHQ. Now, the Bulldogs have a close lead for Raiola at 41.3%.
Raiola has visited Athens twice this year, including on the weekend of March 18. The 6-foot-3, 225-pound signal-caller has also locked in an official visit to Georgia for the weekend of June 3.
New Georgia offensive coordinator/quarterbacks coach Mike Bobo is one of the coaches recruiting Raiola, the No. 1 overall prospect in the 2024 On3 Industry Ranking. Raiola has heard good things about Bobo from Los Angeles Rams quarterback Matthew Stafford, who played with his father — Dominic Raiola — on the Detroit Lions. Bobo coached Stafford when he played at Georgia. 
"He always sends me, my mom and my dad a devotional every morning," Raiola told On3's Chad Simmons on March 17. "That means a lot coming from him. He's just a ball coach. He builds relationships with his players and he just loves talking ball, loves having the guys over at his house. He's very open with his communication with his players."
The Bulldogs winning back-to-back national title has also intrigued Raiola. He expressed high praise of head coach Kirby Smart. 
"I think you start top down with coach Smart and his leadership and what he's done for that program," Raiola said. "Coming from Alabama, he knows how to win. He knows how to develop young men and get all of his coaches around him as great people, which reflects on his leadership. The coaches are super genuine and the relationships are very real."
For more Georgia recruiting intel, check out DawgsHQ.
Raiola and his family enjoyed their recent visit to Georgia 
Dylan was not the only Raiola impressed by the championship environment at Georgia a few weeks ago. It also stood out to his father, an All-American at Nebraska. 
"It's elite talent, but they're getting elite coaching," Dominic told Simmons on March 20. "They're getting it every single snap and that's a huge deal because when these kids leave your house in the morning, you want them to get taught by teachers, by coaches, and when they go to college, you want to make sure they're in meeting rooms being taught how to do things. The Xs and Os are a huge part, but also your nutrition, the weight room staff, how they're keeping you on the field. And Georgia checks all of those boxes. It's an elite program."
Dominic also enjoyed learning more about Smart and his program. 
"You step into the building, and the CEO of the building I guess you'd call him, is Kirby," Dominic said. "And he delivers every time because of who he is. He's not putting on a front or a show. When you walk in, that's what you get every single time. His message is the same: you're in a competitive environment, it's highly competitive and that's why they are who they are."