On3 standout recruits from Week 6 of high school football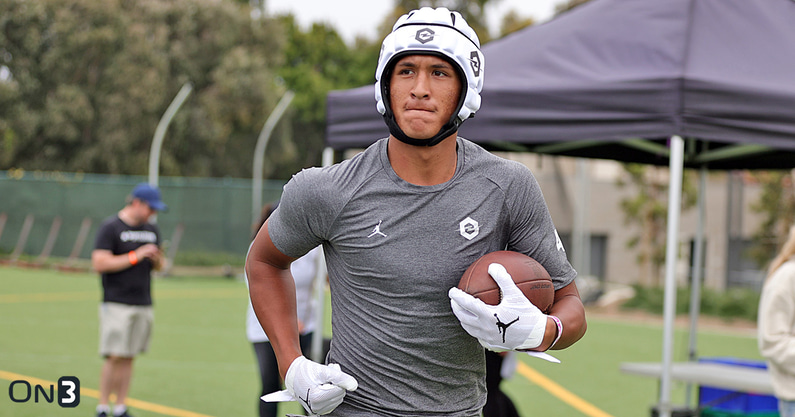 Week 6 of high school football saw a monster matchup in Southern California between two of the nation's top high school programs. There were also a number of top showings by touted quarterback prospects and other blue-chippers of note in games we watched over the weekend.
Please note that while extensive, this is not a comprehensive list of every top performer in high school football.
Mater Dei-St. John Bosco takeaways
The nation's No. 1 and No. 3 ranked high school teams faced off with Mater Dei traveling north to Bellflower, Calif. to take on St. John Bosco. The rivalry game was played in front of a 6,000 fan max capacity crowd and featured dozens of prospects with college offers. Mater Dei shut out St. John Bosco in the second half, en route to a 42-21 win. For brevity's sake, we'll touch on a few of the game's key players and top performers.
In the first half, we felt like St. John Bosco's 2023 defensive lineman/tight end Matayo Uiagalelei looked like the top prospect on the field. The 6-foot-6, 270-pounder made some impressive plays on both sides of the ball early on. The top 20 junior had a big pass rush and near sack along with a tackle for loss on Oklahoma commit Raleek Brown. He also flashed some athleticism at tight end, catching a back shoulder pass from Michigan State quarterback commit Katin Houser near the pylon. Uiagalelei tapered off a bit in the second half along with the Bosco offense. It's worth noting he's playing both ways and is likely to tire out faster than others.
The aforementioned Raleek Brown lined up at running back for Mater Dei and picked up tough yards all game, averaging around five yards per carry. Brown is a smaller back, measuring at 5-foot-7, 170 pounds over the summer. He's at his best when in space and deployed in the pass game. The No. 138 prospect in the On300 was hemmed up by a tough defense for much of the game, but showed some toughness and physicality to fight for yardage.
Brown's teammate and fellow On300 member, David Bailey is a an eye-catching prospect on the hoof. He's a tall, long outside linebacker who also lines up and rushes the passer at times. Similar to the season opener against Duncanville (Texas), Bailey was relatively quiet for most of the game. He did start to come alive in the fourth quarter, though. We saw Bailey generate some pressure in the backfield and eventually come down with a sack. The physical gifts are not in question, though he still could prove to be more active in the games we've seen. Bailey has taken official visits to Stanford and Cal. He also holds offers from USC and UCLA among others.
Mater Dei sophomore quarterback Elijah Brown was accurate and efficient on the big stage, completing 13-of-18 passes for 263 yards and five touchdowns with zero interceptions. While it's still very early in his development and evaluation process, it's safe to say the 6-foot-1, 185-pounder looks like one of the better 2024 quarterbacks at this stage. Brown impressed with his administration of the offense and overall poise against a very tough foe.
Two of Brown's five touchdowns went to Notre Dame wide receiver commit CJ Williams. The first came on a three-yard slant after Williams beat the defender with an inside move. The second came on a pretty throw that fell over Williams shoulder. The Irish pledge is a highly-developed, reliable possession wide receiver with strong technical skills.
UCLA linebacker commit Jalen Woods was a new entrant in the updated On300 for the 2022 cycle. The St. John Bosco defender had a few flash plays, including one where he was 40 yards downfield in coverage.
Pac-12 commits shining for Servite
Mater Dei and St. John Bosco, have traditionally competed for the Trinity League title in recent years. There might be a new challenger on the scene.
Anaheim Servite is lighting up the scoreboard this fall behind the play of Arizona quarterback commit Noah Fifita, Oregon wide receiver commit Tetairoa McMillan and Arizona tight end pledge Keyan Burnett. The Friars are averaging 56.7 points per game so far and continued their torrid pace on Thursday night with an easy win over previously unbeaten Orange (Calif.) Orange Lutheran.
Fifita has emerged as one of the best quarterbacks in high school football. He's completed 102 of 154 passes (66.2%) for 1,807 yards (11.7 yards per attempt), 21 touchdowns and two interceptions. Fifita is an electric playmaker behind center. He has considerable arm strength which pairs with his mobility and ability to make off-schedule plays. He's very small, at just 5-foot-9. Still, he is clearly one of the better quarterbacks in high school football with some physical skills that could transcend his lack of height at the next level.
McMillan is easily having one of the best senior seasons among wide receivers nationally. The Oregon commit has an innate connection with Fifita along with some of the best ball skills in the 2022 cycle. He's a natural pass-catcher with the ability to effortlessly track and high-point the ball in contested situations. So far, McMillan has 38 catches for 783 yards and 13 touchdowns. The top 100 prospect is also seeing some time at safety.
Burnett has added another considerable threat in the Friar pass game. The 6-foot-4, 225-pounder has been getting deep on defenses, showing his long speed. The On300 prospect has 16 catches for 345 yards and four touchdowns so far. The 20.6 yards per catch is considerable for a tight end.
While there are several good teams left on the schedule, everyone will be watching Servite's final two regular season games against Mater Dei and St. John Bosco on the last two weekends of October.
Allar keeps it rolling on national TV
Friday saw Penn State quarterback commit Drew Allar and his Medina (Ohio) team played a showcase game on national television. The 6-foot-5, 220-pounder led the Bees to their first ever win over Mentor (Ohio). Allar finished the game 23-of-37 for 307 yards, four touchdowns, one interception and another rushing score.
Allar continues to play at a high level as a senior. The Nittany Lion pledge is taking advantage of his considerable arm talent in driving the ball downfield. He often lines up in empty sets, forcing quick decisions and some playmaking ability at times. Allar's best play of the day came on a 3rd and 5 in the 3rd quarter – he rolled to the left and delivered a 43-yard throw across his body for a touchdown.
Allar ranks as the No. 1 quarterback and No. 21 overall prospect in the 2022 On300.
Arch Manning has best game so far
Arch Manning had his best game of the season thus far in a 59-7 win over Pearl River (La.). On3's No. 1 prospect in the 2023 cycle was 25-of-33 for 295 yards and five touchdowns. He has yet to throw an interception in the first three games of the season.
The 6-foot-4, 205-pounder made easy work of the Pearl River defense, showing off his lightning-quick release. Manning is making quick decisions and delivering the ball with precision and accuracy. He had a few very impressive throws, including a flawless deep touchdown in the first quarter.
The five-star prospect is in the midst of a slate of unofficial visits. He attended Georgia's game against South Carolina and was in Tuscaloosa on Saturday for the Alabama-Ole Miss game. Trips to Texas, Ole Miss and Clemson are on the docket for the rest of October.
Heat check
Few quarterbacks in the 2022 cycle are off to a better start than Purdue commit Brady Allen. The Fort Branch (Ind.) Gibson Southern signal caller has completed 72% of his passes at 11.4 yards per attempt for 27 touchdowns and zero interceptions. Allen is a big-framed quarterback with considerable arm strength and velocity on his throws. The 6-foot-4, 205-pounder is likely to make a strong push for On300 status at this rate.
Five-star 2023 wide receiver Shelton Sampson Jr. had his best game of the season to date in a win over Lafayette (La.) Christian. The 6-foot-4, 190-pounder scored on the first play from scrimmage, torching the secondary on a deep ball for a 54-yard score. He got in the end zone again with a leaping grab over Penn State commit Jordan Allen. Sampson is one of the more gifted pass catchers in the 2023 cycle with his long speed and considerable catch radius.
Sticking in Louisiana, we watched top 50 athlete/safety Kendrick Law play on Friday night in a win over Bossier City (La.) Parkway. Law is a bit of a tough evaluation in that he is not a very high usage player for his Shreveport (La.) Captain Shreve team. He plays as a slot receiver and while he caught a touchdown in the game, Law is not heavily targeted from what we've seen. The 5-foot-11, 195-pounder also plays safety in spot duty. He could project on either side of the ball at the next level. I'm eager to see what he looks like in an all-star setting. The athleticism is readily apparent. Law ran multiple 11.0 second times in the 100 meters in the spring. He took an official visit to Florida State and is set to see Alabama and LSU in November.
Five-star linebacker Harold Perkins had one of the more impressive plays we saw this week. The No. 8 overall prospect in the 2022 On300 has unique athleticism on both sides of the ball. Texas A&M, Texas, LSU and Florida are among those in the mix for his services.
On300 running back Major Everhart looks like one of the more explosive big-play threats in the 2022 cycle. The 5-foot-11, 170-pounder is averaging over 14 yards per carry and scoring at a high rate per touch for Amarillo (Texas) Tascosa. On Thursday, Everhart scored twice, on just two touches – one on a 68-yard run and another on a 40 yard reception. He also returned an interception 32 yards for a touchdown. One of the fastest prospects in the country, Everhart posted multiple 100 meter times under 10.50 seconds this year, with a best of 10.38 seconds. He has taken official visits to TCU, Baylor and Texas Tech and most recently, Notre Dame.