One-on-one with Tony Bennett (Part 2): Embrace the Pace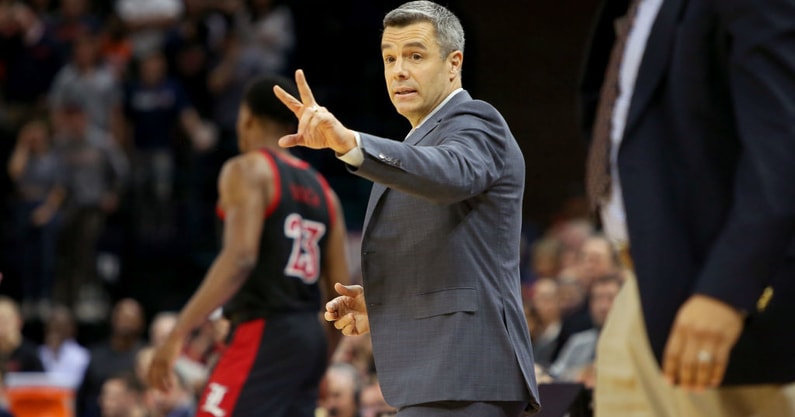 Twice Tony Bennett has been named the Naismith College Coach of the Year. Twice he has been named the AP National Coach of the Year. He is a four-time ACC Coach of the Year and the 2007 winner of the PAC-10 Coach of the Year.
Virginia head coach Tony Bennett also holds the NCAA record for career three-point field goal percentage. The No. 35 pick in the 1992 NBA Draft shot a staggering 49.7 percent on 584 career attempts.
Between stops at Washington State and Virginia, Bennett has had 11 players drafted into the NBA. For the 2021-22 NBA Season, Virginia had eight players on opening day rosters, tied for 12th among all college programs.
As a head coach, Bennett has led four teams to Sweet 16s, two to Elite 8s, one to a Final Four, and won one NCAA Championship. He has won 385 career games as a head coach and carries a .720 win percentage.
His resume is long, but I felt like I needed to brush over it. What he has accomplished as both a player and a coach placed Tony Bennett among the elite in what he does.
I made the trip to Charlottesville, Virginia, last week to spend the majority of the PM hours with the program. Part of that time was a 30-minute in-depth conversation with Tony Bennett. With the length of this conversation and the detail Bennett provided, I broke it down into multiple parts.
Read Part 1 of One-on-one with Tony Bennett
Here is part 2 of my one-on-one with Tony Bennett.
Embrace the pace is a term that has been used a lot to describe your style of play. How would you describe your style of play?
I think it's the ability of a team to get a quality look. And I always tell people, Yep. You can use some of the metrics or whatever and think their pace is slow, and they're one of the slowest offensive paces in college basketball. Okay, that's great. Well, the difference between 301 and 50, you can even look, it's only like two seconds per possession.
So the goal of good offense is to get a good look. If it's early, great. I think people are surprised when they play for us; there's more freedom than they realize offensively. We're gonna hold you accountable to try to get a good shot. If it's early and it's the right guy, absolutely. If it's not, so be it.
But for playing at the highest level, if you want to come and be a pro, I think that's, you have to learn what being efficient means. Taking good shots but playing with freedom. And then, you know, a good defense can sometimes slow the pace down a little too. So as far as our pace is just offensively, get a quality look and defensively, and make the opponent shoot a contested look.
And we overcomplicate it. Are we as fast as some teams are, taking it out of the net and trying to run as fast as we can down the court? Nope, we're not. Is there some freedom to push opportunistic? Absolutely. Can you take good shots early if it's there, Absolutely? At times do we work the defense? Yep, we do.
So, you have to find a system in a way that gives you a chance to win and play against the best. And then, then you have to say, are guys coming to our program, and are they developing? Are they getting a chance to play professionally? And if you can answer yes to those questions, you're winning at a high level, and guys are advancing, then I'd be careful about being critical of the system.
People negatively recruit against us a lot. I say if they can win as much as we have and they can produce as many guys into the NBA, then go ahead and talk about it. And if they can't, it's probably best just to focus on themselves. You know, our guys are not just a flash in the pan in the league.
I also am wise enough to know you always figure out a way to play that gives you chance. And we've had quality players, you know, we've found hidden gems. Our coaches have done a great job of developing them. And it's so fun to try to put the puzzle together and win against great competition and great talent. But that's the beauty of the college game.
There's the Syracuse zone. There's the pack line defense. There are teams that switch, there are teams that press, and there are teams that run Princeton; ball stream, continuity, blocker mover all. College basketball is so good because it's not a cookie-cutter league.
It's different ways, It's different strengths, and it's why there are upsets nonstop in the NCAA tournament. And it's the one game where, truly synergy of five guys, you know, the whole is greater than some of the parts. It's just it's beautiful that way.
And I hope the game never changes. We don't try to get it, just like the NBA. The NBA has got beautiful talent and all that. But that's what I like. So we've found a way we continue to evolve our way to our players that gives us a chance, and I'll never apologize for that.