Paul Finebaum on SEC baseball: 'It's on the same level as football'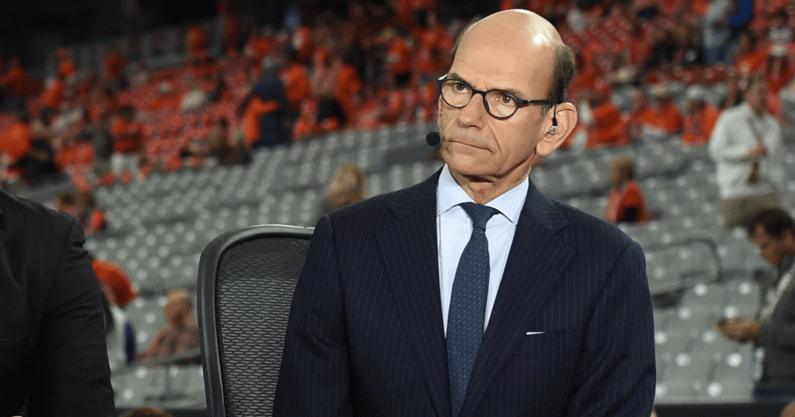 Six teams remain in the College World Series field — and four of them come from the SEC. That's an impressive feat, and Paul Finebaum made a bold proclamation about it on Tuesday.
During a regular appearance on McElroy and Cubelic in the Morning with Greg McElroy and Cole Cubelic, Finebaum went so far as to say SEC baseball is on par with SEC football.
"It's just really confirmation of what we already know: that baseball now within the SEC is on the same level as football," Finebaum said. "In some ways, it may even be better. All that does, Cole, is irritate the rest of the world. I think the stat was out yesterday [from] somebody that the SEC has had 15 of 16 in either the BCS or CFP championship game and, now, we're trending toward similar numbers in recent years. We're glued to this league, so we find it entertaining. I'm sure if you're in the Pac-12 right now or in Austin, Texas, you're going, 'I don't like this at all.' At least in Austin, Texas, you can say, 'We'll be in the league in a couple years. '
"It's important for a lot of reasons. This is a fairly down time of the year. People do flip on ESPN or there's a game on, so they're watching it and they see the SEC, which brands the league even better than it's already been. In some ways, people will say, 'Well, what else can the league do?' But that doesn't stop Coke or Pepsi or the beer companies from advertising. It's all marketing and it's all promoting the greatness of this league."
Where the SEC stands in the College World Series
Arkansas, Auburn, Ole Miss and Texas A&M all remain in the College World Series field heading into day five of the tournament. In fact, three of them — Arkansas, Auburn and Ole Miss — are all on the same side of the bracket, meaning the SEC is guaranteed to have at least one team in the championship series.
Additionally, Texas — which, as Paul Finebaum mentioned, is joining the league down the road — also made it before getting eliminated by Texas A&M.
Arkansas and Auburn will face off Wednesday in an elimination game, and the winner will face Ole Miss with a championship series berth on the line.