Position unit breakdown: All you need to know about the top offensive backfields in 2022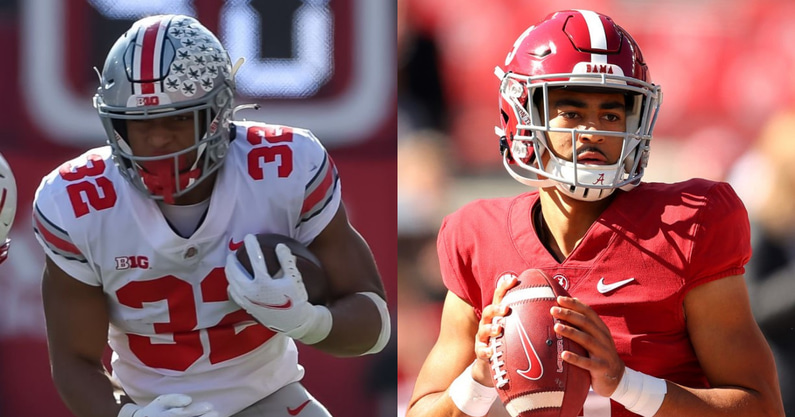 We start our position breakdown series today with the offensive backfield. We came up with the 10 best offensive backfields (quarterbacks and running backs, starters and key reserves), as well as the top backfield in each league (if it is not mentioned in the top 10) and the top transfer class.
The teams that rank first and second should not be a surprise. Both have legit Heisman candidates at quarterback and running back.
10. Kentucky
Starters: QB Will Levis, RB Chris Rodriguez Jr.
Key backups: QB Deuce Hogan, RB Ramon Jefferson, RB Kavoisey Smoke
The buzz: The bet here is Levis making noticeable improvement. He accounted for 33 TDs last season (24 passing, nine rushing). But while he is considered a first-rounder in most 2023 mock NFL drafts, he threw 13 interceptions and passed for more than 178 yards in just one SEC game last season. Rodriguez is coming off a 1,379-yard season and is a physical runner with an impressive burst. But he had off-field issues earlier this year and potentially could miss some games. Jefferson was a 1,000-yard rusher last season for FCS Sam Houston State and originally transferred to Colorado. But he reversed course, waited a few months, then chose UK in late June. He began his career at Maine before moving on to SHSU and now Kentucky. Smoke ran for 416 yards last season. Hogan is a transfer from Iowa.
9. Utah
Starters: QB Cameron Rising, RB Tavion Thomas
Key backups: QB JaQuinden Jackson, RB Micah Bernard, RB Jaylon Glover
The buzz: Rising took over as the starter in Game 4 last season and led the Utes to the Pac-12 title and their first Rose Bowl berth. Rising is a tough-minded quarterback who doesn't make many mistakes with his arm and can hurt opponents with his legs, too. Thomas also started last season as a backup before emerging as a workhorse and an 1,100-yard rusher. He rushed for 21 TDs, third-most nationally. How coaches divvy up carries behind Thomas will be interesting. Glover is a tough, 5-foot-7 true freshman who wowed folks during the spring. Jackson is a former national top-100 recruit in the 2020 class.
8. Oklahoma
Starters: QB Dillon Gabriel, RB Eric Gray
Key backups: QB Davis Beville, RB Jovantae Barnes, RB Marcus Major
The buzz: Gabriel is going to have some of the best quarterback numbers in the nation this season; he throws an especially nice deep ball. Beville, a transfer from Pitt, heads an underwhelming cast of backup quarterbacks. Gray was solid last season after transferring from Tennessee and needs to play a bigger role in the offense this season. Barnes is a talented freshman. Major has talent, too, if he can stay healthy.
7. Georgia
Starters: QB Stetson Bennett, RB Kendall Milton
Key backups: QB Carson Beck, RB Kenny McIntosh, RB Daijun Edwards
The buzz: Is Bennett an elite quarterback? No. But he guided Georgia to a national title last season, understands his strengths and weaknesses and makes excellent use of his tight ends; he also threw 29 TD passes in 2021, fourth-most in a season in school history. Milton and McIntosh form a potent duo at tailback, and Edwards is talented for a third-stringer, as well.
6. Michigan
Starters: QB Cade McNamara, RB Blake Corum
Backups: QB J.J. McCarthy, RB Donovan Edwards, RB Taviere Dunlap
The buzz: McNamara led Michigan to the Big Ten title and a College Football Playoff berth last season, but McCarthy actually may have more upside. That is one of the three most interesting camp quarterback battles (along with LSU's and Texas A&M's). Corum teamed with Hassan Haskins (now in the NFL) to give Michigan a potent rushing attack last season; there will be zero drop-off with a Corum-Edwards duo this season. Dunlap is a physical, between-the-tackles guy.
CLICK HERE to subscribe for FREE to the On3 YouTube channel
5. UCLA
Starters: QB Dorian Thompson-Robinson, RB Zach Charbonnet
Key backups: QB Ethan Garbers, RB Keegan Jones, RB Deshun Murrell
The buzz: The starting duo is excellent. This will be Thompson-Robinson's fourth year as a starter and he is quite comfortable in Chip Kelly's offense. While he can improve as a passer, he is a dangerous runner. Charbonnet, who began his career at Michigan, is underrated nationally and thrived last season, his first in Kelly's offense. There are some questions about the backups, though.
4. Texas
Starters: QB Quinn Ewers, RB Bijan Robinson
Key backups: QB Hudson Card, RB Roschon Johnson, RB Keilan Robinson
The buzz: While there are at least a few questions about quarterback, there are zero questions about the running backs. The Robinson-Johnson-Robinson trio might be the best in the nation. As good as Bijan is, Johnson is an early-round NFL draft prospect, too, and he needs at least 12 or so touches a game. Ewers has big-time arm talent, but a lack of experience is a concern. He skipped his senior year of high school and didn't throw a pass last year at Ohio State.
3. USC
Starters: QB Caleb Williams, RB Travis Dye
Key backups: QB Miller Moss, RB Austin Jones, RB Darwin Barlow
The buzz: Williams (from Oklahoma), Dye (Oregon) and Jones (Stanford) are transfers. Moss played in two games last season, when Barlow was the Trojans' third-string running back. Williams has immense talent and is comfortable in coach Lincoln Riley's offense. He has some rough edges, but it shouldn't take long to smooth them over. Dye already is an established star in the Pac-12; he is the fifth-leading rusher in Oregon history, and his receiving ability should be put to god use by Riley. Jones and Barlow are more-than-able complements.
2. Alabama
Starters: QB Bryce Young, RB Jahmyr Gibbs
Key backups: QB Jalen Milroe, RB Trey Sanders, RB Jase McClellan
The buzz: Young, of course, is the reigning Heisman winner, and is trying to become just the second player in history to win the Heisman twice. One thing to watch: Alabama's receiving corps doesn't appear to be as good as last season's, but that shouldn't be a big deal. Gibbs, a transfer from Georgia Tech, is better than predecessor Brian Robinson. He is a speedy back who can take it the distance on any play, and also is a good receiver. There is a deep group of running backs, with Sanders potentially healthy for the first time in his Tide career. Milroe was a national top-100 recruit in 2021.
1. Ohio State
Starters: QB C.J. Stroud, RB TreVeyon Henderson
Key backups: QB Kyle McCord, RB Miyan Williams, RB Evan Pryor
The buzz: Stroud put up big numbers last season with the best receiving corps in the nation. Even with two first-rounders gone from the receiving room, don't expect much of a drop-off. Henderson showed big-time ability as a true freshman last season and should be even better this fall. Williams is a good No. 2, and Pryor is a solid No. 3. McCord has a big-time ceiling, and gives this backfield the edge over Alabama's.
Other leagues
AAC
East Carolina: QB Holton Ahlers, RB Keaton Mitchell, backup RB Rahjai Harris
The buzz: Ahlers will be a fifth-year starter; he has a nice arm but must cut down on his picks. The speedy Mitchell is coming off a 1,000-yard season, and Harris has rushed for 1,203 yards in two seasons.
ACC
Miami: QB Tyler Van Dyke, RB Jaylan Knighton, backup RB Henry Parrish
The buzz: UM's backfield would rank 11th on this list, just behind Kentucky's. Van Dyke is a standout in a league filled with big-time quarterbacks. Miami's rushing attack was a big disappointment last season, but Parrish's transfer from Ole Miss should help spice up the ground game this season. Finding enough carries for all the backs will be an interesting storyline all season.
Conference USA
UAB: QB Dylan Hopkins, RB DeWayne McBride, backup RB Jermaine Brown Jr.
The buzz: McBride, who is one of the nation's most explosive players, and Brown combined for 2,002 yards and 20 TDs last season. Hopkins was excellent down the stretch last season; will that carry over?
Mid-American
Central Michigan: QB Daniel Richardson, RB Lew Nichols III, backup RB Marion Lukes
The buzz: Nichols led the nation in rushing last season (1,848 yards), and Richardson has 3,000-yard potential; he threw 24 TD passes in 2021.
Mountain West
Fresno State: QB Jake Haener, RB Jordan Mims, backup RB Jevon Bigelow
The buzz: Haener, who threw for 4,096 yards last season, will be at the helm of one of the nation's most productive pass offenses. Mims moves from key backup to potential (likely?) 1,000-yard rusher.
Sun Belt
Appalachian State: QB Chase Brice, RB Nate Noel, backup RB Camerun Peoples.
The buzz: Brice, who also has played at Clemson and Duke, threw for 3,337 yards and 27 TDs last season. Noel and Peoples basically are interchangeable and a devastating 1-2 punch; they combined for 2,052 yards and 18 TDs in 2021.
The three best backfield transfer classes
3. Washington, with QB Michael Penix Jr. (Indiana) and RB Aaron Dumas (New Mexico) and Wayne Taulapapa (Virginia). The buzz: A new coaching staff gave the backfield a makeover; Penix seems a for-sure starter, and don't be surprised if Dumas is the leading rusher. More important is that the new staff has a realistic offensive plan after two seasons of … well, no one really knows.
2. Ole Miss, with QB Jaxson Dart (USC) and RBs Zach Evans (TCU) and Ulysses Bentley IV (SMU). The buzz: The Rebels lost their starting quarterback and their top four rushers. Lane Kiffin did a nice job in the transfer portal in rebuilding that backfield. Evans, in particular, is a big-time talent when he's focused.
1. USC, with QB Caleb Williams and RBs Travis Dye and Austin Jones. The buzz: See above.