Report: Oklahoma transfer Caleb Williams met with another Pac-12 program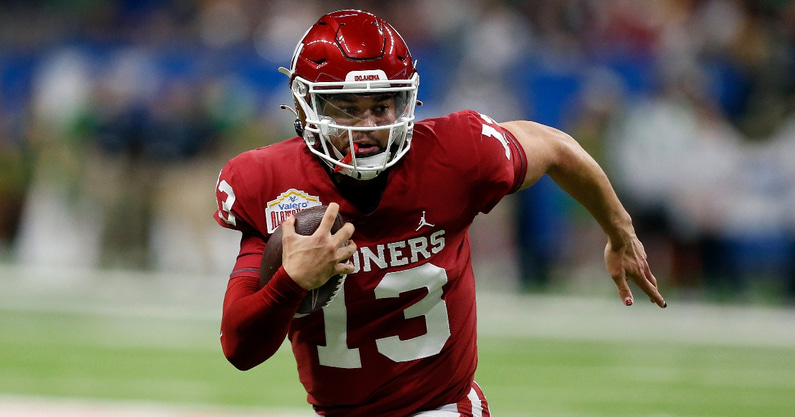 After Caleb Williams decided to enter the transfer portal, rumors swirled about a potential reunion with former Oklahoma coach Lincoln Riley at USC. Wednesday, another Pac-12 program entered the mix.
Williams met with UCLA coaches over the last couple days, according to ESPN's Kyle Bonagura. He could also communicate with and maybe even visit more programs before making a final decision, Bonagura reported.
Williams entered the transfer portal Jan. 5 after announcing his intention to do so a few days earlier. A former five-star recruit, he burst onto the scene for Oklahoma this year in place of Spencer Rattler, who was benched mid-year. Rattler ended up transferring to South Carolina.
As if there wasn't enough speculation about Williams' decision to enter the portal, another Oklahoma player visited USC last week. Mario Williams posted a picture on his Instagram story and tagged Los Angeles as his location. The rumors are sure to keep up as Williams mulls his decision.
As a freshman, Williams completed 64.6% of his passes for 1,916 yards, 21 touchdowns and four interceptions. He helped lead Oklahoma to an 11-2 overall record, including 9-2 in Big 12 action.
The Sooners last played on Dec. 29 in the Alamo Bowl — a 47-32 win over Oregon.
Oklahoma quarterback Caleb Williams officially enters transfer portal
Oklahoma quarterback Caleb Williams officially entered the transfer portal on Wednesday, according to On3's Matt Zenitz. The move has been anticipated since Monday, when the freshman announced his intention to do so on social media.
According to Yahoo Sports Pete Thamel, the family is on vacation this week and will take their time making an announcement. Carl Williams, also explained that his son, Caleb Williams, has not picked out a destination. And the key thing that they are focusing on when it comes to school selections is preparation to become an NFL quarterback.
Williams' ascension to stardom was one of the more positive storylines to come out of the 2021 Sooners season. He took over for Spencer Rattler in the Red River Rivalry game against Texas, leading Oklahoma to a 21-point comeback and 55-48 victory.
After that, the freshman remained the starting quarterback to finish out the season. He threw for 1,912 yards and scored 27 total touchdowns as Oklahoma closed the year with an 11-2 record.
Williams came to Oklahoma as the No. 1 overall recruit in the 2021 class according to On3 Consensus, a complete and equally weighted industry-generated average that utilizes all four major recruiting media companies.