Same old same old: SEC decides not to decide on its future scheduling model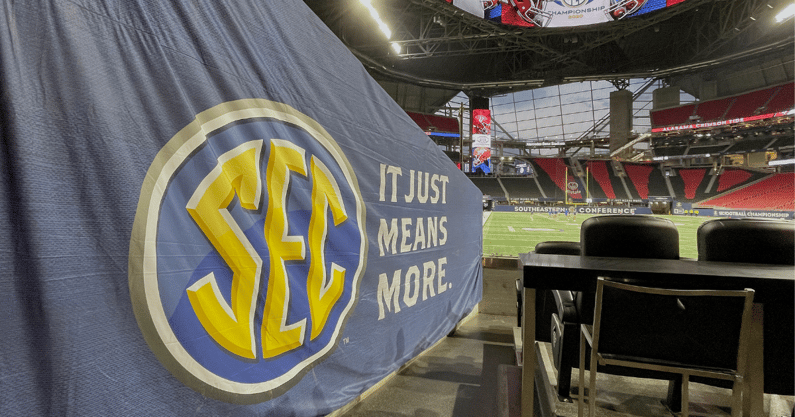 The SEC could have selected a really nice present for college football this week. Commissioner Greg Sankey could have announced Friday that the league will adopt a nine-game conference schedule. Instead, the league decided not to decide, one of the things the sport's leaders do as well as they cash TV checks.
At stake is how many conference games to play when Oklahoma and Texas join in 2025. The league has played an eight-game conference schedule since it first expanded in 1992, when teams played only 11 games. Back then, every league with more than eight teams played an eight-game league schedule.
The Big Ten, the Big 12 and the Pac-12 play nine-game schedules. The SEC's refusal to do so is maddening. It's an insult to SEC ticket-buyers, who are saddled with an inferior non-conference product for at least one home game a year, if not two. If the SEC considered its ticket-buyers, the league would have gone to nine games a long time ago. Of course, if the SEC considered its ticket-buyers, it would ban FCS opponents and 11 a.m. kickoffs, but we'll try to keep this column in the realm of the possible.
Staying at eight games is about the bottom half of the conference dictating to the top half, and they're entitled. It's just that their self-interest is not in the league's interest. Staying at eight games is about preserving won-loss records, which is about qualifying for bowl games, and really, bowl games? I crave three weeks of non-stop holiday football as much as the next addict, but the best players don't even stick around for them anymore. If the players don't take them seriously, why should we?
Staying at eight games is about being able to buy at least two home games a season to help pay the bills, as if bringing in Texas and Oklahoma isn't going to be worth way more annually than a home game against Wofford (or Mercer or any FCS team; no offense, Terriers).
It is said that Sankey favors a nine-game schedule. Whatever it will take to push the SEC across the finish line on this topic is fine with me. Well, maybe not carve up the Big 12, but that decision is made.
At least current schedule model is gone
The one good piece of news in this dilly-dallying is that the league is ditching its current scheduling model, which doesn't have a name. Let's call it Melatonin. Each team plays its six division opponents, one permanent non-division opponent and one rotating. If I'm, say, a Florida ticket-buyer, and I get Missouri every other year and have to wait 10 years to see Alabama in the Swamp, I'm stifling a yawn.
The league either will adopt an eight-game model with one permanent opponent and seven rotating opponents every two years, or a nine-game model with three and six, respectively. Think of what that nine-game SEC schedule would afford the fans. The league would go from 56 conference games per year to 72. That's nearly a 30 percent increase. Under the current SEC model, Arkansas went to Georgia in 2010 and didn't return until last season. Under the new model, the Razorbacks will play Between the Hedges every four years.
If I'm a South Carolina season-ticket holder, and I know that I can buy a ticket to see Texas and Oklahoma and Alabama every four years, I'm willing to give up seeing Vanderbilt every two years.
Yes, under either new format, the league will kill a lot of annual rivalries. If Auburn has only one permanent opponent, it won't be Georgia. Since 1894, the only thing that has stopped those two from playing is a world war (1917, 1918, 1943).
But I'm done mourning rivalries. I've sung the praise of rivalries as loudly as anyone who ever held the Red River Rivalry Hymnal. Since realignment began more than 30 years ago, college football has thrown overboard one big annual rivalry after another, from Penn State-Pitt to Nebraska-Oklahoma to Kansas-Missouri, and the sport is more popular than ever. Most "big" SEC rivalries are transitory, based on the standings, and won't be missed. Alabama-Texas A&M is big now; Florida-Tennessee used to be big. If you go back far enough in league history, so was LSU-Tulane.
If the league adopted the nine-game model, maybe Auburn and Florida, who played every season from 1927-2002 (except during World War II) would do the rom-com thing and get back together. Longhorns could patch things up with Aggies and Razorbacks. And come playoff time, college football fans would be able to more easily compare a Big Ten apple to an SEC apple. Both will have played nine conference games.
But the SEC, doing what it does best, decided not to make a decision. On a related note, Mississippi State president Mark Keenum, the chair of the College Football Playoff Board of Managers, said he hopes the board will decide on a new format by the summer of 2023. This time last year, the board hoped to decide by the end of 2021. And on we go.