Source: Jaxson Dart focused on three transfer destinations, visits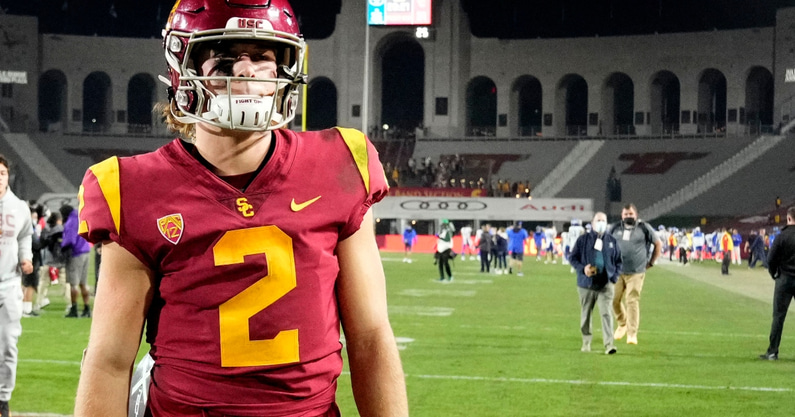 When Jaxson Dart entered the transfer portal, he shook up the college football world. As the sport wonders where the former USC quarterback will play next season, On3's Gerry Hamilton reports Dart is focused on three transfer destinations.
According to Hamilton, Dart is honing in on Oklahoma, Ole Miss and TCU. The former four-star recruit is planning to visit all three between now and the weekend.
Moreover, Dart's decision to enter the portal comes after a hectic offseason for USC. To illustrate, the Trojans saw Lincoln Riley take over as the team's next head coach, and now speculation is running rampant regarding quarterback Caleb Williams. The former Oklahoma star is also in the portal, possibly looking to follow Riley from Oklahoma to USC.
In 2021, Dart played six games as a true freshman for USC. He completed 61.9 percent of his passes for 1,353 yards, amassing nine touchdowns and five interceptions while adding two rushing touchdowns.
The first of the aforementioned visits is slated to happen Thursday, with Dart on his way to Ole Miss, according to Ben Garrett of Ole Miss Spirit. Moreover, the report also indicates his visit will line up with former USC teammate and roommate Michael Trigg's visit to Oxford, Mississippi.
If Jaxson Dart chooses Ole Miss, he'll be Lane Kiffin's replacement for the production of star junior Matt Corral. The Rebels are looking for his replacement, as Corral is expected to become a first round NFL draft pick this year. When Corral went down with an injury during the Sugar Bowl, fans got a glimpse at freshman Luke Altmyer — the top returning option on the team.
As the college football world awaits the decision by Jaxson Dart, dominoes wait to fall. Once the quarterback picks his next destination, a murky picture will become much more clear.
More on Jaxson Dart, USC Trojans
Evidently, Jaxson Dart saw the writing on the wall with the USC Trojans. With Lincoln Riley in town and Caleb Williams in the transfer portal, Dart had to do what was best for his football career.
Now, the former star recruit is once again one of the most sought-after quarterbacks in the nation. Wherever he chooses to play, he'll instantly be expected to become the star signal-caller for their program.
Jaxson Dart showed promise at USC, but the time was no longer right for the quarterback with the Trojans. Now, both will move on from each-other as next season approaches.