Tampering, NIL and blind speed dating: Coaches, personnel staffers sound off on the transfer portal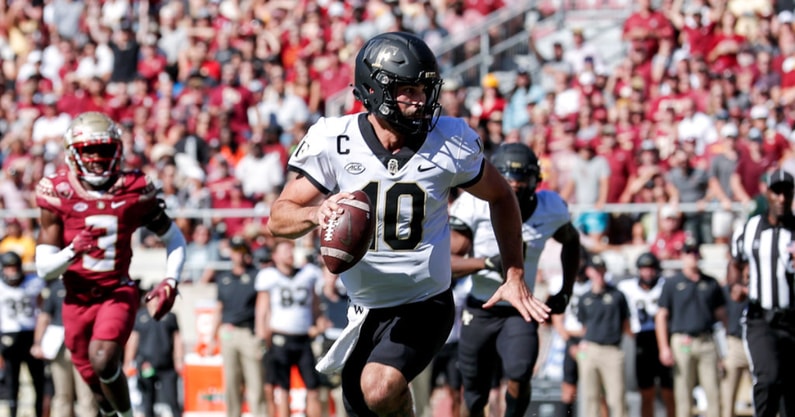 CHARLOTTE — The first transfer portal window closes Wednesday, but six weeks ago on Dec. 5, chaos ensued, as close to a 1,000 prospects — from the FBS, FCS and Division II — flooded the portal within the initial 48 hours.
Some staffs were ready. Others were completely overwhelmed. Almost everyone agreed, the initial transfer portal window was a tsunami — with waves of tampering, quickly-cobbled NIL deals and lots of coaches crossing fingers their staff's evaluations were on point. 
Typically, National Signing Day is considered a mini-holiday on the college football calendar, but now we have to circle Day 1 of the December transfer portal period, too.
At the AFCA Convention last week, I talked to all manor of coaches, assistants and player personnel staffers who sounded off on the early signing period and the length of the transfer portal windows, with the common consensus that staffs are overworked and exhausted.
Another popular conversation among the conference's attendees were all the varying frustrations with the transfer portal. 
There are wildfires everywhere. 
Every coach and staffer I bumped into was all for the freedom of player movements and allowing individuals to profit off their name, image and likeness, but that didn't stop wide-ranging complaints about the transfer portal— from the never-ending recruitment of your own players from even entering the database, to graduate transfers being able to commit to schools without any binding commitment, allowing those same prospects to flip willy-nilly when a more attractive opportunity opens.
Others detailed the necessity for mixed approaches to recruiting a portal that saw 1,000 prospects submit their names into the database this year.
There were varied opinions on tampering, and many coaches have come to the conclusion that the entire transfer portal process is really a bargain of blind speed dating at this point. 
HOW DO YOU DO YOUR HOMEWORK ON 1,000 PROSPECTS?
While college football's version of free agency featured plenty of marquee names hitting the market like Sam Hartman, Travis Hunter, and Dominic Lovett, we also saw hundreds of players with little to no film submit their name into the portal looking for an opportunity elsewhere.  
How do you do substantial homework on 1,000 prospects, many of whom have barely seen the field since high school? 
Although plenty of staffs made "target lists" depending on the potential availability of certain players, many quickly realized the process was like college football's version of playing Big Brother: Expect the unexpected. 
Several Group of 5 quarterbacks projected to level up and transfer to Power 5 schools never even entered the portal. Meanwhile, several staffs were surprised by the mass exodus of talent leaving South Carolina, Arkansas and Oregon, among others.
Elsewhere, a slew of former blue-chip prospects buried on their team's depth chart entered the fray looking for a fresh start. 
Based on several dozen conversations with coaches and personnel staffers, it's clear everyone approaches the transfer portal a little differently. 
Staff sizes — from the blue-bloods who have armies of evaluators and recruiting personnel to FCS schools, where head coaches like Howard's Larry Scott are in the weeds doing the scouting grunt work typically reserved for support staffers — naturally impact a program's ability to evaluate and recruit. 
But all schools (outside of brand new staffs) have a year to build a recruiting class. But the transfer portal? A program might not have three days to identify a fit, connect with the prospect, work to get him on campus for a visit, and lock down a commitment. 
"It's impossible to comb through it all," said Scott, a former Miami, Tennessee and Florida assistant who has three total staffers responsible for both recruiting and working the transfer portal. 
The breakneck pace of wild player movement in December shined a glaring spotlight on the haves and have-nots in the sport, leading staffs across the country to get creative with how they attacked the transfer portal.
SEC schools like LSU and Florida — which has a department of young grinders made up of seven people with regional responsibilities whose sole job is to write scouting reports on transfers — looks at every prospect who enters the portal. All 1,000+. 
But a program like Houston, which is set to play in the Big 12 next season, doesn't have close to the manpower to do that. Instead, the Cougars designed a plan that still allowed them to be proactive when the portal chaos hit on Dec. 5. 
During the fall, Houston put together a table of every prospect from Texas who signed from the region (within 100 miles or so from the city) within the previous several years. Then they studied film on the players they might be interested in if those prospects became available, circling the ones they deemed real priorities. 
When the first portal window opened, they crossed-checked their list, which allowed them to pounce on guys looking to play closer to home like former Texas Tech quarterback Donovan Smith, Oklahoma State wideout Stephon Johnson, Texas offensive tackle Jaylen Garth and New Mexico State safety Adari Haulcy, a freshman All-American in 2022 who had chose the Cougars over Ole Miss, UCLA and others. 
They missed on a few top targets like former Alabama tackle Damieon George, a Houston native who ended up at Florida, but their process and plan mostly worked. 
"Florida has an entire staff dedicated to portal," Houston assistant director of player personnel Harding Harper said. 
"We have less people. It's more work, but we've found ways to get it done."
TAMPERING A HOT-BUTTON TOPIC
Coaches at all levels acknowledged that tampering is a major component of the transfer portal, but it's a contentious problem with no obvious solutions. 
How do you prove tampering? If every school is doing it, how much of an issue is it really? 
Staffs and players alike are using third parties to communicate interest and establish assurances (be a starting spot, X amount of snaps or NIL deals), which is why many prospects who officially submit their name to the transfer portal database already have a future place to call home. 
"It's a joke, but it's the game. You can't cry (about tampering)," said a Sun Belt assistant coach. 
The NCAA says that tampering is illegal and NIL is not pay-for-play, but the legislative body has done nothing to prevent either, which is why plenty of coaches, including Wake Forest's Dave Clawson, believe that if the rules can't be enforced then they just simply get rid of them. 
Multiple Group of 5 assistants took little issue with some of their colleagues' complaints that the portal is simply a "farm system"— namely that many players are leveling up for more NIL opportunities or better exposure. Those coaches acknowledged they're doing the same thing with star players from the FCS or Division II. 
"Big fish eat little fish," one assistant said. 
Players have transferred for decades in college football, but the portal — and one-time transfer rule — is still very new. The 45-day window was the first ever. 
Because of the now-constant roster churn, the portal is overflowing with players who have been pushed to enter their names by coaches looking to flip the roster. At the same time, there are also plenty of players using the one-time transfer rule to leverage their current schools. 
This combination has created a bloated basin full of mines. 
"If you can't retain your guys then you're in a rat race playing catch-up," one assistant quipped. 
Coaches, from the SEC to the FCS, griped about all the unknowns there are within the entire portal process right now. 
Like the player's accurate height and weight. His work ethic. Or a player's character or love for the game. 
Oftentimes, coaches don't know what they don't know, but they're living in a world of blind speed-dating — grabbing who they can when they can and just crossing their fingers they don't partner up with a red flag who could blow up their team's culture and chemistry. 
"Coaches are lying to each other. It's become such a psychology game. Nobody knows anybody," one FCS head coach said. 
"I come and get you. I just meet you. Then it's the dead period and we start school. I'm just hoping you're not a dip-shit or worse. You just don't know. But as the head coach you're responsible for that. … What if they don't love football? We don't have time to figure that out." 
"We have a week, maybe two, to evaluate, recruit and visit with some guy who has no tape," said a former SEC defensive analyst. 
"Coaches don't know what they're getting."
Schools like USC, LSU, TCU and Florida State all successfully used the transfer portal last cycle to accelerate roster flips. But there were just as many examples of programs stuffing their rosters with transfers and it not panning out as planned — hello Miami, Oklahoma, Nebraska, Louisville and Georgia Tech. 
"The type of bait you fish with is the type of fish you catch. Some guys are recruiting mercenaries. We went for grit and character," said a Power 5 recruiting director whose school did successfully utilize the transfer portal last cycle.
This offseason, new coaches at Colorado (Deion Sanders), Nebraska (Matt Rhule), Arizona State (Kenny Dillingham), Auburn (Hugh Freeze) and Wisconsin (Luke Fickell) have all pounded the portal. We'll check in 12 months from now to see how those situations played out. 
It's unmistakable that the transfer portal is a great way to supplement your roster, but after a couple of years of data, many staffers still strongly believe that recruiting prep prospects remains paramount to a program's sustained success. 
"The backbone of your roster has to be built through high school prospects," said a Pac-12 assistant. 
"I'm not a live by the portal guy," said a Big 12 recruiting personnel director. 
"You still have to build your team with high school kids."
With the lack of information on so many players in the portal, coaches anticipate a future where portal prospects will participate in some sort of regional combine — similar to the NFL Combine in February full of drills and interviews. Ideally, that would provide staffs more quality details on players with minimal game tape. 
For now, coaches are either gambling on the unknown, or like at Marshall, taking a hard-line stance of only recruiting portal prospects with whom they have an existing relationship. 
Marshall went 9-4 in 2022, with several transfers playing key roles for the Thundering Herd. Head coach Charles Huff said his staff evaluates every player in the transfer portal who someone — be it an assistant, analyst or secretary — has a prior relationship with. They then make a yes/no list and build a base of targets. 
In the last two years, they've landed 24 transfers with 22 prospects panning out — either as a starter, contributor or quality locker room presence, per Huff. 
Huff admitted that's a really strong hit rate, adding, "The saddest part is the one we missed on, I had the best relationship with his high school head coach, so you can't be perfect. But we won't take a single kid we don't know."
 THE CROSSOVER OF THE TRANSFER PORTAL AND NIL
On the outside, many view NIL as the driving force for the glut of entrees into the transfer portal, and while plenty of players are eying an avenue for better deals, most don't have such luxuries. 
Some players entering the portal looking for NIL deals are getting poor advice, some said.
"They don't put slappies on commercials," an SEC analyst said. 
Still, plenty of coaches admit lots of players are getting something, which has muddied college football's version of free agency. With no salary cap or collective bargaining agreement, the transfer portal has become a back alley of bidding wars and negotiating windows. 
The discontentment with dealing in such a chaotic space has led to some coaches simply throwing up their hands and saying, "Forget it."
"I don't talk NIL with one kid. I kill all that shit," an ACC recruiting director said.  
"When you ask parents: 'Who would you give the money to? Your kid or someone else?' And every single parent picks their kid. I'm like, 'Ok. Exactly.' So I don't even mess with it." 
But that's not a stance many coaches hold, which is why several advocated for a future with contracts over scholarships for players, believing it would clean up many of the messes within the transfer portal. 
The coaches know that means they'd have to give up some money for this to work, but trade-offs would greatly benefit the sport — for both coaches and players. 
"We need to do is have contracts instead of scholarships," a former SEC assistant said. 
"Everybody should be able to sign contracts. If you come to school X, this is what you get for the first two years. After that, we renegotiate. Alright, you started, you played well, you made all-conference, then you have a free agency period where you can sign back up with us or you go for more elsewhere. I'm good with that. 
"If after two years, you don't live up to that, then I might say, "I might keep you around, but you may not get this or that anymore.'"