The Inside Scoop: Records are an aside to team-focused Arch Manning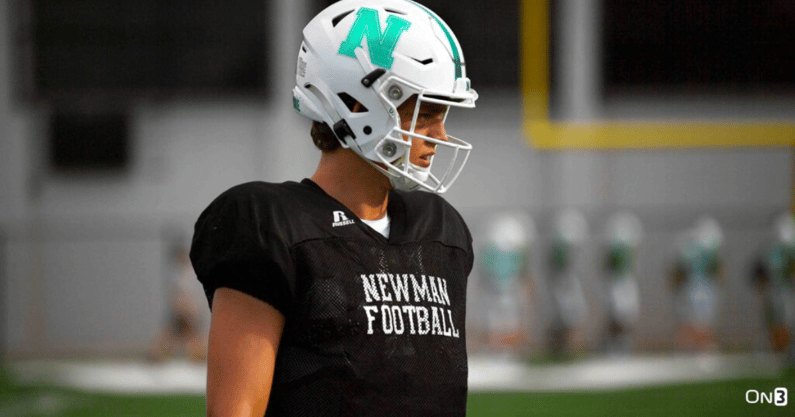 New Orleans (La.) Isidore Newman Five-Star Plus quarterback Arch Manning will never forget last Friday night.
The Texas commit not only broke his uncle Peyton Manning's school record for career touchdown passes but also broke his uncle Eli Manning's school record for career passing yards.
On3 National Recruiting Analyst Sam Spiegelman said on The Inside Scoop the seven-touchdown performance in a 52-22 win did not surprise him after off a disappointing loss to Many (La.) High the week before.
"We talked about the primetime loss he had on the road a week ago," Spiegelman said. "He doesn't have two bad games in a row. He's not that kind of player. He came back with conviction. He didn't even have to play the fourth quarters to throw seven touchdowns to I think four different receivers. Extremely efficient, just exactly what you would expect from Arch Manning after I think what would he consider a frustrating week four loss at Many. He came back again on the road. He was absolutely efficient. He's distributing to a number of different weapons. He's playing without Will Randle, his top pass catcher — like him committed to the University of Texas."
"He broke breaks both of his uncle's records. He's sitting in the fourth quarter. Afterwards they all but forced him to take the game ball. He's so selfless. From talking to people that were at the game, probably the best moment was just being with his family after the game. The records are great. They're an aside to Arch but getting that win, getting back in the win column kind of finding his stride in this offense. That's really what he cares about."
Peyton's career touchdown record was 93 and Eli's career passing yardage total was 7,389.
The next record for Manning to conquer is the total touchdowns mark at 127, which is held by former New Orleans Isidore Newman quarterback and Stanford wideout Jay Taylor. Manning is at 124, which means the record could fall this weekend.
"He has most of them at this point," Spiegelman said. " Both of the uncles are out of the way. But he is three away from former Newman quarterback Jay Taylor, who played wide receiver at Stanford, for the all time touchdown mark and Newman that's passing rushing, receiving and returning and with four he will then hold basically all the big records at Newman: the all time leading passer, the all time passing touchdown leader and then the all time touchdown leader, which I imagine you know, he might not even need four quarters on Friday to get to. He's playing so well at this point. It might just be just another hurdle en route to where they ultimately want to be."
Arch Manning is continuing to grow as a player
Arch Manning is the No. 1 player in the 2023 cycle, according to the On3 Consensus, a complete and equally weighted industry-generated average that utilizes all four major recruiting media companies.
He has held onto that position at On3 since the company started ranked commits in the 2023 class. Spiegelman said one of the reasons is that Manning continues to get better.
"The one thing that I always look at with the elite quarterbacks is do they plateau or do they continue to ascend each year," Spiegelman said. "This year, he's with a different offense. He's without his top pass catcher. He has the quickest release in all of high school football. The way he sees the field. The way he can anticipate where his receivers are going to be, his accuracy. You don't see senior quarterbacks get rid of the ball so early and place it right on the money every single time. He has great anticipation. He just has a great understanding of football and this offense. He sees things as they happen.
"He obviously is using his legs probably to the best that he's ever been able to extend plays, to get outside the pocket to get out in space and make defenders miss," Spiegelman said. "He's been running with football and that's why he's close to so many different records because he's not only just thrown it in a high level, he's running it really well as well."