This Week in Coaching: Detailing the absurdity of Brian Ferentz's amended contract, Kevin Steele back at Alabama & the latest coordinator rumblings at Miami and Notre Dame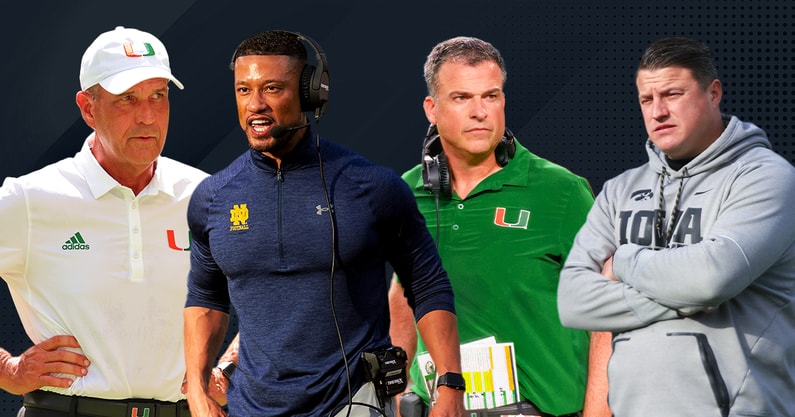 Much-maligned Iowa offensive coordinator Brian Ferentz agreed to an amended contract Monday, taking a $50,000 pay cut and a set of performance incentives the team must reach for him to return in 2024, the school announced. 
So there you have it Hawkeyes fans. It's not the answer most were hoping for, but at least there's clarity on Ferentz's future. 
Kirk Ferentz was never going to fire his son, and considering Iowa's AD Gary Barta is technically Brian Ferentz's boss because of state nepotism laws, he wasn't going to outright fire him, either. 
Ferentz's salary is now $850,000, and to return in 2024, Iowa must win at least seven games (including a bowl) and average at least 25 points per game. 
The loftiest of ambitions!
In all likelihood, Iowa will eclipse both performance standards in 2023. They'll have a better quarterback and more talent on offense. And the team hasn't won fewer than seven games in a full season in over a decade. 
If that happens, Ferentz actually receives a raise to $925,000, more than a $110,000 bonus and a rolling two-year contract. 
Only in America!
Still, at least there's *some* pressure on Brian Ferentz to up his game. Even if the standard is awful to just bad. 
After fielding the worst offense in the Big Ten in close to a quarter century, all Ferentz has to do in 2023 to keep his job is make Iowa the 85th-best offense in the country — where Butch Jones' Arkansas State slotted in the rankings after averaging exactly 25 points per game in 2022. 
And that's the high mark in college football in the last 10 years!
Over the last decade, the average national ranking for 25 points per game was 91st in the country. 
2022 – 85th
2021 – 90th
2020 – 88th
2019 – 93rd
2018 – 96th
2017 – 93rd
2016 – 94th
2015 – 93rd
2014 – 91st
2013 – 88th 
In six seasons with Ferentz as OC, Iowa has averaged 26.3 points per game. Amazing where that 25 points per game number came from then, huh.  
Iowa flirted with rewriting the record books for offensive toothlessness, scoring just 17.7 points per game (No. 123 in the country) and finishing last (and second-worst nationally) among all Power 5 schools in yards per play (4.24). 
But that 17.7 points per game included six defensive or special teams touchdowns. The offense averaged a mere 14.1 points per game. 
The sad Iowa faithful have two choices in the fall: You can root for a Big Ten West Title, which is very realistic considering the team and the schedule, or hope the offensive continues to fail miserably so that Kirk Ferentz is forced to move on from his son and upgrade the coaching staff.
THIRD TIME'S A CHARM FOR KEVIN STEELE IN TUSCALOOSA
Alabama has yet to announce the hiring of defensive coordinator Kevin Steele, but the 64-year-old veteran coach is expected to leave Miami for the same job with Nick Saban. 
Again. 
Steele is set to embark on his third tour working for Saban, who hired Steele as his first coordinator with the Tide in 2007. Steele has spent time as a DC at Clemson (2009-11), LSU (2015) and Auburn (2016-20), and worked as Alabama's linebackers coach in 2014. 
Miami was bad defensively in 2022, but the hire makes for Alabama when you peal through the potential layers here.
First, Saban and Steele have plenty of familiarity and trust. Also, Steele rarely stays anywhere long and is reportedly a year or two away from being fully vested in Alabama's state pension program.
Is he a placeholder for someone else? Is he grooming former Southern Miss defensive coordinator Austin Armstrong, a fast-rising 39-year-old assistant Saban hired to coach linebackers?
Plenty of Tide fans wanted Jeremy Pruitt to return as DC, but that was never a realistic option since the ex-Tennessee head coach still has looming litigation and faces a potential show-cause for his role the Vols' recruiting violations. But there remain rumblings that Pruitt could still join Alabama's staff in an analyst role, which would be a major boon for the Tide's overall staff makeup and upside if that happens.
Pruitt and Steele are very close and could work in tandem until Pruitt's NCAA issues get resolved. We'll see.
WHAT'S GOING ON AT MIAMI AND NOTRE DAME?
After firing first-year offensive coordinator Josh Gattis and then seeing Kevin Steele bolt for Alabama, Mario Cristobal had a pair of coordinator openings a season removed from a 5-7 showing in Year 1. 
Not great!
Still, the staff shuffling provided an opportunity for Cristobal to upgrade at both spots, and Miami's head coach might've done just that with his first move Tuesday.
Per multiple reports, the Canes snatched Lance Guidry away from Tulane, where he was hired by Willie Fritz last month, as the former Marshall DC is now set to replace Steele in South Florida.
The 51-year-old Louisiana native is a former head coach at McNeese and spent the last two seasons spearheading a salty Thundering Herd defense. Marshall ranked No. 3 nationally in yards per play and No. 1 in the country in third down defense. Guidry has a history of producing defenses that create all sorts of havoc, which should go well with a retooled roster with instant-impact transfers and a fresh batch of blue-chip recruits.
In 2022, the Herd had 29 takeaways (5th-most in the country) and 38 sacks (13th nationally).
So one major hire is done, but Cristobal still needs to lure an offensive coordinator to Coral Gables. The rumored frontrunner candidate is Toledo head coach Jason Candle, who turned down Miami last year for the same job. The Rockets' head coach recently signed an extension at $1.1 million, but that's a number he'd easily eclipse with the Canes. His $750,000 buyout isn't an issue, either. 
But Candle has options, which complicates matters for Cristobal. 
Is he willing to get in a bidding war with Notre Dame, who is also allegedly interested in replacing new Alabama OC Tommy Rees with Toledo's head coach?
With transfer quarterback Sam Hartman enrolled, the Irish have an attractive opening for OC candidates. Candle is on the radar in South Bend, as is Akron head coach Joe Moorhead, Utah OC Andy Ludwig, Washington OC Ryan Grubb, Ole Miss OC Charlie Weis Jr. and former Tampa Bay Bucs OC Byron Leftwich, among others. 
As for Cristobal, he notoriously takes his time vetting candidates, so while Candle is a legitimate target, don't rule out Doug Nuessmeier (who could be really attractive for the Canes if his son LSU quarterback Garrett Nuessmeier opts to enter the transfer portal) or Texas A&M co-OC James Coley (a former UM assistant and renowned South Florida recruiter).
For now, we wait. 
But it will be fascinating to see which domino falls first — and how the corresponding school responds. 
OTHER NOTABLE ASSISTANT COACHING MOVEMENT
Dan Lanning already had to replace his offensive coordinator this offseason, and now Oregon's second-year head coach needs a new offensive line coach/assistant head coach, too, after Adrian Klemm is leaving for the same job with the New England Patriots. … Ex-Ole Miss defensive coordinator Chris Partridge is expected to rejoin Michigan's staff, per On3's Matt Zentiz. Partridge spent three seasons with the Rebels, but previously worked four years as a defensive assistant with the Wolverines. … Former Charlotte head coach Will Healy is now on staff at UCF, working as a senior offensive analyst and advisor to head coach Gus Malzahn.