This Week in Coaching: Marcus Freeman has no regrets with Notre Dame's sideways OC search, Dave Doeren gets an extension & more coaching movement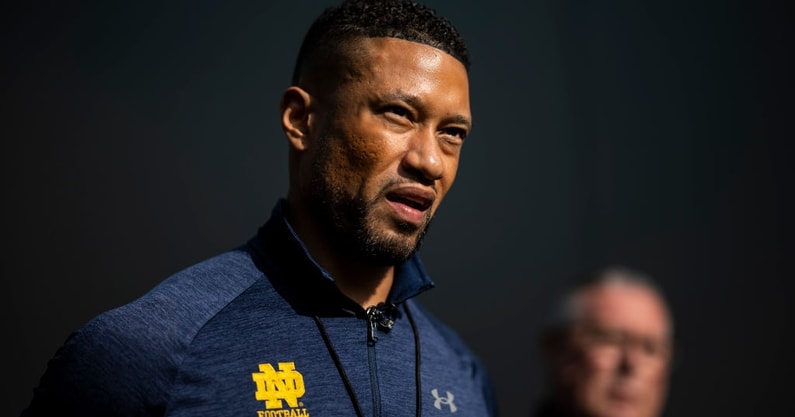 Notre Dame's search for an offensive coordinator went sideways last week after the Irish publicly paraded Utah's Andy Ludwig on a campus tour and a hockey game, only for Ludwig to leave South Bend without the job because of an alleged holdup with his $3 million buyout. 
Days later, athletics director Jack Swarbrick was forced to send out an email to Irish alumni and boosters, explaining that buyout was not a deterrent and there were other factors in why Ludwig would not join Marcus Freeman's staff. 
Call it optics, narrative, whatever. It all looked terrible, especially after Notre Dame simply promoted tight ends coach Gerad Parker. 
The fallout isn't fair for Parker, but it could ultimately work out anyways in 2023. Regardless of who calls plays in the fall for Notre Dame, the Irish project to have a much better offense with transfer Sam Hartman at quarterback, a loaded OL and a deeper pool of skill-talent compared to recent seasons. 
Still, the entire process was a failure, as Freeman clearly identified Ludwig and Kansas State's Collin Klein, who he interviewed twice, as his preferred OC choices. 
What's remarkable — and frankly admirable — is the transparency Marcus Freeman spoke with regarding the whole situation. 
The second-year head coach had no regrets. He stated he has "full support" from the administration and publicly admitted that the Irish were simply turned down — for whatever reasons — by both Ludwig and Klein. 
"Let's make sure we get that out there. Two individuals (Ludwig and Klein) decided that it was best for them to stay where they're at and much credit to them. Congratulations," Freeman said earlier this week in a press conference introducing Gerad Parker. 
"We found the guy I feel is the right guy for us. I just don't want the narrative to be that somebody didn't choose Notre Dame because of a buyout. It's just not true."
College football coaches never reveal such things. But Marcus Freeman did.  
As for the whole public charade? Well, Freeman would do it all again. 
"We're not hiding the point that we brought a guy in that we wanted, so we took (Andy Ludwig) to the hockey game," he said.
"He ended up not coming here. That's OK. I don't want to hide because I'm worried about, 'Well, somebody might think that this guy turned us down or this guy said no.' He made a decision that's best for him.
Freeman added, "I don't want to hide the fact of what makes Notre Dame great. If we're going to bring our top recruits to the hockey game, then why not bring an offensive coordinator candidate to the hockey game? Because why, if we don't get him, people are going to say, 'Well, you tried, you lost'? That's life.
"We want to put our best foot forward. We're not trying to hide and say, 'Hey, let's interview guys and we don't want anybody to know because somebody might say you didn't get the guy you're going after.' We won't hide that. in the future, if we're interviewing somebody else, guess what, we're going to put our best foot forward and try to show them everything that's great about this place. Why hide? That's not what we want to do."
We'll see if Marcus Freeman holds to his word the next time Notre Dame has a coordinator opening. I doubt the Irish will be quite so transparent with their interview process moving forward. 
But Marcus Freeman gets points for being so candid regarding a messy search for a pivotal hire for the future of his program. 
DOEREN GETS ONE-YEAR EXTENSION
Dave Doeren has flirted with various openings in the last several seasons, and yet, NC State's head coach has remained in Raleigh as one of the longest-tenured coaches in college football. 
Doeren, who is the second-longest-tenured coach in the ACC behind Dabo Swinney, is entering Year 11 with the Wolfpack in 2023, and he received a one-year contract extension this week through the 2027 season. 
Though he's yet to post a 10-win campaign with the Wolfpack, Doeren has led NC State to a winning record eight out of 10 years. In 2022, the 'Pack lost starting quarterback Devin Leary to an injury midseason, but they upset North Carolina in Chapel Hill in double-overtime to end the regular season. 
Doeren made one of the more intriguing OC hires this offseason, replacing Tim Beck, now the head coach at Coastal Carolina, with Syracuse offensive coordinator Robert Anae. The former Virginia play caller then linked up with his former quarterback Brennan Armstrong, who transferred from UVA to NC State in January.
HARBAUGH BEING HARBAUGH
In case you missed it this week, Jim Harbaugh not only recommitted himself to stay at Michigan forever. Again. But the Wolverines' head coach also was a Good Samaritan during a nasty ice storm in Ann Arbor that caused all sorts of power outages, fallen trees and blocked roads. 
On Wednesday night, Harbaugh drove up to a road with a blocked tree, and got out of his car to help an Ann Arbor police department officer move it. 
Classic Jim Harbaugh stuff. 
MORE COACHING CAROSUEL MOVEMENT 
Cincinnati had multiple openings this week, including offensive coordinator after Tom Manning left to become the Indianapolis Colts' tight ends coach. But first-year head coach Scott Satterfield has worked quickly to fill the vacancies, hiring a pair of defensive assistants and snagging Brad Glenn from Virginia Tech as the Bearcats' next OC. 
Glenn served as Virginia Tech's quarterbacks coach and passing game coordinator in 2022, and has deep ties with Satterfield. The two worked together as Appalachian State's tight ends and receivers coach from 2005-08. Satterfield will call plays for the Bearcats in 2023, but Glenn will provide game-planning input and mentor the quarterbacks, including Arizona State transfer Emory Jones, who projects as Cincy's starter in 2023.
Former NFL head coach Ken Whisenhunt joined Alabama's staff as an off-field analyst after two years in a similar role at Penn State. 
The ex-Arizona Cardinals and Tennessee Titans head coach is reportedly set to serve as a special assistant to head coach Nick Saban. Notably, Whisenhunt's son-in-law is former LSU quarterback Zach Mettenberger, who is also currently an Alabama analyst. 
Chip Kelly turned to the NFL to fill UCLA's defensive coordinator opening, tabbing Ravens safeties coach D'Anton Lynn as the Bruins' new DC. 
Lynn is the son of longtime NFL coach Anthony Lynn, and while he has plenty of experience coaching in the league (with the Jets, Bills, Chargers, Texans and Ravens), he's never coached in college football before.