Top 10 committed quarterbacks in the 2023 On3 Consensus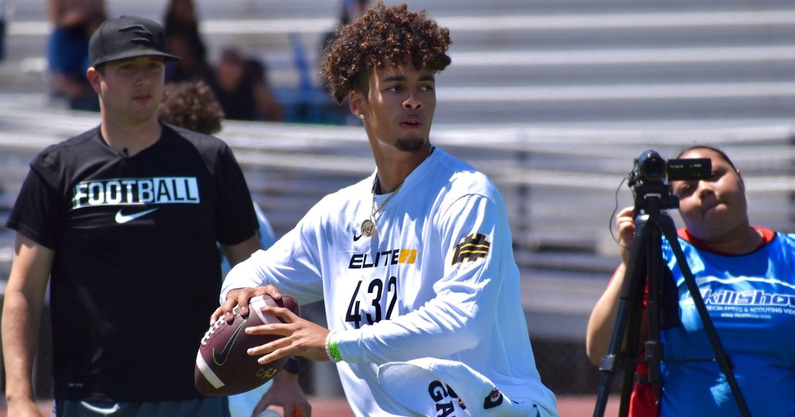 Another quarterback domino fell into place Tuesday as our-star quarterback Eli Holstein announced his commitment to Alabama.
The quarterback class is the position group that sees its top recruits commit earlier in the cycle due to the scarcity of the position and the importance to schools of landing a good signal-caller early. That is the case again this year, as six of the top 10 quarterbacks in the 2023 On3 Consensus have announced commitments so far. The only other position group with that many top-10 pledges is tight end.
But there are still plenty of pieces missing needed to fill the full 2023 quarterback puzzle. Five-Star Plus+ prospect and Unanimous No. 1 recruit Arch Manning is still uncommitted, as are five-star quarterback Dante Moore and top-100 recruit Jaden Rashada.
For the teams that need a quarterback, those races are of the utmost importance. But for the teams that have landed the 10 players below, they can sleep a little easier at night — as long as they believe their players are locked in until signing day.
Five-star QB Malachi Nelson
School: Los Alamitos (Calif.) High
On3 Consensus ranking: No. 2
On3 NIL Valuation: $735k
Status: Committed to USC
Five-star QB Nico Iamaleava
School: Long Beach (Calif.) Long Beach Poly
On3 Consensus ranking: No. 4
On3 NIL Valuation: $790k
Status: Committed to Tennessee
Four-star QB Christopher Vizzina
School: Birmingham (Ala.) Briarwood Christian
On3 Consensus ranking: No. 43
On3 NIL Valuation: $546k
Status: Committed to Clemson
Four-star QB Jackson Arnold
School: Denton (Texas) Guyer
On3 Consensus ranking: No. 48
On3 NIL Valuation: $508k
Status: Committed to Oklahoma
Four-star QB Eli Holstein
School: Zachary (La.) High
On3 Consensus ranking: No. 69
On3 NIL Valuation: $395k
Status: Committed to Alabama
Four-star QB Rickie Collins
School: Baton Rouge (La.) Woodlawn
On3 Consensus ranking: No. 168
On3 NIL Valuation: $178k
Status: Committed to Purdue
Four-star QB Pierce Clarkson
School: Bellflower (Calif.) St. John Bosco
On3 Consensus ranking: No. 204
On3 NIL Valuation: $148k
Status: Committed to Louisville
Four-star QB JJ Kohl
School: Ankeny (Iowa) High
On3 Consensus ranking: No. 261
On3 NIL Valuation: $90k
Status: Committed to Iowa State
Four-star QB Brayden Dorman
School: Colorado Springs (Colo.) Vista Ridge
On3 Consensus ranking: No.
On3 NIL Valuation: $72k
Status: Committed to Arizona
Four-star QB Chris Parson
School: Brentwood (Tenn.) Ravenwood
On3 Consensus ranking: No. 297
On3 NIL Valuation: $77k
Status: Committed to Florida State