Top-10 prospect Matas Buzelis sets commitment date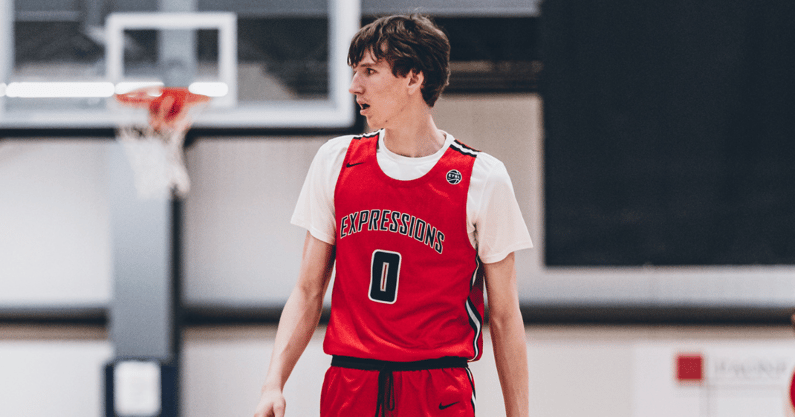 Class of 2023 five-star prospect Matas Buzelis tells On3 he will announce his commitment on Friday, June 24th.
The 6-foot-10 small forward is choosing between five options — Kentucky, North Carolina, Florida State, Wake Forest, and the NBA's G-League Ignite.
Buzelis is ranked as the No. 7 overall prospect in the 2023 class, according to the On3 Consensus, a complete and equally weighted industry-generated average that utilizes all four major recruiting media companies. He's also ranked as the No. 1 small forward.
The versatile wing prospect was born in Chicago but raised by Lithuanian parents. He spent his junior season at Brewster Academy in New Hampshire but will transfer to play his senior year at Sunrise Christian Academy in Kansas.
Matas Buzelis previously discussed his final group with On3's Jamie Shaw.
Buzelis talks finalists
Kentucky: "It's just like a basketball hall of fame over there. They have a great coaching staff and development, and they play in the SEC, which is great competition. That was my first college game I went to; the atmosphere was amazing. The fans are amazing there."
Buzelis also recapped his official visit to Kentucky in a previous interview with On3: "First of all, the fans are amazing. The atmosphere is incredible. It's only love over there and everyone is supportive and when I was there, people were welcoming, saying 'welcome to Kentucky'. It's just a great atmosphere and especially with Coach Cal too. He's a great coach overall and has had a lot of success."
North Carolina: "I just talk to some of their commits, Simeon Wilcher and GG Jackson, most of the time. But I talk with pretty much every coach on staff, Coach Hubert (Davis) a lot. They played great in the tournament, everyone thought they would be a no show, but they played fast and loose and made plays.
"UNC has been on me consistently. I think GG (Jackson) and I would fit really well beside one another. We're both big wings; I can get it to him, and he can shoot it. We can both run the floor and handle and shoot."
Florida State: "They are huge, just a big team. They have like four seven-footers. They play really good defense, and they play fast with a track record with big skilled guards."
Wake Forest: "There is a Lithuanian connection there with one of the coaches on staff. They started recruiting me early my sophomore year, and it has been good talking with them."
G-League: "They have been in contact with us. But I have not really been able to talk to them much. I am open to talking with them, I am looking at everything right now."
More from Buzelis
What's Buzelis looking for at the next level?
"I want to go somewhere that feels like family. Somewhere, I am comfortable with everything. Development is the most important thing for me. Nobody can stop getting better."
How does Buzelis describe his game?
"I can do everything on the floor, dribble, shoot, pretty much everything. I think my body got better this year; my jump shot has become much more consistent. I play a little like Luke Doncic, Lamelo Ball, guys with size who can dribble and pass it."
Scouting Summary
"Matas Buzelis has a lot of tools you look for in a modern forward. He has great positional size and good length. At 6-foot-10 you see he is very effective in transition with great balance and good burst. Buzelis has a good handle in the open floor. He is currently a perimeter-oriented player. He needs to tighten his handle in the half-court, to help get him to his spots better and more effectively. The jump shot is also a slow-release. He is better shooting off the catch than the bounce…a good off-ball cutter, finishing above the rim on backdoor cuts…at his best working with minimal dribbles from the mid-range/mid-post area. He needs strength and the motor runs hot and cold. The upside is high here." – On3's Jamie Shaw, National Recruiting Analyst